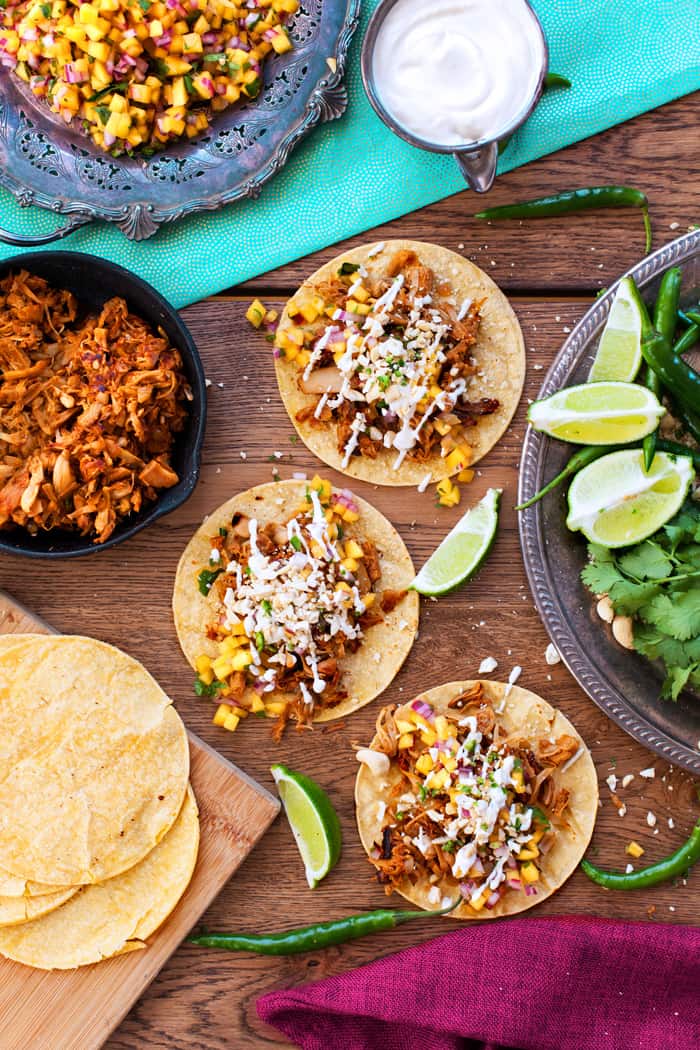 Jackfruit Tacos (Pulled Pork Tacos)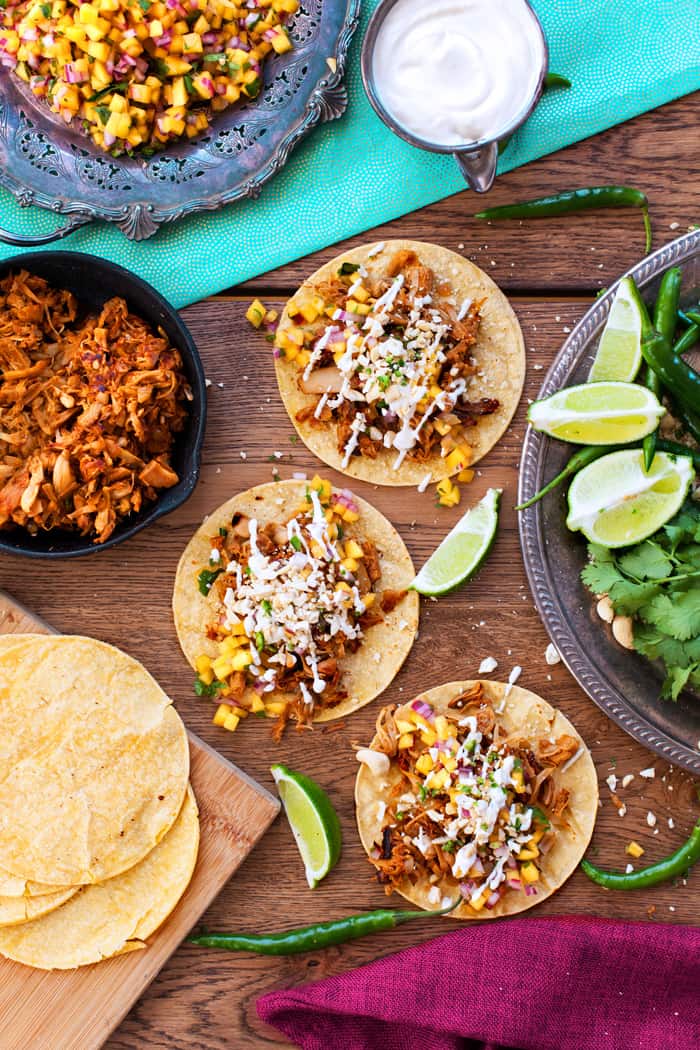 Photo by: Kyla Zanardi
Jackfruit tacos – Oh Carnitas, the delicious designer taco everyone is raving about. The word "Carnita" literally means "little meats"- how fitting! It is a traditional Mexican cuisine made by simmering pork in lard until tender, usually about 3-4 hours until it simply falls apart. This Mexican favourite has now become the King of the taco truck and I was on a mission to re-create it.
Since I have never actually eaten pork (I grew up in a home run by a vegetarian) I needed the help of my trusted carnivore, J. I wanted to everything to taste and look as authentic as possible, so for the pork I decided to use Jackfruit. I see the raised eyebrows- so let me explain…
At first you look at jackfruit and you're like "Common Candice, this is a super sweet fruit that looks nothing like pork and looks more like Durian." – and you would be right in making such claims. There is the thing, if you go to an Asian supermarket; they have all kinds of canned jackfruit, ripe, ripe in syrup, young in water, and young in brine. We are going to use the young in water, and here's why; young jackfruit much like tofu has no taste and simply absorbs the flavor of whatever you cook it with. This means you can marinate this young jackfruit to resemble whatever meat you with! The best part; when you cook this jackfruit, it shreds and falls apart EXACTLY like pulled pork, making it an obvious and desirable substitute.
We are going put on some fiesta music, cook up this amazing meat-free meat, and top it with my favourite accoutrements to create these "little meats" handheld snacks. I hope you enjoy!

Jackfruit Carnitas Tacos (Pulled Pork Tacos)
Learn how to make vegetarian pulled pork tacos using jackfruit! This easy vegan taco recipe, tastes so much like the real thing you'll never miss eating pulled pork tacos again! This is the perfect meatless Monday dinner. Easy Vegan Taco Recipe - Jackfruit tacos.
Ingredients
Spicy Mango Salsa
Lime Crema Sauce
Jackfruit Pulled Pork
Instructions
Jackfruit Pulled Pork
In a large freezer bag add coconut oil, paprika, chili powder, tamari, and maple syrup and mix well.
Add jackfruit to the marinade and allow to marinate for a minimum of 2 hours either on the counter, or if marinating overnight, place in the fridge.
While you are waiting for the jackfruit to marinade, you can make the Salsa and the Lime Crema.
When the jackfruit has marinated and is ready to go, place a pan on medium heat, and heat some coconut oil.
When your oil is hot, add onion and garlic to the pan. Cook and mix until onions are clear.
Add bouillon and chipotle peppers and and mix until all onions are covered in the bouillon (about 2 mins).
Add jackfruit, mix well, and bring to a simmer for about 20 mins, covering halfway through to avoid drying out the meat.
after 20 mins, break up the jackfruit using a a masher or a fork, and reduce heat even more.
Cover and continue to cook on low for another 15-20 minutes, stirring often to break up large pieces of jackfruit.
Cook until all liquid has evaporated.
Spicy Mango Salsa
Combine mango, onion and cilantro in a medium size bowl and mix well. Add jalapeño peppers and lime juice to taste, with a sprinkle of salt. Mix well.
Lime Crema Sauce
Drain and rinse your cashew really, really well!
Place all ingredients in a high-speed blender and blend until smooth.
Slowly add more lime juice to taste, and water until desired consistency is reached.
Build Your Jackfruit tacos, and serve with a wedge of lime for garnish.
Love the flavours of Mexico as much as I do? Try these other vegan recipes out!
Vegan Taco Bell Crunch Wrap Supreme Recipe