Jackfruit Carnitas Tacos (Pulled Pork Tacos)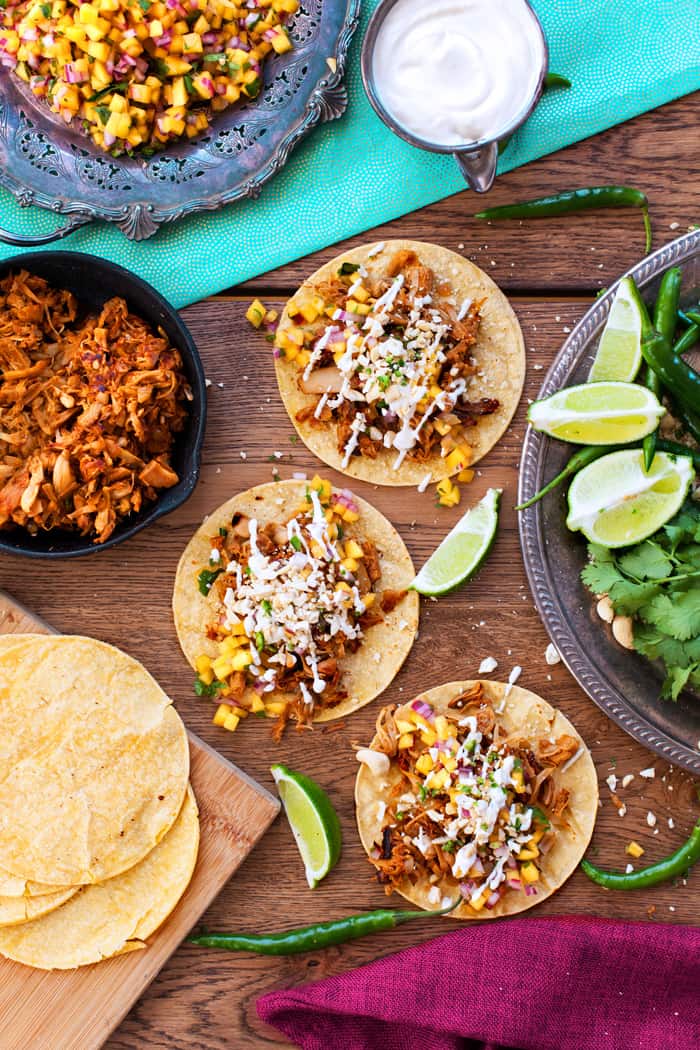 1 mango, diced
1 small onion, chopped
½-1 jalapeño pepper, seeded and finely chopped
Small handful cilantro, finely chopped
Squeeze of lime
Pinch salt
½ cup raw cashews, soaked and rinsed well
2-3 tbsp cup water
¼ tsp salt
1 tsp apple cider vinegar
½ -1 lime juiced, to taste
1 Tbsp coconut oil
1 small onion, finely sliced
2 cloves garlic, minced
1 tsp Vegetable Better than Bouillon
1 tsp paprika
1 tsp chili powder
1 tbsp tamari
1 can of Jackfruit in water, drained and rinsed well
2 tsp maple syrup
½ - 1 cup water
1 chipotle pepper in adobo sauce, finely chopped
In a large freezer bag add coconut oil, paprika, chili powder, tamari, and maple syrup and mix well.
Add jackfruit to the marinade and allow to marinate for a minimum of 2 hours either on the counter, or if marinating overnight, place in the fridge.
While you are waiting for the jackfruit to marinade, you can make the Salsa and the Lime Crema.
When the jackfruit has marinated and is ready to go, place a pan on medium heat, and heat some coconut oil.
When your oil is hot, add onion and garlic to the pan. Cook and mix until onions are clear.
Add bouillon and chipotle peppers and and mix until all onions are covered in the bouillon (about 2 mins).
Add jackfruit, mix well, and bring to a simmer for about 20 mins, covering halfway through to avoid drying out the meat.
after 20 mins, break up the jackfruit using a a masher or a fork, and reduce heat even more.
Cover and continue to cook on low for another 15-20 minutes, stirring often to break up large pieces of jackfruit.
Cook until all liquid has evaporated.
Combine mango, onion and cilantro in a medium size bowl and mix well. Add jalapeño peppers and lime juice to taste, with a sprinkle of salt. Mix well.
Drain and rinse your cashew really, really well!
Place all ingredients in a high-speed blender and blend until smooth.
Slowly add more lime juice to taste, and water until desired consistency is reached.
Recipe by
The Edgy Veg
at https://www.theedgyveg.com/2015/04/20/jackfruit-carnitas-pulled-pork-tacos/