Hi friends! Guess what?! I wrote a book! The "Edgy Veg Cookbook: 138 Carnivore-Approved Vegan Recipes" is available now and I'm sooooooo excited for you to grab a copy or a copy for someone looking to eat plant-based recipes! You can get my cookbook in many bookstores as well as online!

CLICK A LOGO TO ORDER THE BOOK
If you're like me, you might be tired of the traditional plant-based diet that just feel frankly #sad. SO! Get ready for childhood cravings, fast food faves and food-nerd obsessions! The pages of this book are filled with my favorite recipes that include, UnOrthodox Lox and Cream Cheese Bagels, Cobb Your Enthusiasm Salad, Buffalo Cauliflower Wings 7 Ways, Easy Cheesy Fondue, Chick-Fillet Deluxe and Thank You Very Matcha Ice Cream.
So put down that spiralizer (fear not, there is a token kale salad), and arm yourself with our 138 carnivore-approved vegan recipes that even your burger-slinging boyfriend will love.
International Orders
The Edgy Veg cookbook is distributed globally, so look out for it in your local bookstore (and tag me if you see it @edgyveg!), but if you can't find it there, or on your country's Amazon store, you can order directly from Firefly customer service at service@fireflybooks.com or +1-416-499-8412.

DETAILS
138 vegan recipesapproved by a panel of meat and cheese loving people
90% original recipes, never before seen on the blog or my YouTube channel(the other 10% are my hand-picked fan faves so you get the best of the best)
I cover everything from basics, munchies, and mains to dessert, smoothies and cocktails.You didn't think I'd leave you thirsty did you?

Full-color design with over 100 photos to get you drooling and more photos of me (Candice) then you probably want

Awesome hacks for almost every recipe, giving you tons of alternative versions, flavor profiles, time savers and other twists

An entire Edgy Veg essentials section to get you started with tools of the trade, pantry staples, and easy substitutions

…and more dad jokes than you can count! There's so matcha going on between these pages…see I just can't help it!
https://www.youtube.com/watch?v=1zbW1sI3sd8?rel=0
ON SALE NOW
My cookbook is in stores now, so purchase your copy today wherever you love getting your books from. Click below to your copy right away from one of my book partners!Isn't that pho-nomenal?!
Follow me on Instagram (@edgyveg) to get a sneak peak of the recipes, and behind the scenes shots from my photoshoots.

REVIEWS
"I pre-ordered this cookbook a few months ago, and am so happy I did. Although it just showed up today, I've made three of the recipes so far, and all three were easy and, best of all, delicious. The Edgy Veg specializes in converting comfort food into vegan staples, and this cookbook captures a great combination of staples with creative twists and of entire new flavor combos that I haven't seen elsewhere." – Leanne, Cooking Enthusiast
"Best Vegan Cookbook in My Collection. 
I want to be able to experience dishes I grew up with and have enjoyed my entire life while being cruelty free. This cookbook has unlocked the secrets to that! I think there is something for everyone in this book no matter where you are on your vegan journey or even if you are just looking to incorporate more meat and dairy free meals into your diet. This cookbook is going on my kitchen counter because I know I will be referring to it that often! " –Dave
"Wow! Just… wow! The first recipe we made was the half baked mac and cheese and it was amazing!! I actually had to fight for my portion of the meal and I am the only vegan in the house. Even my 7 year old, who is extremely picky, couldn't get enough. She even asked when I was going to make it again while we were still eating it, which never happens. Hands down, this is a life changing edition to my extensive vegan library."– Kristin
BOOK TOUR
Want to get your book signed by The Edgy Veg? Have a burning question you want answered, or a tip you want to share? Have an insatiable appetite and just can't get enough Edgy Veg in your diet? The Edgy Veg will be on tour and will probably be in your city soon! I'm also going to be on radio shows, morning shows and live streams.  Check outthe full list of events here, and don't forget to come out and say hi!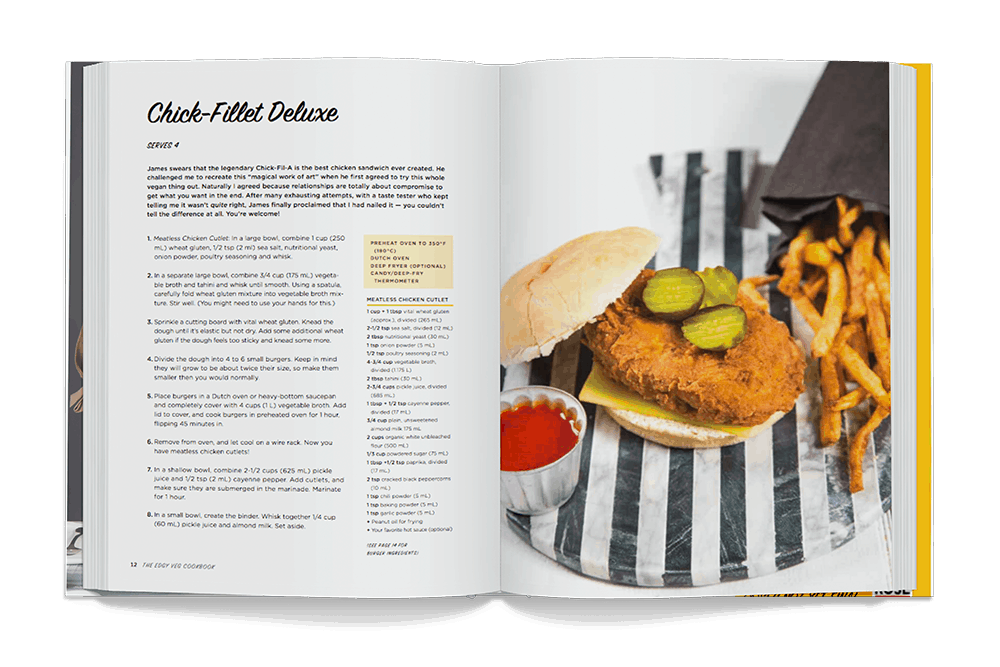 CLICK A LOGO TO ORDER THE BOOK
Don't forget to tag with your creations from the book with #edgyvegcookbook on Instagram – I love to see what you come up with!