The Edgy Veg Cookbook: Carnivore Approved Vegan Recipes
Finally available to order!

ORDER NOW
Hey friends, the day has arrived, the "Edgy Veg Cookbook: 138 Carnivore Approved Vegan Recipes" is available for sale and we're sooooooo excited (you should be too)!  We've been working on this for months in secret (which is why you may have seen a bit less activity on here and our YouTube channel) and can finally share it with you now.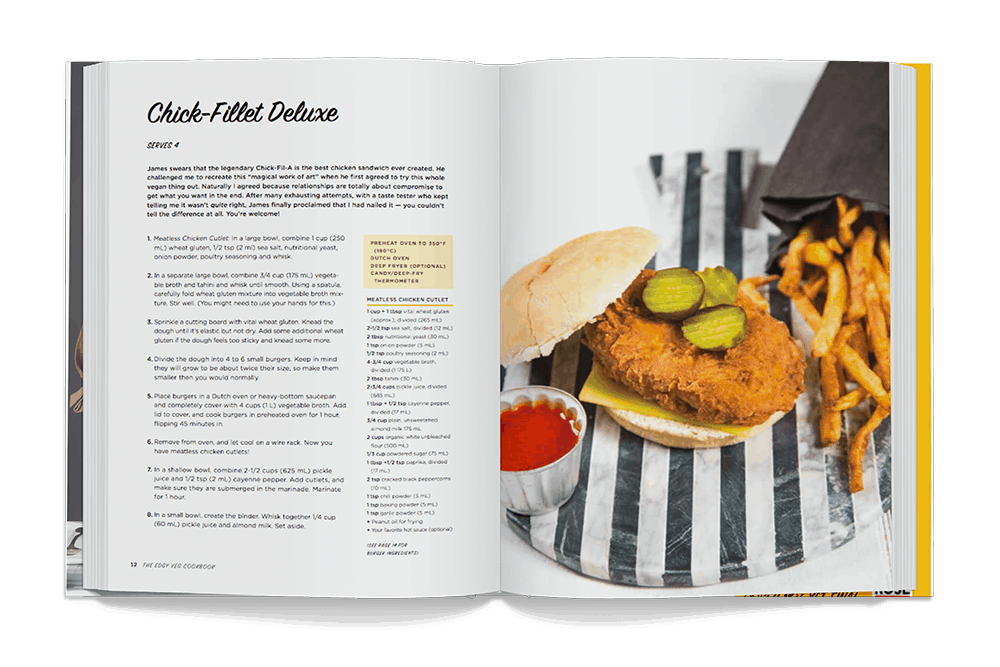 DETAILS
138 entirely vegan recipes
90% original recipes, never before seen on the blog or our YouTube channel (the other 10% are our hand-picked fan favs so you get the best of the best)
Basics, munchies, mains, sides, soups, salads,  desserts, + beverages (lots of very yummy mains and munchies)
Over 100 beautiful full page color photos
Awesome hacks for almost every recipe, giving you tons of alternative versions, flavor profiles and time savers and other twists
Key vegan cooking resources, fundamentals, tips + methods
Standard + metric measurements
Edgy Veg pantry staples (so you're always well-stocked and never go hungry)
& More!
SHIP DATE
Pre-order is now available, so your purchase today guarantees you a book on your doorstep the day it's available: October 1, 2017.
Get sneak peaks of the recipes from our photoshoots on Instagram at #edgyvegcookbook.

ORDER NOW
SHARE WITH US
If you do buy the book and try the recipes, share your creations with the us and the rest of the community! Tag your photos #edgyvegcookbook on Instagram! We love to see what you come up with.