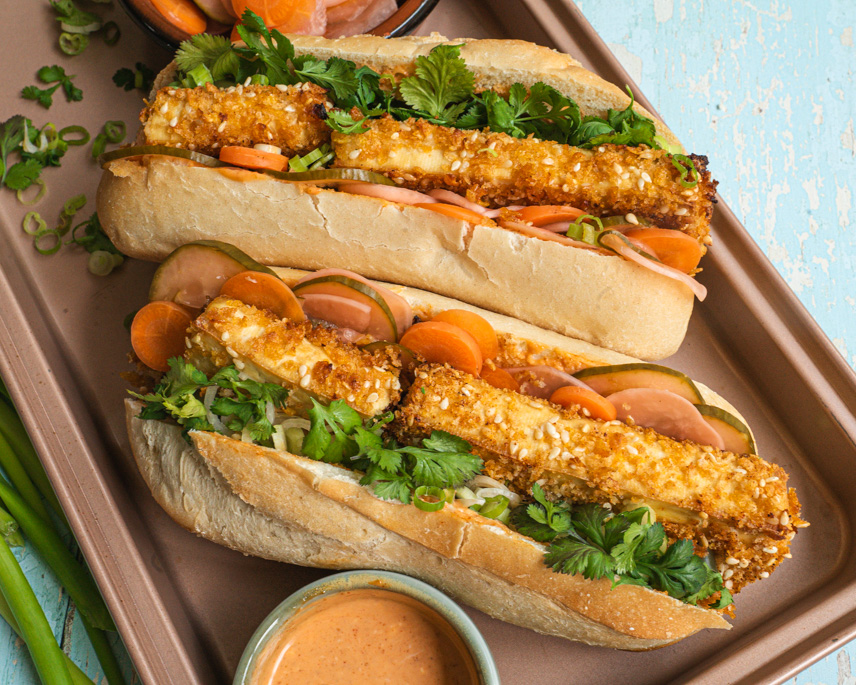 I'm going to show you how to make a crispy Tofu Banh Mi (Bánh Mì) in under 30 mins! Using simple ingredient, this banh mi with tofu tastes just like a classic takeaway one! 
Whether you're looking for a homemade Banh Mi sandwich or something different to pack for lunch, this tofu banh mi is perfect for any occasion. It's crispy, creamy, fresh and tangy!
Related Recipe: Grilled Mushroom Sandwich

TOFU BANH MI
A Crispy Tofu Bahn Mi Sandwich is a delicious and flavorful Vietnamese-inspired sandwich that features a combination of textures and tastes.
It typically consists of a baguette or Vietnamese-style roll filled with crispy tofu, fresh and pickled vegetables, herbs, and a savory sauce.
The contrast between the crunchy tofu, tangy pickles, and aromatic herbs makes this sandwich a delightful culinary experience.
Related Post: 20+ Vegan Sandwiches

INGREDIENTS FOR TOFU BANH MI (SANDWICH):
Pickled Vegetables
Salt
Rice Wine Vinegar
Carrot
Cucumber
Radishes
Crispy Tofu
Tofu (Firm)
Vegan Mayo
Panko Breadcrumbs
Cornflakes
Garlic Powder
Onion Powder
Paprika
Sesame Seeds
BANH MI
Vegan Mayo
Sriracha
Panini buns / baguette or bun of choice
Fresh Basil
Fresh Cilantro
Green Onion
KITCHEN EQUIPMENT I USED:
mandolin
whisk
small bowl
mason jar
small pot
Full Recipe Down Below
Tofu Banh Mi
I'm going to show you how to make a crispy Tofu Banh Mi (Bánh Mì) in under 30 mins! This banh mi with tofu tastes just like a classic takeaway one!
Ingredients
½ tsp kosher salt
½ cup seasoned rice wine vinegar
1 carrot, peeled and very thinly sliced
¼ of a cucumber, very thinly sliced
4 radishes, very thinly sliced
4 slices drained & pressed firm tofu
optional: Tofu marinade (link ours)
¼ cup vegan mayo
¼ cup Panko breadcrumbs
¼ cup cornflakes, crushed
¼ tsp garlic powder
¼ tsp onion powder
¼ tsp paprika
¼ tsp salt
2 tbsp sesame seeds
Black pepper, to taste
¼ cup mayo
2 tbsp sriracha
2 panini buns, mini baguettes, or bun of choice, halved lengthwise
¼ cup fresh basil leaves
¼ cup fresh cilantro leaves
¼ cup green onion, thinly sliced
fresh or pickled jalapeños, sliced
Instructions
Preheat oven, or air fryer to 425F & line a baking sheet with parchment paper or a silicone baking mat.
In a shallow bowl, whisk together breadcrumbs, cornflakes, sesame seeds, ¼ tsp garlic powder, ¼ tsp onion powder, ¼ tsp paprika, ¼ tsp salt and pepper to your liking.
One at a time, coat a tofu slice in a thin layer of mayonnaise and dip and press the breadcrumb mixture onto it.
Bake for 20 mins, or until tofu is heated through and the exterior is crispy. Remove from the oven and let it sit on the pan while you build your sandwich.
Meanwhile, combine mayo and sriracha in a small bowl.
Spread a layer of spicy mayo into both halves of the buns.
On the top half of the bun layer pickled veggies. On the bottom half of the bun layer cilantro, basil, green onions and jalapeños.
Place 1-2 pieces of tofu on top of the pickled veggies, then top with the top half of the bread.
Hey I'm Candice aka The Edgy Veg – I veganize popular food recipes for vegans, plant-based diets, eco-conscious eaters & people who are trying to eat more plants over… y'know animals or their by-products. I hope you enjoy this tasty vegan recipe!
---
Looking For More Vegan Sandwich Recipes?
Made this recipe? Let me know what you think by leaving a ★★★★★ star rating & comment below. It truly helps me & I really appreciate any support! Feel free to share your food photos on social and tag me @edgyveg so I don't miss it! 
Share My Recipe on Pinterest