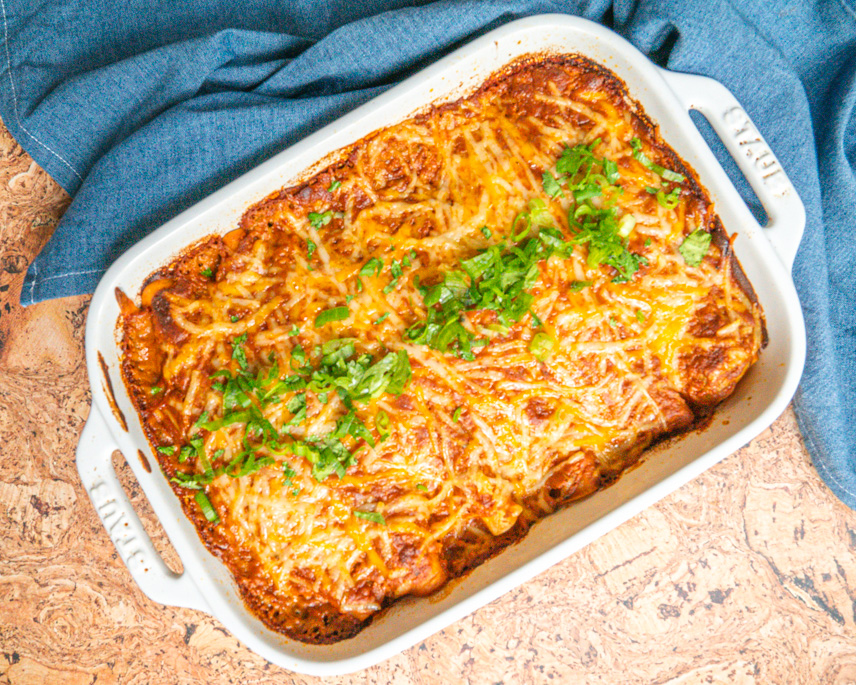 Vegan Cheese Enchiladas Recipe
This truly is the best vegan cheese enchiladas recipe you'll ever try! The vegan enchilada sauce is super easy to make and a household favourite.
This recipe is made with vegan cheese, sweet potato, lentils and other healthy, simple and tasty ingredients!
Related Recipe: Vegan Pulled Pork Tacos
Vegan Cheese Enchiladas
DAIRY-FREE | MEAT-FREE
This enchiladas recipe is a vegan version of the classic Mexican dish, traditionally made with corn tortillas rolled around a filling and covered in a savory sauce.
In these vegan enchiladas, vegan cheese replaces the traditional cheese, and the filling consists of vegetables, lentils, and Mexican spices. The enchiladas are then baked until the tortillas are soft and the vegan cheese is melted, resulting in a delicious and satisfying Mexican-inspired meal for vegans and non-vegans alike.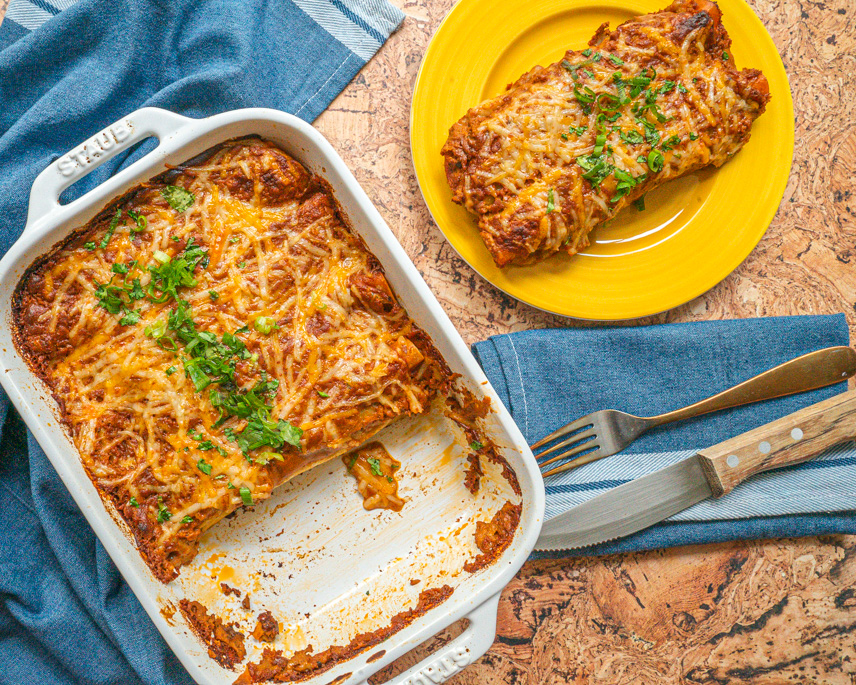 INGREDIENTS FOR ENCHILADAS (VEGAN):
Sweet potato
Cumin
Paprika
Lentils (brown or green)
Vegetable bouillon
Olive oil
Onion
Chili powder
Garlic powder
Onion powder
Tomato paste
Tortillas
Shredded vegan cheese
KITCHEN EQUIPMENT I USED:
Oven
Baking Sheet
Baking Mat
Saucepan or Pot
Vegan Cheese Enchiladas
This truly is the best vegan cheese enchiladas recipe you'll ever try! The vegan enchilada sauce is super easy to make and a household favourite.
Ingredients
2½ cups sweet potato cubes
¼ tsp + 2 tsp ground cumin
¼ tsp + 1 tsp paprika, divided
salt & pepper
1 cup brown or green lentils, rinsed and sorted
3 tsp vegetable bouillon
olive oil
½ onion, diced
½ tsp chili powder
1 tsp garlic powder
1 tsp onion powder
1 tbsp tomato paste
2 cups red enchilada sauce
8-10 small flour tortillas (about 6- 8inch)
1½ cups shredded vegan cheese of choice
To garnish: chopped cilantro, sliced green onion
Instructions
Preheat oven to 400F and line a baking sheet with parchment or a silicone baking mat.
Add sweet potato and drizzle with roughly 1 tbsp olive oil. Toss to coat and then season with ¼ tsp cumin, ¼ tsp paprika, and salt and pepper to taste, and toss.
Bake for 20-25 minutes or until sweet potatoes are fork-tender.
Reduce oven to 350F.
Meanwhile, in a small saucepan add lentils, 3 cups of water and 3 tsp bouillon. Bring to a boil, then reduce heat to a simmer. Simmer for about 20 to 25 minutes, or until the lentils are tender. Drain and reserve excess liquid. Set lentils aside.
In the same pan, heat 1 tbsp oil. Add onion and cook until translucent, about 3 minutes.
Add ½ tsp chili powder, 2 tsp cumin, 1 tsp paprika, 1 tsp garlic powder, and 1 tsp onion powder, and stir constantly for 1 minute or until fragrant.
Add the tomato paste and stir and saute for another 1 minute. Add ¼ cup of the reserved cooking liquid, and stir to create a sauce.
Add lentils, and sweet potatoes to the pot and stir to combine, adding reserved cooking liquid as needed.
Warm the enchilada sauce. Then, wrap the tortillas in a clean kitchen towel and warm them in the microwave for about 30 seconds.
Add a small layer of enchilada sauce to the bottom of your baking/casserole dish to prevent the tortillas from sticking. Make sure you're reserving enough to cover them with.
One at a time, scoop equal amounts of the sweet potato/lentil mixture onto the center of each tortilla and roll it up. Place seam-side down into the dish width-wise.
Pour the rest of the enchilada sauce on top of all the rolled tortillas and smooth out.
Top with vegan cheese of choice, cover and bake for 15 mins. Uncover, and bake for another 5-10 minutes, or until cheese is melted and bubbling.
Garnish with cilantro or green onions and serve.

Hi! I'm Candice aka The Edgy Veg
! I veganize popular food recipes for vegans, plant-based diets, eco-conscious eaters & people who are trying to eat more plants over… y'know animals or by-products of animals. I hope you enjoy this tasty vegan recipe!
---
Looking For More Vegan Dinner Recipes?
Made this recipe? Let me know what you think by leaving a ★★★★★  star rating & comment below. It truly helps me & I really appreciate any support! Feel free to share your food photos on social and tag me @edgyveg so I don't miss it!
Share My Recipe on Pinterest!