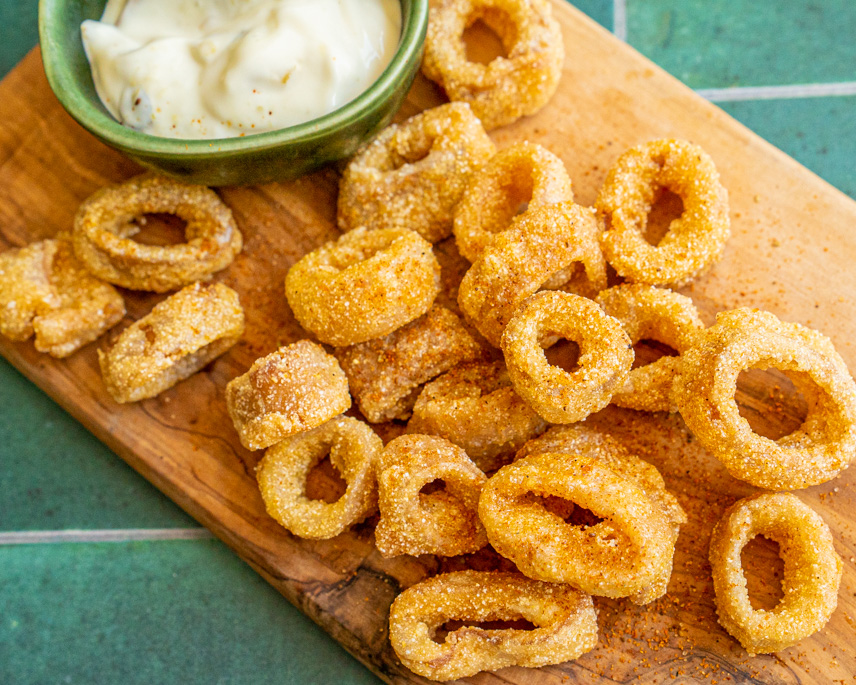 This vegan calamari recipe is made by turning king oyster mushrooms into calamari-looking rings and coated into seasoning to be deep-fried or pan-fried in under 30 mins!
Using a large round metal straw, cookie cutter or cake-pipping tip, you can make holes into king oyster mushrooms to create vegan calamari! You can serve them as an appetizer with a vegan aioli or add them to one of my easy vegan pasta dishes.
Related Recipe: 8+ Vegan Seafood Recipes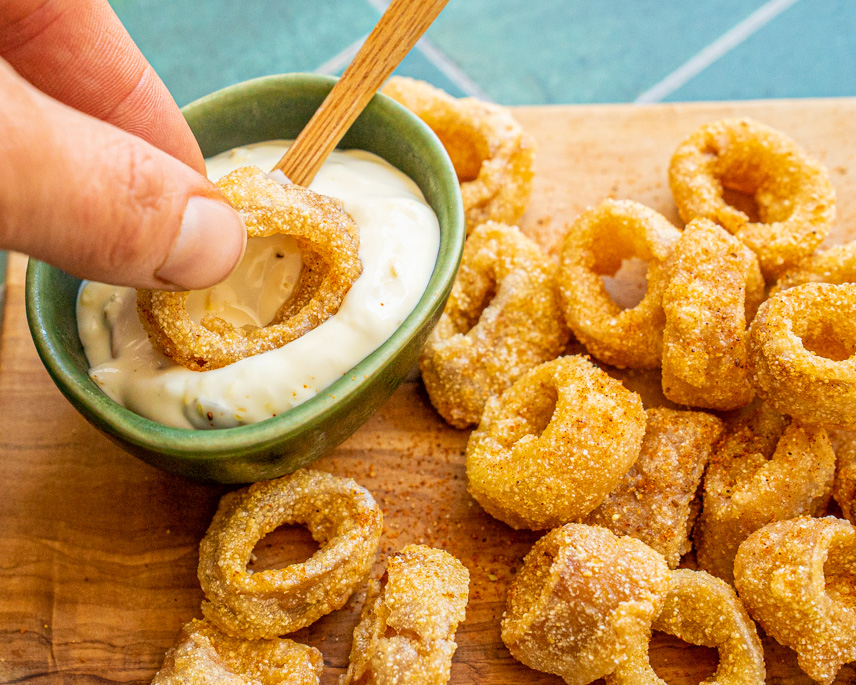 How To Make Vegan Calamari
Today I'm showing you how to make an easy vegan calamari recipe to impress vegan and non-vegan guests, or just cook them up for yourself for a fabulous dinner for one.
This bite-sized appetizer has a delicate texture similar to squid and when seasoned and fried, takes on a full calamari flavour!
Full Recipe Down Below
INGREDIENTS FOR CALAMARI (VEGAN):
King Oyster Mushrooms
Olive Oil
Kombu (optional)
Salt
Flour
Cornstarch
Old Bay Seasoning
Soy Milk
Vinegar
KITCHEN EQUIPMENT:
Large round metal straw, cookie cutter or a cake piping tip
Deep Fryer or Deep Pan
Vegan Calamari
These vegan calamari are made of king oyster mushrooms with seasoning that makes them taste like fried calamari!
Ingredients
10 king oyster mushrooms, sliced into ¼-inch slices
1 tbsp olive oil
1 piece of kombu, optional
¼ tsp salt
½ cup all-purpose flour
½ cup cornstarch
½ tsp old bay seasoning
½ cup unsweetened soy milk
1½ tsp vinegar
vegetable oil, for frying
2 lemon wedges, as garnish
dip sauce of choice
Instructions
Start by boiling water in a kettle or in a small saucepan. Then, use a ½-inch round metal straw, cookie cutter or a cake piping tip to make holes in the center of each mushroom, to create calamari-looking rings.
Place the calamari mushroom rings to a small saucepan and cover the mushrooms in water and bring the water to a boil.
Once boiling add 1 tbsp olive oil, ¼ tsp salt, and kombu.
Add mushrooms and boil for 15 minutes, or until they are dark in colour and most of the water has dissolved. Remove from heat and let them cool.
While calamari is boiling, combine the flour, cornstarch, and old bay seasoning together in a bowl. Pour half of the mixture into a second bowl.
In a third bowl whisk together soy milk together with the vinegar and set aside for 5 minutes to create soy buttermilk.
If using a deep fryer: heat frying oil to 350F.
If using a deep pan: pour enough oil to measure 3 inches inside the pan and heat the oil over medium-high heat to 350F.
When the oil is hot, dredge the mushrooms in the flour mixture and shake off any excess as you place them into the bowl with the soy buttermilk.
Transfer them then to the second bowl of seasoned flour coating them, completely and place on a wire cooling rack.
In batches, fry the calamari for 2-3 minutes or until golden brown on both sides, allowing the oil to return to 325F between batches.
Transfer fried calamari to a wire cooking inside a baking sheet, to allow excess oil to drip.
Serve with caper aioli, garlic aioli, or tartar sauce.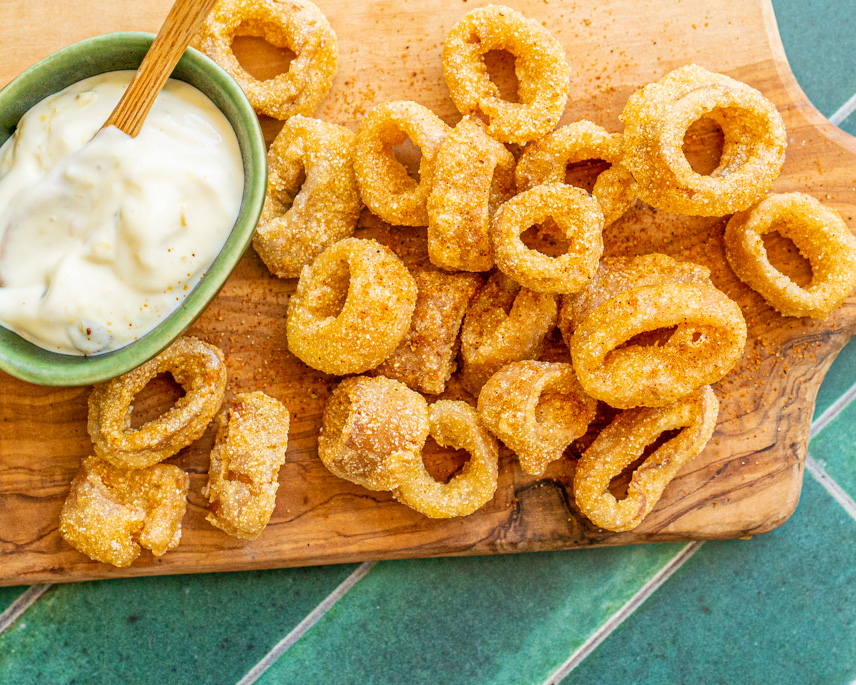 ---
Hey welcome to The Edgy Veg – we veganize popular food recipes for vegans, plant-based diets, eco-conscious eaters & people who are trying to eat more plants over… y'know animals or their by-products. We hope you enjoy this tasty vegan recipe!
---
Want More Vegan Recipes?
Made this recipe? Let me know what you think by leaving a ★★★★★ star rating & comment below. It truly helps me & I really appreciate any support! Feel free to share your food photos on social and tag me @edgyveg so I don't miss it!
Share My Recipe on Pinterest!