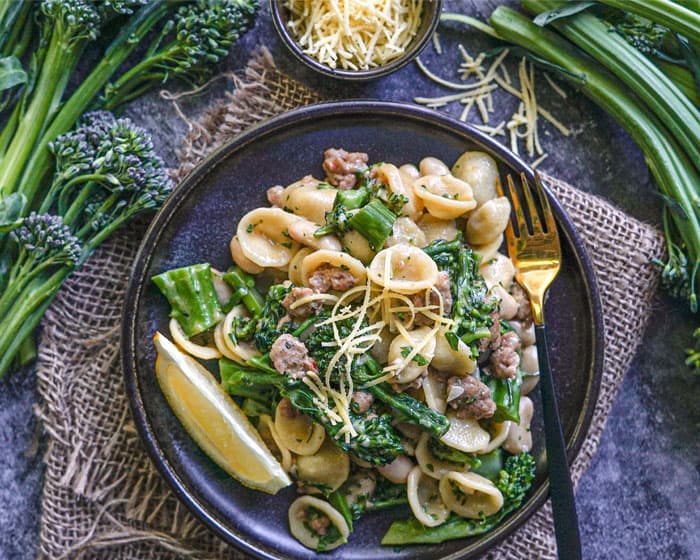 I'm going to show you how to make my easy vegan orecchiette recipe! This simple vegan pasta dish takes under 20 mins to make using broccolini (or broccoli), vegan sausage, white beans, and, of course, orecchiette!
This is a hearty and filling meal! All you have to do is cook the plant-based sausage and veggies, boil your noodles, then mix everything into a cohesive dish.
Related Recipe: Vegan Broccolini Pasta
Vegan Orecchiette Recipe
Did you know orecchiette means "little ears" in Italian?! It might be the cutest pasta shape and I'm down for any excuse to eat pasta. I love pasta! Here I'll show you make my vegan orecchiette recipe with broccolini, white beans, and sausage.
Related Recipe: 15+ Vegan Pasta Recipes
INGREDIENTS FOR THIS ORECCHIETTE RECIPE (VEGAN):
KITCHEN EQUIPMENT I USED:
Vegan Orecchiette Recipe
An easy vegan orecchiette recipe! This simple vegan pasta dish takes under 20 mins to make using broccolini, vegan sausage, white beans & orecchiette!
Instructions
Add 1 tbsp salt to a large pot of water and bring to a boil.
Add broccolini to the boiling water, and cook for 2-3 mins, and then remove with a slotted spoon, and place on a plate or colander.
Add the pasta to the boiling water and cook according to the package
instructions until al dente. Reserve 1 cup of pasta water.
Meanwhile, heat a large stir fry skillet over medium-high and cook sausage until browned, about 3 minutes, stirring frequently.
Add olive oil and garlic and cook for another 2 mins being careful not to brown the garlic.
Add broth to deglaze the pan, and cook for another 1-2 minutes or until reduced by half, stirring occasionally.
Add broccolini and white beans and cook, stirring often, until
heated through, about 2-3 mins. Lower heat to medium-low.
Add pasta, ½ cup of reserved pasta water, parsley, a third of the cheese, and cook until you get a creamy sauce, about 2 mins. Taste and season with salt & pepper.
Serve topped with additional cheese sprinkled on top, and a wedge of lemon.
Nutrition Information
Serving size:
1 serving
Calories:
550
Fat:
14.5g
Carbohydrates:
70g
Sugar:
4g
Protein:
22.5g
---
Hey I'm Candice aka The Edgy Veg – I veganize popular food recipes for vegans, plant-based diets, eco-conscious eaters & people who are trying to eat more plants over… y'know animals or their by-products. I hope you enjoy this tasty vegan recipe!
---
Looking For More Vegan Pasta Recipes?
Made this recipe? Let me know what you think by leaving a ★★★★★ star rating & comment below. It truly helps me & I really appreciate any support! Feel free to share your food photos on social and tag me @edgyveg so I don't miss it! 
Share My Recipe on Pinterest!