Vegan Orecchiette Recipe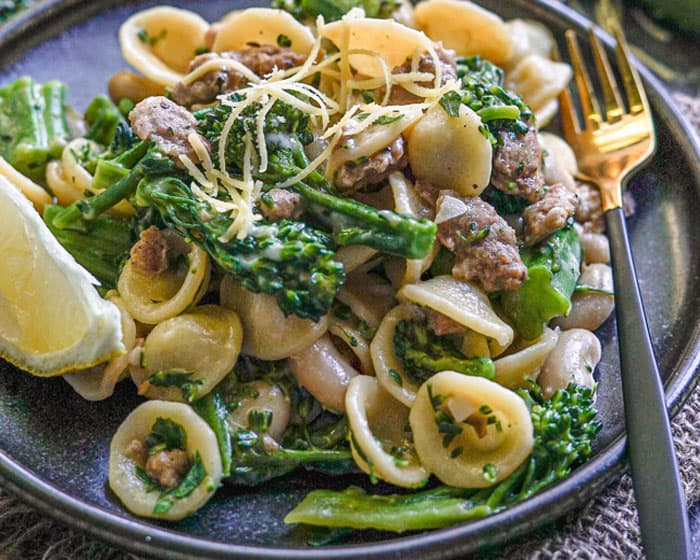 Add 1 tbsp salt to a large pot of water and bring to a boil.
Add broccolini to the boiling water, and cook for 2-3 mins, and then remove with a slotted spoon, and place on a plate or colander.
Add the pasta to the boiling water and cook according to the package
instructions until al dente. Reserve 1 cup of pasta water.
Meanwhile, heat a large stir fry skillet over medium-high and cook sausage until browned, about 3 minutes, stirring frequently.
Add olive oil and garlic and cook for another 2 mins being careful not to brown the garlic.
Add broth to deglaze the pan, and cook for another 1-2 minutes or until reduced by half, stirring occasionally.
Add broccolini and white beans and cook, stirring often, until
heated through, about 2-3 mins. Lower heat to medium-low.
Add pasta, ½ cup of reserved pasta water, parsley, a third of the cheese, and cook until you get a creamy sauce, about 2 mins. Taste and season with salt & pepper.
Serve topped with additional cheese sprinkled on top, and a wedge of lemon.
Serving size:
1 serving
Calories:
550
Fat:
14.5g
Carbohydrates:
70g
Sugar:
4g
Protein:
22.5g