30 Day Vegan Challenge with The Edgy Veg!
Get excited!! Starting Today marks the first day of James and I's 30-Day Vegan Challenge!
I would say that James is vegan about 75% of the time. As you all know, I do all the cooking, so he is more or less forced into a plant-based diet when he eats at home. James recently has done his own research; he watched some movies, he looked up some studies online, and he said to me one day in February, out of the blue, " I think I could easily go vegan for 30-Days!" I held him to that challenge.
We later found out that he had 2 business trips internationally this month, and although he begged me to let him do it another month because "it would be much harder", I held him to his promise to go vegan, even while we we're travelling. Maybe now he will see how difficult it is for me to eat while on the go, or travelling…hmmmm.
As I thought about this challenge, I thought to myself "why not extend this to our viewers and readers?!" So here I am extending to you the opportunity to go vegan for 30 days! Or, if you are already vegan, perhaps you would like to challenge a loved one, friend or coworker to be vegan for a month!!! I mean, really what's the worst that could happen?! You may end up with more energy—ah man! You might lose a few pounds—no one wants that… You may even feel better about the food you're eating— gosh darn it, I love cruelty!
If you aren't a vegan, or even a vegetarian, it's important to give your body a break from meat and dairy every so often. The 30 day vegan challenge is a great way to find new ways to incorporate more vegetables and vegan protein into your diet, and will get you back into the kitchen, really thinking about what you are putting into your body.
So let me ask you again… ARE YOU UP FOR THE MARCH 30-DAY VEGAN CHALLENGE?
What is it?
The Edgy Veg 30-Day Vegan Challenge is a fun, easy and collaborative way drive into the vegan lifestyle. In the next 30 days you will be forced to really think about the food that you are shoving into your face. You will learn how to cook delicious meat free, dairy free and egg free meals, learn about your health, reduce your carbon footprint, find more compassion for other living beings, and will get some badass tools from our community for living a more conscious, vibrant life!
Why do it?
The vegan lifestyle is about so much more than just animals and food. Did you know that if one person exchanges eating meat for a plant based diet, they will reduce carbon dioxide emissions by 1.5 TONS PER YEAR?! Veganism isn't just pro-animal; it's also pro human! Here are the reason I think you should join us this month…
Health: Add more fruits and veg to your diet for an overall healthier diet that could result in weight loss, lower blood pressure, lowered cholesterol levels, a clearer highly functioning mental state and vibrant, glowing skin.
Environment: Reduce your carbon footprint by 250 pounds this month.
Food: Expand your palette, and try new foods; but also enjoy the vegan versions of your favourite meals that taste just as decadent and delicious, but are often much better for you overall! This is a foodie adventure!
Compassion: Step away from a diet based on cruelty and really think about where your food is coming from.
Personal Growth: You are in competition with yourself! Strengthen your willpower and take back control of your plate! You decide what to eat, cravings don't.
How does it work?
The basics: No animal products or bi-products for 30 straight days, including; meat (including poultry), seafood, dairy, eggs or honey.
Next Steps:
Announce that you are participating by commenting on this article, and share your email address, as well as why you have decided to take the challenge.
Use online resources, recipes and meal plans like the ones found on this site to begin meal planning and getting excited about the next 30 days vegan!
I will be sharing some great meal plan ideas, but also check out these:
Share your experiences with the community by sharing and commenting!
I know that the next 30 days are going to be SO much fun! I can't wait to hear about all of your experiences!!! To get you started I wanted to share with you a quick meal plan for your first day!
Breakfast: as soon as you wake up, squeeze the juice of half a lemon into a litre of water and drink before putting anything else into your body. This will aid in quick easy digestion throughout the day. Afterwards, enjoy these Easy Vegan Brownie Batter Overnight Oats that you can prepare the night before, and take with you on the go.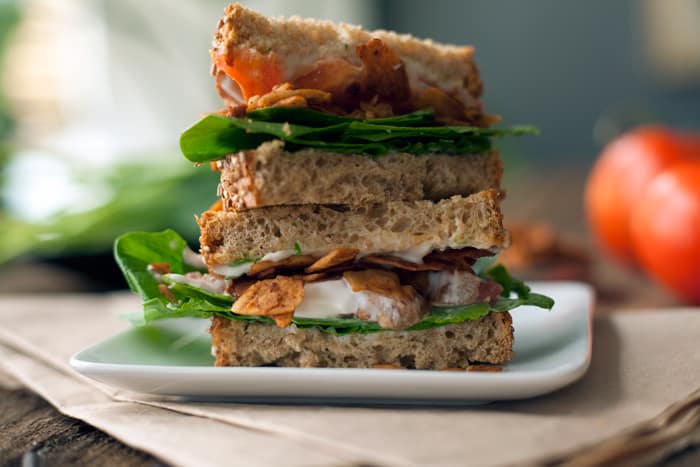 Lunch: Being prepared is the key to a nutritious lunch, instead of eating out on the fly. I always prepare my lunch overnight. This Kale Caesar Salad is a staple in our home, enjoy it alongside a simple but delicious Vegan BLT Sandwich. This meal is guaranteed to keep you pull all afternoon long, but will also give you that boost you need to fight the 2pm lull.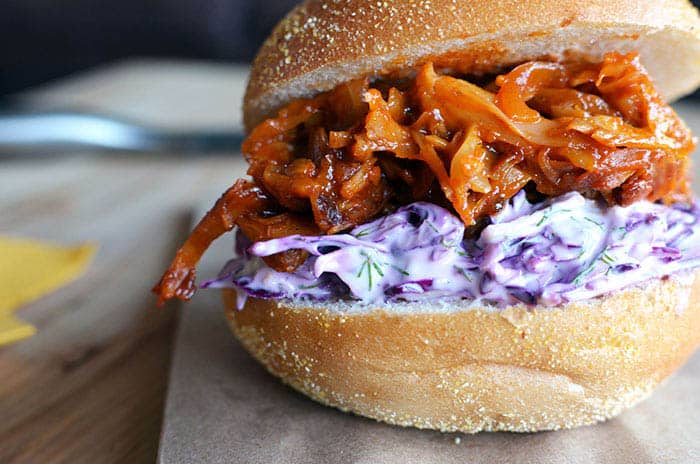 Dinner: Indulge in a crowd favourite with this easy Vegan Pull Pork Sandwich. The jackfruit "meat" in this recipe is shockingly similar to pulled pork in every way. I guarantee you won't even notice that you're eating a vegan meal!
Snacks: This super easy Vegan Fudge is the smartest dessert/snack you will ever have. It uses only 2 ingredients and is as buttery and sweet as any fudge should be. Truly satisfying for those afternoons or evening you are craving something sinfully decadent.
This challenge is entirely free — no payment required. I want to share these tips with you, so that you can make a difference in the world!