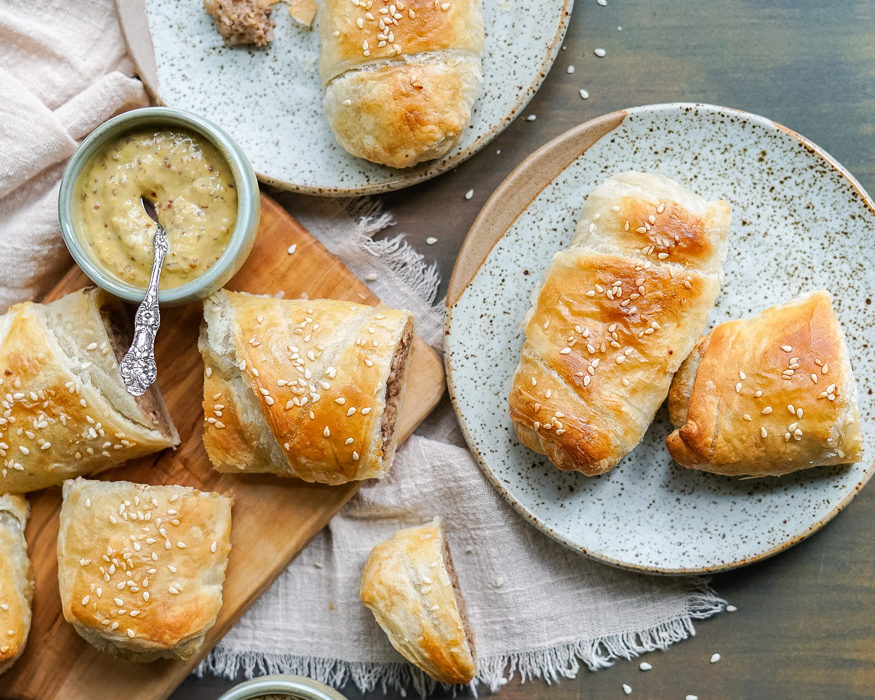 Vegan Sausage Rolls Recipe
This easy vegan sausage rolls recipe uses 15-ingredients to make meat-free sausage rolls using mushrooms! In just 30 minutes, you can make these easy vegan mushroom sausage rolls. It's simple, savoury & delicious!
If you want to use store-bought vegan sausages to make vegan sausage rolls, mix the seasoning ingredients listed in this recipe with your store-bought vegan sausages (like Beyond Meat or Field Roast), and forget the mushrooms, nuts, etc. I recommend making my mushroom "sausage" rolls from scratch because they're delicious & homemade!
Vegan Sausage Rolls
 MEAT-FREE & GLUTEN-FREE OPTIONS
This 30-mins mushroom sausage rolls recipe is great to enjoy when you need a quick lunch or snack on the go without needing to pick up fast food. They are also freezable and hold up well in the freezer or up to 5 days in a container in the fridge. Just heat in the oven or air-fryer for a simple and delicious vegan sausage roll.
The veggie sausage is made using nuts and mushrooms, making it hearty and full of protein and healthy fats. It uses only 15 simple ingredients and you can use any dipping sauce of your choice. 
Related Recipe: Vegan Pigs in a Blanket
INGREDIENTS FOR SAUSAGE ROLLS (VEGAN):
KITCHEN EQUIPMENT I USED:
Vegan Sausage Rolls
Learn how how to make delicious vegetarian sausage rolls. These handheld rolls make a great snack or fun finger food.
Instructions
Blend almonds or macadamia nuts, lemon juice, olive oil, garlic, salt and water in a food processor until smooth.
Add the walnuts or pecans, breadcrumbs, onion, bouillon, smoked paprika, soy sauce, black pepper, seitan and mushrooms and process until well combined. I like to leave some texture, but the consistency is up to you.
Set aside.
Preheat oven to 425 degrees F and line a baking sheet with parchment paper.
Remove your puff pastry from the fridge and roll out into a rectangle, cut in half so you have two triangles.
Spoon the filling lengthwise down the long side of the puff pastry triangle; lightly brush the border with the milk.
Roll the dough over the "sausage meat" and secure it with milk as glue.
Brush the top of the roll with milk and sprinkle with sesame seeds.
Place on parchment paper-lined baking sheet and cook in the oven for 10-15 minutes, or until golden brown.
Serve with Honey Mustard Dijon Dip.
Nutrition Information
Serving size:
1 roll
Calories:
384
Sugar:
2g
Fiber:
3g
Protein:
10.6g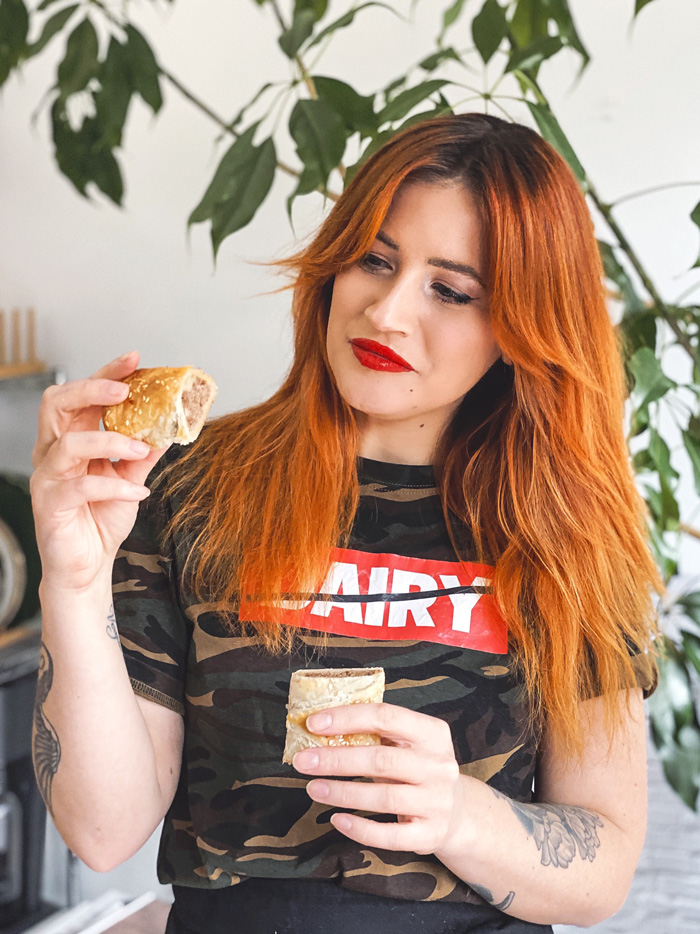 Hey I'm Candice aka The Edgy Veg
– I veganize popular food recipes for vegans, plant-based diets, eco-conscious eaters & people who are trying to eat more plants over… y'know animals or their by-products. I hope you enjoy this tasty vegan recipe!
---
Looking For More Easy Vegan Puff Pastry Recipes?
Made this recipe? Let me know what you think by leaving a ★★★★★ star rating & comment below. It truly helps me & I really appreciate any support! Feel free to share your food photos on social and tag me @edgyveg so I don't miss it! 
Share My Recipe on Pinterest!