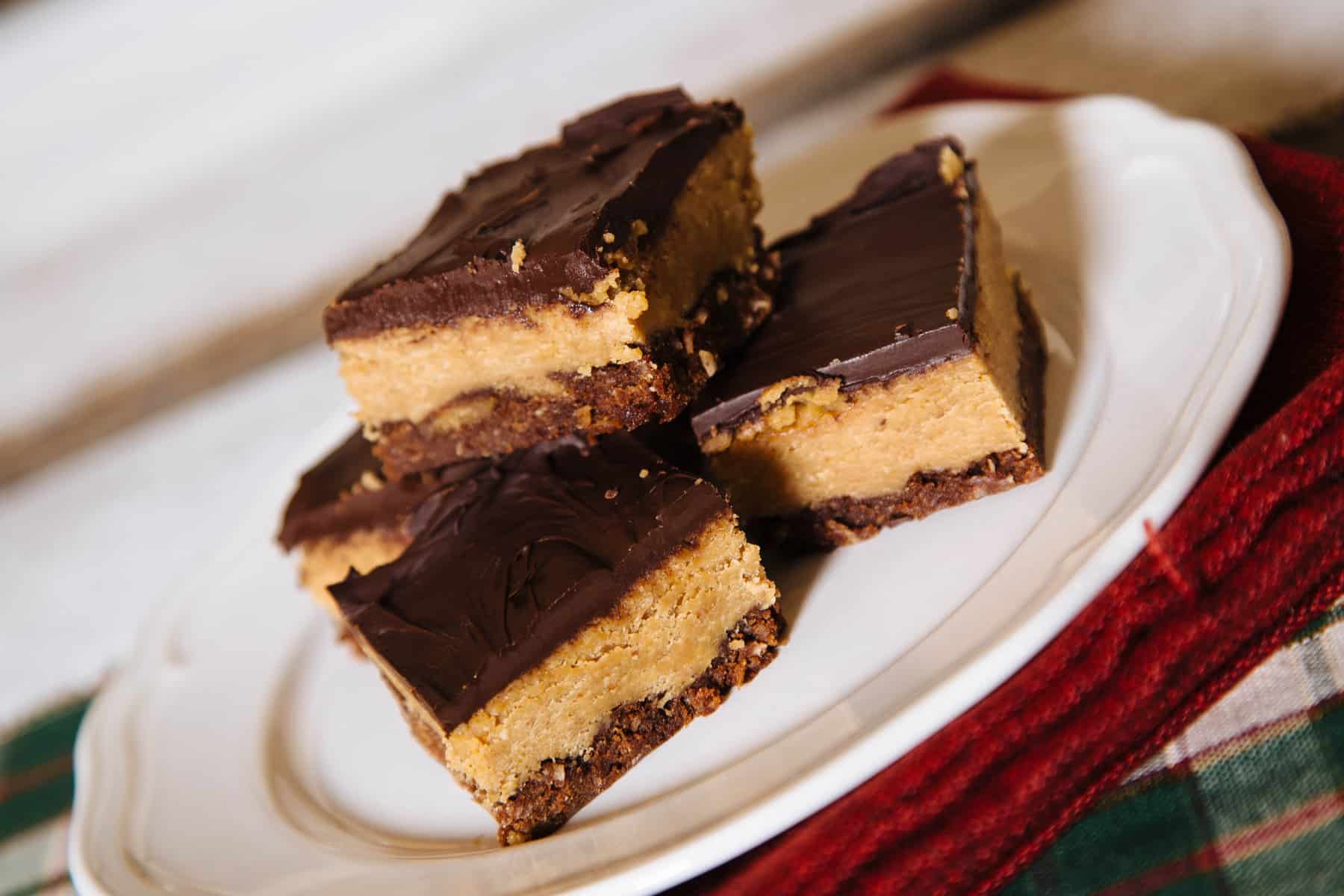 Vegan Peanut Butter Nanaimo Bars
Is there any partnership more beautiful than peanut butter and chocolate? Personally, I don't think so– that is why I created this Reeces version of a Canadian favourite. I swapped out the traditional cream and replaced it with peanut-buttery goodness, everything else is the exact same as the original version.
When I was a kid my absolute favourite treat were Reeces peanut butter cups, I just couldn't get enough! This easy recipe totally kills that craving I still get for those delicious cups of awesome. After tasting one of these bad boys you'll forget that anyone ever teased you about being vegan. Yummers.

Peanut Butter Nanaimo Bar Recipe
This Canadian treat is a holiday favourite! Learn how to make vegan Peanut Butter Nanaimo Bars for your family and friends.
Ingredients
BASE
FILLING
CHOCOLATE TOPPING
Instructions
Preheat oven to 350 degrees F.
Line a 9×13-inch baking pan with parchment paper; set aside.
Make the Base In a large bowl, whisk together the melted butter or oil, sugar and egg replacer.
Use a large wooden spoon to stir in the cracker or cookie crumbs, coconut and cocoa powder until completely combined.
Transfer to the pan and press evenly into pan until the bottom is totally covered.
Put the base in the oven, and bake for 10 to 15 minutes, or until firm.
Remove from oven and allow to cool completely before preparing the filling.
Make the Filling Leave the peanut butter on the counter in a large bowl until completely melted and smooth.
Pour into stand mixture or whisk in the powdered sugar 1 cup at a time, adding milk as necessary, and mixing until smooth.
When the base has cooled, spread filling evenly over the base and refrigerate until firm. This will take about 1 hour.
Make the Topping Using a double boiler, melt the chocolate.
Spread melted chocolate over the filling, and refrigerate until firm.
Cut into bars and serve.
Like Video tutorials? Watch me make this recipe in the video below…
[youtube=http://youtu.be/XEwVDz1A2Kc]