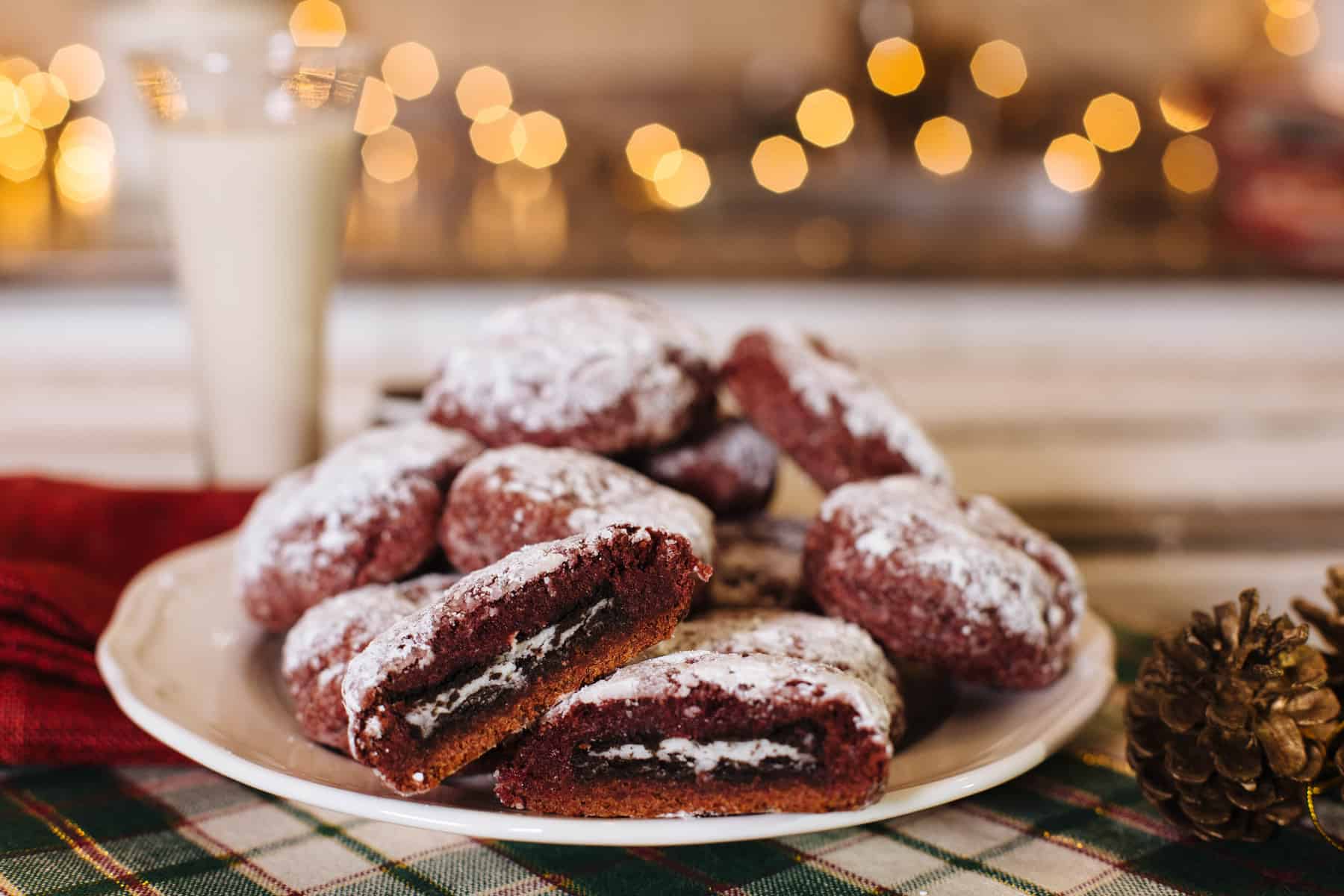 Oreo-Stuffed Red Velvet Cookies
Did you know that somehow by accident Oreos are vegan (read your labels, this is not true in all countries)?! Isn't that great news?!
I love the idea of taking something that already exists and turning it into something even more awesome. That is exactly what I did with this recipe. The Oreo softens as it bakes and becomes soft chocolate and cream, providing the cookie with a sweet center. These are lovely over the Holidays due to their festival looks, but honestly, these are good all year long.
If I was able to, I would eat cookies every single day. Life should be enjoyed, and so should these cookies.

Oreo-Stuffed Vegan Christmas Cookies
These lovely red cookies make a decadent holiday treat for Santa!
Ingredients
3 cups all purpose flour
1¼ cup organic granulated white sugar
¾ cup fresh cooked beet purée
¾ cup coconut oil (cold not melted)
1 tsp apple cider vinegar
1 tsp vanilla extract
pinch of salt
1 tsp baking powder
¼ cup Raw cacoa powder
⅔ cup icing sugar
Oreo cookies
Instructions
Mix together the beet purée and coconut oil until combined with a hand mixer or stand mixer.
Add sugar, ACV, and vanilla and mix until well combined.
In a separate bowl, mix together salt, flours, baking powder, and cocoa powder until combined and no clumps. I like to do this with a whisk.
Add your dry ingredients to the wet mixture in parts, you might have to start using your hands as you add in the dry.
Using an ice cream scoop, scoop out a piece of cookie dough, flatten it in your hands and wrap & press the dough around the Oreo. Add more dough as needed to ensure the Oreo is total covered.
Shape the cookie and roll in powdered sugar and place them on a parchment paper-lined cookie sheet. Repeat until all the dough and cookies are used.
Cover with plastic wrap and refrigerate for 1-2 hours until firm.
Once chilled, preheat oven to 350F.
Bake for 10 minutes or until firm but not browning.
Remove from pan (carefully) and let cool on a wire rack.
Store in an airtight container in a cool dry place.
Watch how I make these vegan cookies by clicking on the video below…
[youtube=http://www.youtube.com/watch?v=VBPBNvbpQaU]