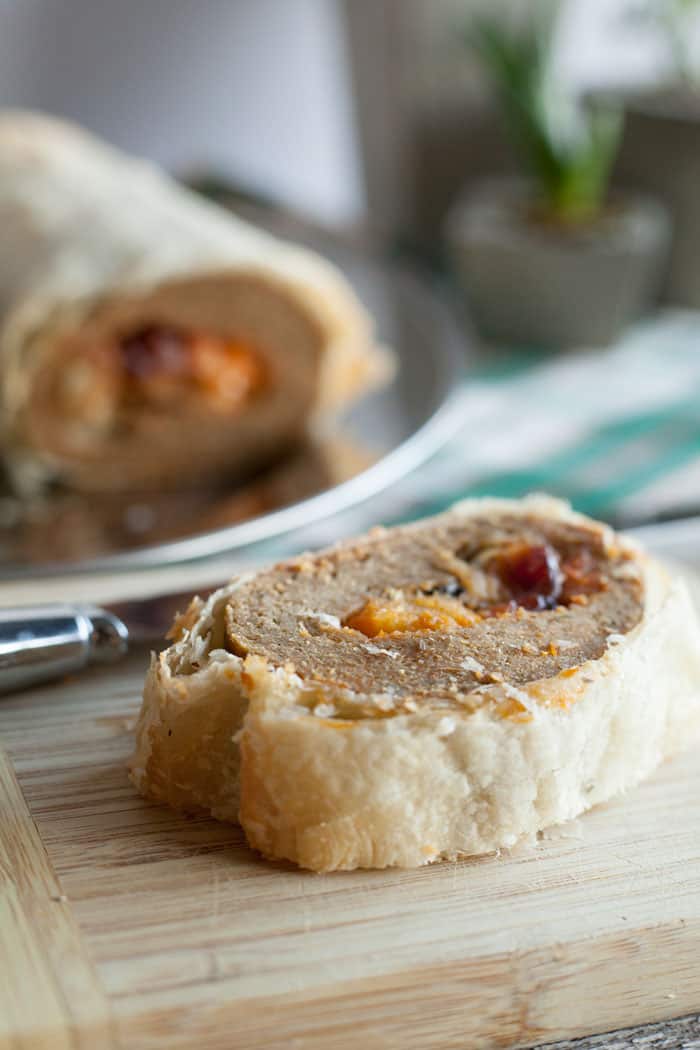 The Best Ever Vegan Holiday Roast
Wondering what to serve your vegan holiday guests this season? Put your mind at ease, because I have created a recipe for a decadent Holiday Vegetarian Roast that fits the bill perfectly. Trust me, I'm an expert…
This incredibly festive, pastry wrapped, side dish stuffed, succulent holiday roast is so much more than just something extra you have to make so your vegan friends have something to eat. The flavor combination in this roast could easily go head to head with any of the holiday classics. I know this, because my former-meat-consuming life partner is so incredibly picky that I can't get away with 'meh' recipes. The only way to keep him vegan is to really embody the traditional meals and make them as realistic as possible. Alas, this recipe was born!
To make this roast you are going to start by creating your stuffing and cranberry sauce. Provided you've got your stuffing and cranberry sauce under control it's time to move on the all-important Sweet Potato Mash. My recipe for Sweet Potato Mash below makes more than is required for the holiday roast itself. By making a bit extra, you also now have a delicious side dish for your holiday meal, and I like to keep things easy.
The seitan really steals the show of this recipe. I always make my own, and while it may appear to be difficult- it really isn't. Plus, good food come to those that cook—patiently. To get that extra meaty texture, we are going to use vital wheat gluten and beans; and for flavor, nutritional yeast, poultry seasoning, and a variety of spices. Keep this seitan nice and moist by not skimping out on the vegetable broth and tahini.
I have created a video with step-by-step instructions on how to roll up this Holiday roast, and how to create your foil surface prior to rolling. Pay close attention to the foil technique and be sure to roll out your pastry dough properly. This Vegetarian Holiday Roast really is one of a kind and is certain to be a favorite at any meal, but especially during the holidays. Pair it with my recipe for vegan Au Jus, give yourself a pat on the back and enjoy the fruits of your labor!
HAPPY HOLIDAYS!