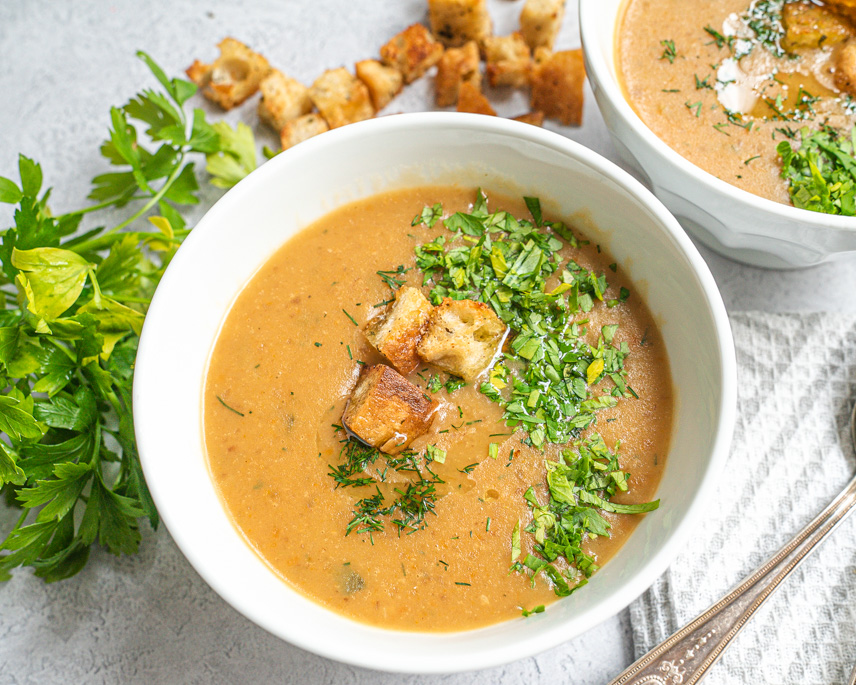 Vegan Dill Pickle Soup Recipe
I'm going to show you how to make vegan dill pickle soup in under 40 mins! Using simple vegan ingredient swaps, this dill pickle soup tastes just like the classic version.
This recipe is made with dill pickles, brine from dill pickle jar, diced vegetables and other healthy simple and tasty soup ingredients!
Related Recipe: Vegan Hungarian Mushroom Soup
Dill Pickle Soup
VEGAN | DAIRY-FREE | NUT-FREE
This dill pickle soup recipe is a vegan version of the classic Eastern European dish, traditionally made with a creamy base using sour cream or yogurt, giving it a rich and tangy flavour.
In this vegan dill pickle soup, coconut milk replaces the traditional dairy, and the base consists of vegetable broth. You can choose to blend the vegetables to make a blended pureed soup or leave the soup chunky with vegetables.
INGREDIENTS FOR DILL PICKLE SOUP (VEGAN):
Dill Pickles + brine from jar
Olive oil
Garlic
Onion
Carrot
Celery
Potatoes
Vegetable Bouillon Cubes
Coconut Milk
Flour (GF if you want gluten-free)
Fresh Dill
KITCHEN EQUIPMENT I USED:
Vegan Dill Pickle Soup
I'll show you how to make vegan dill pickle soup! This recipe is made with dill pickles, brine from dill pickle jar, vegetables & other simple soup ingredients!
Ingredients
½ cup dill pickles, grated
¼ cup dill pickle brine from the jar
2 Tbsp Olive Oil
4 garlic cloves, minced
1 small onion, diced
1 large carrot, chopped
2 celery stalks, finely chopped
2 russet or large yellow potatoes, peeled and chopped
4 vegetable bouillon cubes (or 4 tsp powder)
5 cups water
½ cup coconut milk
2 tbsp all-purpose flour
Salt & black pepper to Taste
1 Tbsp fresh dill, chopped & divided (half for garnish)
Instructions
Heat olive oil in a large pot over medium heat. Add onions, garlic, carrot, celery, and a pinch of salt, and cook until onions are translucent, about 3-5 minutes.
Add the potatoes, and cook stirring constantly for about 2 minutes.
Stir in the broth and pickle brine and bring to a boil. Reduce heat to a gentle simmer and simmer for about 20 mins or until potatoes are fork-tender.
Meanwhile, in a tall measuring up, blend together the coconut milk and flour with an immersion blender and set aside.
If you want a blended soup, use an immersion blender and puree the soup. You can also puree only some of the soup and leave some of the veggie chunks for texture.
Stir the coconut milk mixture into the soup until well combined.
Stir in the pickles and cook for another 5 mins or so until everything is heated through. Then stir in the fresh dill and season with salt and black pepper to taste.
Serve soup with fresh dill as garnish and some garlic or onion bread on the side.

Hi! I'm Candice aka The Edgy Veg
! I veganize popular food recipes for vegans, plant-based diets, eco-conscious eaters & people who are trying to eat more plants over… y'know animals or by-products of animals. I hope you enjoy this tasty vegan recipe!
---
Looking For More Vegan Dinner Recipes?
Made this recipe? Let me know what you think by leaving a ★★★★★  star rating & comment below. It truly helps me & I really appreciate any support! Feel free to share your food photos on social and tag me @edgyveg so I don't miss it!
Share My Recipe on Pinterest!