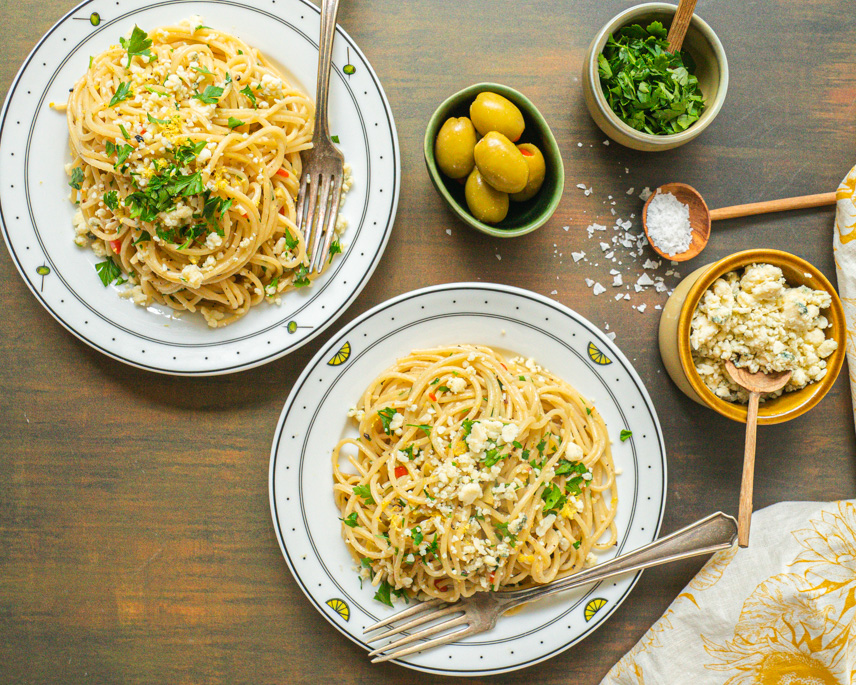 Vegan Dirty Martini Pasta Recipe
I'm going to show you how to make vegan dirty martini pasta in 12 mins! Imagine the flavors of a dirty martini… but in pasta form. This dirty martini pasta recipe is inspired by Tiktok creator @legallyhealthyblonde as I adapted this non-vegan dish to be a vegan dirty martini pasta version.
All you need is pasta, garlic, olives (with brine), lemon, vodka (or gin), vegan butter, vegan cheese, and parsley to make this delicious vegan pasta dish.
Full Recipe Down Below
 
How To Make Vegan Dirty Martini Pasta
A Dirty Martini is a classic cocktail made with vodka or gin, dry vermouth, and olive brine, typically garnished with olives. Taking inspiration from this cocktail, a Dirty Martini Pasta is a pasta dish that incorporates these flavors.
"This is like, if you took a dirty martini and made it into a pasta," says TikTok creator @legallyhealthyblonde, who created the recipe."I know I'm not the only one obsessed with dirty martinis and obsessed with pasta, and so I am trusting this going to find the right people."
I'm so excited to share my tasty vegan version of this incredible dirty martini pasta recipe!
Related Recipe: 15+ Vegan Pasta Recipes
INGREDIENTS FOR DIRTY MARTINI PASTA (VEGAN):
Pasta (opt for GF if you want gluten-free pasta)
Olive Oil
Garlic
Olives (with brine)
Lemon
Vodka or Gin
Vegan Butter
Vegan Cheese (original recipe uses blue cheese)
Parsley
KITCHEN EQUIPMENT:
Pot
Pan
Zester / Microplane
Vegan Dirty Martini Pasta
I'm going to show you how to make vegan dirty martini pasta in 12 mins! Imagine the flavors of a dirty martini... but in pasta form.
Ingredients
4 oz pasta spaghetti, linguini or other long pasta
1 tbsp olive oil
3 garlic cloves, minced
10 green Castelvetro or Manzanilla olives, finely chopped
Zest of 1 lemon
1 tbsp vodka or gin
1½ tbsp olive brine
Juice of ½ lemon
2 tbsp plant-based butter
Salt and pepper to taste
Crumbled vegan cheese of choice ( the original recipe calls for blue cheese)
Parsley, freshly chopped
Instructions
Bring a stockpot of salted water to a boil, and boil the pasta until all dente, as directed on the package. Reserve 1//2 cup of the pasta water and drain, or time it so that you can add the pasta directly from the pot to the pan.
Meanwhile, heat olive oil in a medium pan over medium heat.
Add the garlic and cook until slightly fragrant, about 1 minute. Add the olives and lemon zest, and cook until the garlic turns slightly golden, but not brown or else it will be bitter.
Deglaze the pan with vodka or gin, stirring constantly. Cook until no you no longer smell alcohol.
Stirring, add the brine, lemon juice, and butter until combined.
Add cooked pasta to the pan, and stir to coat the pasta in the sauce. Add reserved pasta water, as needed 1 tbsp at a time until the sauce is velvety and pasta is coated. Simmer for 1-2 minutes, then, taste and season with salt and lots of pepper.
Serve garnished with some chopped olives, parsley, lemon zest and cheese, if using.
---
Hey welcome to The Edgy Veg – we veganize popular food recipes for vegans, plant-based diets, eco-conscious eaters & people who are trying to eat more plants over… y'know animals or their by-products. We hope you enjoy this tasty vegan recipe!
---
Want More Vegan Recipes?
Made this recipe? Let me know what you think by leaving a ★★★★★ star rating & comment below. It truly helps me & I really appreciate any support! Feel free to share your food photos on social and tag me @edgyveg so I don't miss it!