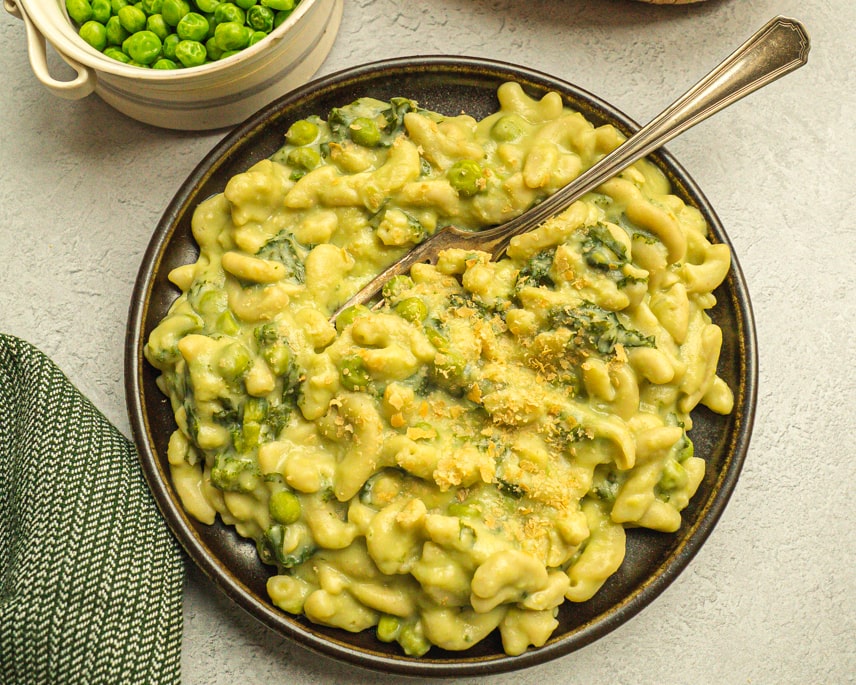 I'm going to show you how to make vegan pasta with peas! This vegan pea pasta recipe is inspired by The Pasta Queen's version but dairy-free and without eggs.
All you need is 5 ingredients to make it: green peas, pasta, onion, vegan cheese and extra greens like chopped kale to make a creamy vegan pea pasta!
Full Recipe Down Below

How To Make Vegan Pasta With Peas
This vegan pasta and peas recipe is super easy to make & only takes 17 mins to cook!
The key to creamy pea pasta is blending some of the peas to use as the sauce for the pasta. By blending peas, you have this incredible pasta sauce flavour that packs a lot of nutrition. Add in whichever veggies you want to up the greens and enjoy this weeknight staple that you'll legitimately want to make every week.
Traditionally, this recipe uses pecorino cheese, so I recommend using a cheese that you can crumble and that melts! And if you really want to make it really creamy, add unsweetened soy creamer, but it's optional!
Related Recipe: Vegan Green Pea Mac & Cheese
INGREDIENTS FOR PASTA WITH PEAS (VEGAN):
Pasta (opt for GF if you want gluten-free pasta with peas)
Peas
Olive Oil
Onion
Vegan Cheese
KITCHEN EQUIPMENT:
Pot
Pan
Blender
Fine Mesh sieve (optional)
Tips:
Using short pasta to cook in the sauce is highly recommended.
Using any greens you prefer to add extra nutrition to your pasta.
Use a fine mesh sieve after blending your peas to add only smooth sauce to your pasta.
For crumbly vegan cheese, blend it in a food processor!
Adding soy creamer to your pea pasta will make it extra creamy.
Vegan Pasta With Peas
I'm going to show you how to make vegan pasta with peas! This vegan pea pasta recipe is inspired by The Pasta Queen's version
Ingredients
2 cups short pasta of choice
1½ cups frozen peas
3 tbsp olive oil
½ small onion
handful of greens, chopped
½ cup vegan cheese of choice
Instructions
To make vegan pasta with peas, start by bringing water to a boil in a small pot or kettle.
Meanwhile, in another pot, heat up olive oil over medium heat, and add your chopped onions, stirring constantly, until translucent.
Next, add green peas (you can use frozen), some salt, black pepper and a few ladles of hot water from your other pot, and cook for 10 minutes.
Then, you'll create your pea pasta sauce by transferring most of the peas to a blender and blending them. Add the mixture back to your pan or strain the pea sauce back into the pan using a fine mesh sieve to get a smooth sauce.
Afterwards, add a few more ladles of boiling hot water, and your uncooked pasta. You can also add your extra greens (like kale). By cooking your pasta in the sauce, it allows the starch from the pasta to make the sauce creamy and delicious while the pasta absorbs the flavour of the peas.
Add more cooking water to just cover the pasta and cook the pasta stirring constantly. The pasta will start to absorb the water, so keep adding some as needed and cook your pasta until al dente.
In the last couple minutes of cooking, mix in your vegan cheese of choice. To make your cheese crumbly, run it through a food processor to make it super crumbly. Optionally, add unsweetened soy creamer to the sauce for a creamier sauce. Mix your pasta with peas until the cheese is melted.
---
Hey welcome to The Edgy Veg – we veganize popular food recipes for vegans, plant-based diets, eco-conscious eaters & people who are trying to eat more plants over… y'know animals or their by-products. We hope you enjoy this tasty vegan recipe!
---
Want More Vegan Recipes?
Made this recipe? Let me know what you think by leaving a ★★★★★ star rating & comment below. It truly helps me & I really appreciate any support! Feel free to share your food photos on social and tag me @edgyveg so I don't miss it!