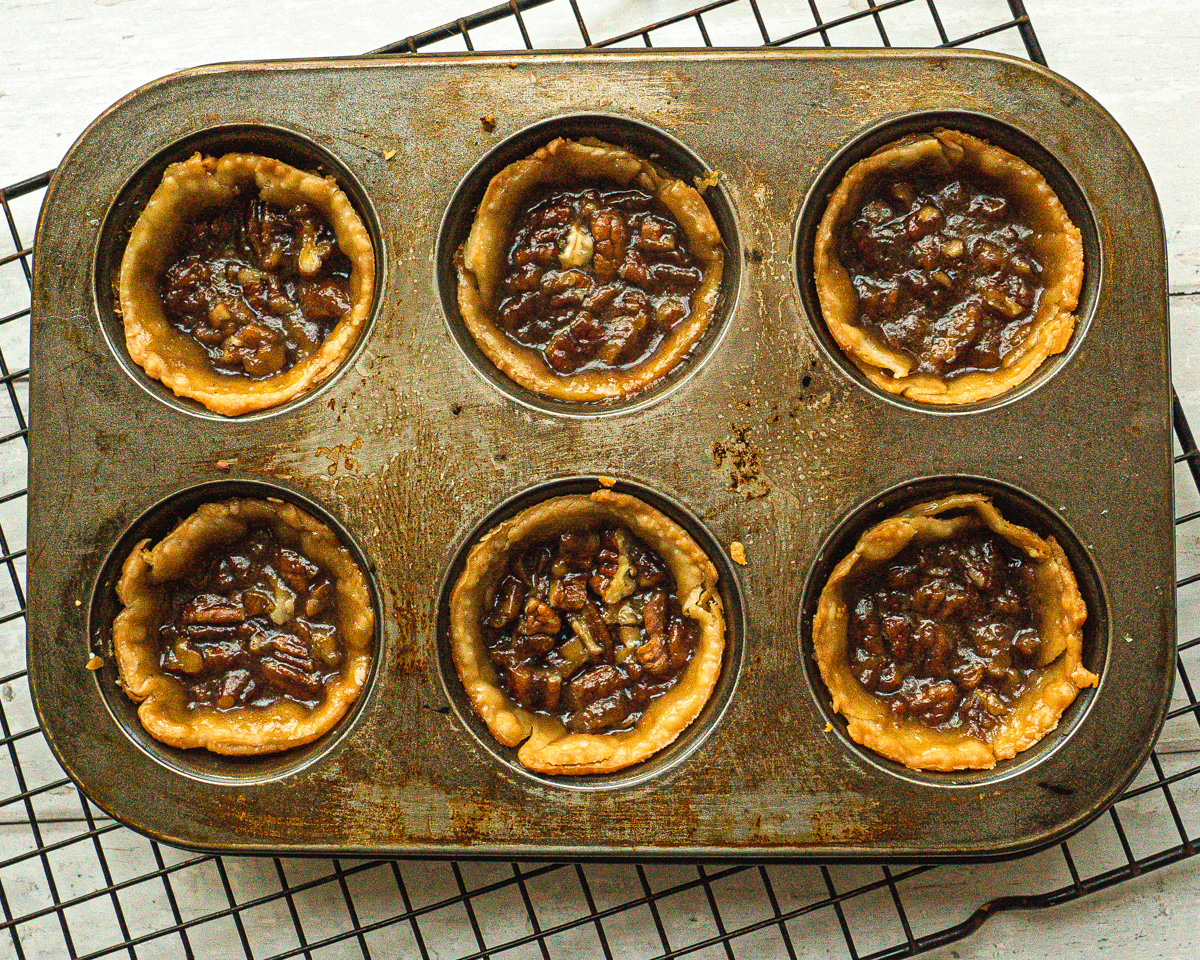 I'm going to show you how to make easy vegan butter tarts! For this recipe, you can choose to fill your vegan butter tarts with or without pecans or raisins (nut-free option)!
All you need is pie shells (mini or large pie size), and mix together 7 simple ingredients to make delicious butter tarts; perfect for the holidays or whenever you crave homemade butter tarts.
Related Recipe: Vegan Custard Tarts

How To Make Vegan Butter Tarts
This vegan butter tarts recipe is super easy to make & only takes 15 mins to bake!
For the pie crust, I recommend buying store-bought pie crust pastry (most are vegan-friendly just look at the ingredients), rolling out the pastry and cutting out 4-inch circles that you place in a well-greased cupcake / muffin baking tin! You can also use mini pie shells and place them in the well-greased baking tin too!
For your vegan butter tart mixture, you'll want to combine soy milk and cornstarch or flax meal (eggless butter tart substitute) in a bowl and melt vegan butter in a small saucepan while stirring brown sugar, salt, syrup, vanilla and the soy milk / cornstarch mixture. Then add pecans, raisins or whatever you want to each pastry shell in the pan and pour your filling until halfway! Then bake for 12-15 mins! It's that easy.
Full Recipe Down Below
INGREDIENTS FOR BUTTER TARTS (VEGAN):
Pie Shells (vegan-friendly)
Soy milk (unsweetened)
Cornstarch (or flax meal)
Vegan Butter
Brown Sugar
Salt
Corn Syrup
Vanilla
Nuts or raisins
KITCHEN EQUIPMENT:
Rolling Pin
Muffin Baking Tin
Saucepan
Oven
Tips:
Many store-bought frozen pie pastry shells are "accidentally" vegan! Just check the ingredients list to avoid eggs, milk and butter.
Vegan Butter Tarts
I'll show you how to make easy vegan butter tarts! For this recipe, you can choose to fill your vegan butter tarts with or without raisins or pecans!
Ingredients
2 pie shells or 8 mini pie shells (raw | vegan-friendly)
3 tbsp unsweetened soy milk
2 tbsp cornstarch or flax meal
¼ cup vegan butter, softened
½ cup brown sugar, packed
¼ tsp salt
½ cup corn syrup
1 tsp vanilla
½ cup pecans or walnuts, chopped (or raisins)
Instructions
If using pie crust pastry, roll out the pastry and cut out 4-inch circles using a pastry ring or glass.
Place the cutout pastry into a very well-greased cupcake/muffin tin, and place it in the fridge. If using mini tarts, grease the cupcake/muffin tin, and push the mini tarts into each muffin spot/area/hole. Place in the fridge.
Preheat oven to 375F and move your oven rack to the bottom of the oven.
In a small bowl, combine the soy milk and cornstarch or flax meal and set aside.
In a small saucepan over low heat, melt vegan butter. Stir in brown sugar, salt, corn syrup, cornstarch or flax slurry, and vanilla.
Divide pecans or walnuts between the pastry shells, then pour with the filling until each one is half-way full.
Bake for 12-15 minutes or until the filling is bubbling and the crust is lightly golden around the edges.
Allow the tarts to cool in the pan for about 10 mins. Then, transfer to a wire cooling rack until completely cool.
---
Hey welcome to The Edgy Veg – we veganize popular food recipes for vegans, plant-based diets, eco-conscious eaters & people who are trying to eat more plants over… y'know animals or their by-products. We hope you enjoy this tasty vegan recipe!
---
Want More Vegan Recipes?
Made this recipe? Let me know what you think by leaving a ★★★★★ star rating & comment below. It truly helps me & I really appreciate any support! Feel free to share your food photos on social and tag me @edgyveg so I don't miss it!