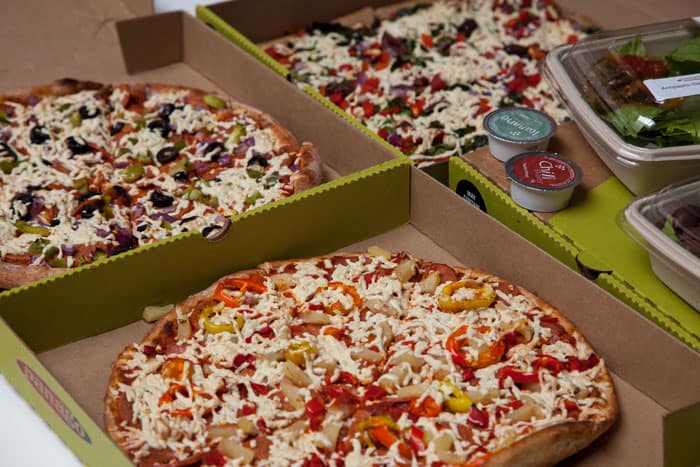 One of the biggest struggles I faced when deciding to go vegan was food delivery—specifically pizza delivery. I have always been a huge pizza fan. If it were up to me as a kid, I would have eaten pizza daily- heck if it was up to me now, I would eat pizza daily. But this luxury of an ooey-gooey, 30-minutes-or-it's-free, pizza-right-to-my-door, just wasn't available to me anymore. It wasn't impossible, but a sad cheeseless pizza just wasn't the same happy experience, so I stopped ordering.
But now I can. Vegans, say it with me "Now I can!" Panago Pizza here in Canada has added Daiya dairy-free cheese to their menu, along with 4 vegan crusts, vegan sauces, and meat-free pepperoni! That's right, Panago has made it easy for vegetarians and vegans to enjoy the same great pizza delivery experience and actually satisfy their pizza cravings! Trust me, I've tasted it for myself! They also have delicious choices for creating your own custom salads—if that's your type of thing.
James and I were so excited when we heard about Panago's effort to make pizza more available in our vegan lives—we simply had to do a taste test. We invited our roommate (who does not eat cheese) and our Danish friend (fellow vegan) over for the ultimate pizza taste test party. We wanted to really test out how far a vegan could go with the menu at Panago, and were pleasantly surprised that the vegan options were mixed in with the regular ones- not segregated like so many restaurants, grocery stores, and fast food chains. This is a huge bonus in my books, because I am tired of being made to feel "different" due to my compassionate eating habits.
What we ordered:
Medium Vegan Deluxe Pepperoni Pizza on Regular Hand-Tossed Crust– Italian tomato sauce, meat-free pepperoni, black olives, green peppers, red onions + dairy-free Daiya cheeze.
Medium Veggie Med with Daiya Cheese (no cheese or feta) on Gluten-smart Crust- Fresh passata tomato sauce, fire-roasted tomatoes, kalamata olives, red peppers, baby spinach leaves, red onions + dairy-free Daiya cheeze.
Medium custom option on Multigrain Thin Crust- Meat-free Pepperoni, Banana Peppers, Pineapple, Red Peppers
Mediterranean Salad (Minus the feta)- Romaine lettuce, baby spinach, red onions, green peppers, grape tomatoes, kalamata olives.
Antipasto Salad (Minus the goat cheese)-Romaine lettuce, grilled vegetables, grape tomatoes, kalamata olives.
Salad Dressing- Simple Italian
Dips/Shakers: Italian Tomato Dip, BBQ Dip, Cayenne Hot Sauce, Chili Shaker, Italiano Shaker
1L of lemonade
1L of orango juice
As you can see, as a vegan, the menu is not limiting! We began our taste test and were pleasantly surprised. All 4 crusts tasted great, yes even the gluten-free one, and you all know how I feel about GF baking. The gluten free crust was not as dense as most (all) of the gluten free crusts I have been exposed to in the past, and didn't leave that familiar gluten free grainy after taste in my mouth. I was VERY pleasantly surprised. Even James like it, and I usually can't get him to try anything gluten free after our last GF pizza crust experience– well done Panago!
My favourite crust was actually the multigrain thin crust, it was light, thin, and in a way crispy but didn't taste like other multigrain crust I have had in the past. There was no cardboard after-taste; it will definitely be my go-to crust when ordering from Panago. My favourite pizza was the one with banana peppers, but the Vegan Deluxe Pepperoni was a very close second; mainly because I have a thing for hot peppers and so, by default, anything containing them wins.
The flavours of all 3 pizzas really compliment not only each other well, but also the Daiya vegan cheese, I did not feel like I was eating a substitute, and all my pizza party guests agreed. One thing I will mention is: I like my pizza to have a small sprinkling of cheese, so I would ask for half cheese next time. Daiya (like normal cheese), when used excessively can over power the taste of the other toppings. In case you were interested in my personal dipping opinion, I would suggest the following pizza with, what I think is the perfect complimenting dip…
Vegan Deluxe Pepperoni Pizza with Cayenne Hot Sauce
Meat-free Pepperoni, Banana Peppers, Pineapple, Red Peppers with BBQ Dip
Veggie Med with Daiya Cheese on Gluten-smart Crust with the Italian tomato
On the side we enjoyed 2 salads with their simple Italian dressing (also vegan). The ingredients were fresh, and abundant, I was pleasantly surprised. Often when you order a salad you end up with iceberg lettuce a few sad tomatoes and large onions chunks, this is was not the case at all. The salads were well balanced and complimented the pizza perfectly!
The Edgy Veg's Panago Vegan Menu Hack
Order Panago's signature vegan pizza: The Vegan Deluxe Pepperoni! It has Italian tomato sauce, meatfree pepperoni, black olives, green peppers, red onions and of course, dairyfree Daiya cheese, or create your own.
You can substitute dairy-free Daiya cheeze for any other cheese. Daiya is free for personal size pizzas, but there is an extra charge for it on small (25 cents), medium (50 cents), and large (75 cents) pizzas.
Substitute one of six vegan sauces for one that is not vegan
Remove caramelized onions, sautéed mushrooms, and proteins from any pizza, and replace with meat free pepperoni (soy based)
There you go! Panago pizza, a worthy contender for your next vegan pizza party! Panago has 180+ stores and are located in BC, Alberta, Winnipeg, Saskatchewan, Ontario, New Brunswick and Newfoundland. If you're curious about the ingredients, check out their allergen chart online which lists all of their food products that contain gluten along with other major allergens.
Panago likes to surprise people with free vegan pizza every now and then with their #RandomActsOfPizza campaign. So make sure to follow them on Facebook, Instagram and Twitter because you never know when a #RandomActsOfPizza may find you!
This Post is sponsored by:
PANAGO PIZZA