Starbucks Caramel Brulée Latte
The Caramel Brulée Latte is a popular Holiday drink from the so-much-sugar-it-might-as-well-be-a-milkshake-Starbucks menu. In general, I am a coffee purest, meaning that I refuse to even add sugar to my daily latte or cappuccino; but during the holidays, a nice sugary coffee-drink brings out a sense of Christmas spirit for me.
I feel like like I am drinking coffee and more like I am enjoying a caramel and coffee-flavoured hot chocolate or something, which is A-ok with me.
I put this recipe together using both my caramel sauce and the vanilla sauce below, and enjoy them both equally to the point I couldn't choose, so the choice is up to you! Or add both, I have done that- guilty as charged!
In terms of flavor profile, this coffee based creation tastes like an espresso with caramelized sugar, finished with rich and creamy whipped cream. I would suggest enjoying it with a sweet treat, but you might over-do it in the sugar department, so enjoy on it's own next to a fire, or if you're in a condo like I am-the twinkling lights of your Christmas.
If you're feeling adventurous, I also recommend topping this latte with some white sugar and torching it with a kitchen torch to get that great deep burnt sugar flavor, mmmmm. Enjoy my loves!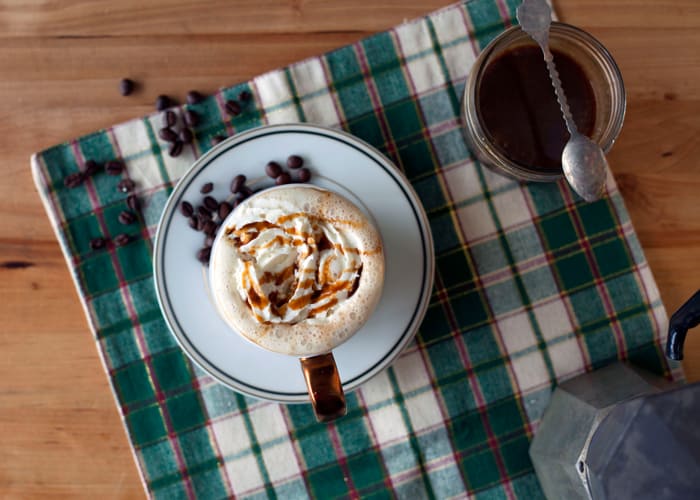 Starbucks Caramel Brulée Latte
This Starbucks latte is a holiday favourite! Espresso with steamed milk, caramel sauce topped with vegan whip is delicious and easy enough to make at home!
Ingredients
1-2 oz. espresso
1-2 Tbsp vanilla bean syrup (recipe below) or my vegan caramel sauce + more for topping
vegan whip (optional)
Instructions
Line your mug with caramel sauce or vanilla syrup.
Add brewed espresso to the mug with the syrup.
Steam or heat your no-dairy milk of choice and add to the mug as well.
Top with whip and ribbons of caramel sauce and enjoy. (optional)
DIY Vanilla Bean Syrup
Ingredients
1½ cups water
3 tablespoons sugar
2 vanilla beans
Instructions
Score the vanilla bean in half lengthwise with a small sharp knife (one side only).
Scrape out the vanilla seeds with your knife, and set aside.
Over a low-medium heat, combine water and sugar in a small saucepan.
Add the seeds and now empty bean to the pan.
Simmer until the mixture has reduced to 1 cup. This will take roughly 10-20 minutes, depending on your stove.
Let The syrup cool.
Add to coffees, hot chocolate, or top ice cream for enhanced flavour profile.
Keeps fresh for up to three weeks when stored in the fridge