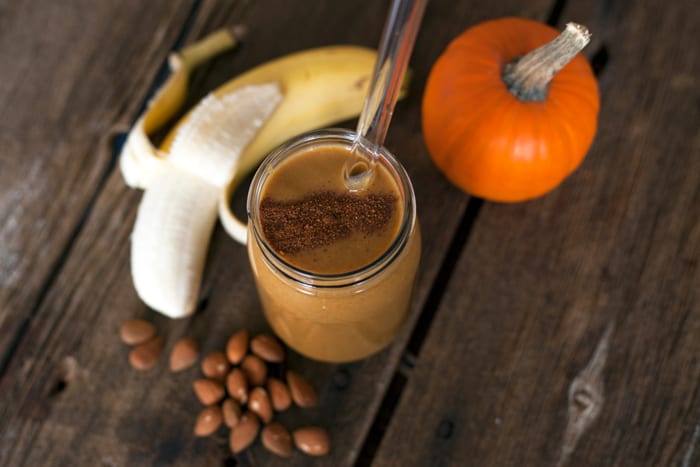 Pumpkin Pie Smoothie VEGAN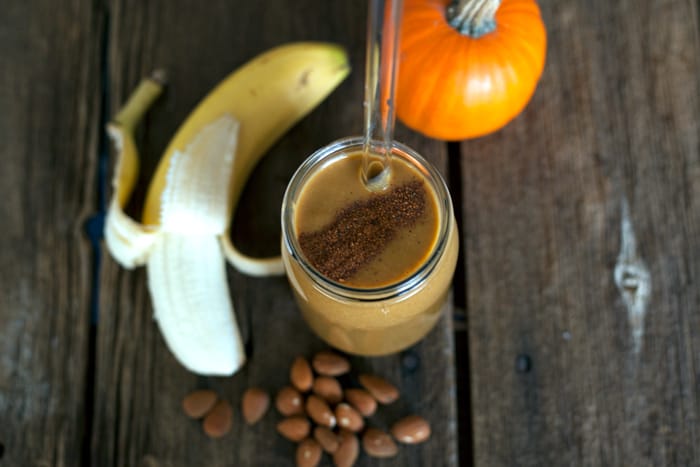 When we're hit with fall temperatures, my smoothie consumption usually begins to drop, while my comfort food intake rises. Instead of giving into my cravings, I have decided to preempt them with dessert inspired recipes. The first one is fitting for the fall season with Thanksgiving and Christmas on the horizon. Oh yes, it is here—The Edgy Veg Pumpkin Pie Smoothie! Yummers!
Pumpkin Spice has become much more than a simple spice blend perfect for holiday pie- it's a pop culture flavor phenomenon. These days we are pumpkin spicing everything in sight, from coffee to cookies, right to candles and marshmallows. To keep up with this trend, I have spent some time pumpkin spicing some items of my own. Like this delicious pumpkin pie smoothie, so decadent you could skip regular pumpkin pie all together. Not that you need or would want to… #desserts4lyfe
This thick and creamy smoothie is a delicious start to your day as breakfast, but is just sweetened enough to bring it into dessert territory. This smoothie is packed with protein thanks to Tao Nutrition, is rich in beta-carotene, and insanely high in fiber. Dessert for breakfast? …Now that's my kind of meal!
Want to try Tao Nutrition? Use the promo code: edgyveg and get a 10% discount on your order!
What dessert would you want to see in a smoothie? What is your favourite fall recipe? Do you have a vegan version of it? If not, leave me a comment below or on my YouTube video letting me know what recipes you would love to see on my show or blog! No requests? Well leave me a quick note to say hi! I love those too! I have so many awesome Thanksgiving, holiday and Christmas recipes coming your way, so stay tuned!

Pumpkin Pie Smoothie
This delicious, healthy, vegan smoothie is packed with vitamin A, potassium, protein and fiber. It makes a great breakfast or a sweet substitute when you have those dessert cravings!
Ingredients
1 cup almond milk
1 banana, frozen
¼ tsp ground cinnamon
¼ tsp pumpkin pie spice
2 Tbsp maple syrup
⅔ cup pumpkin puree
Instructions
Add all of the ingredients to the blender in the order listed.
Blend until smooth.
Notes
You can use canned pumpkin puree or homemade!

For homemade puree: Remove seeds and place the whole pie pumpkin in the oven and bake at 325°F for 1 hour, or until a knife can be inserted through the peel. Remove peel and puree in a blender.
Want more Vegan Pumpkin Recipes? Check out my favourites below!