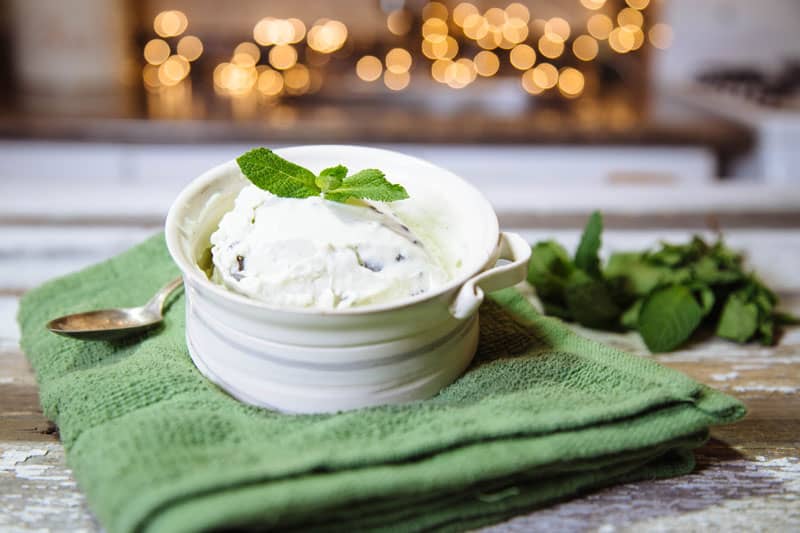 Vegan Mint Chocolate Chip Ice Cream Recipe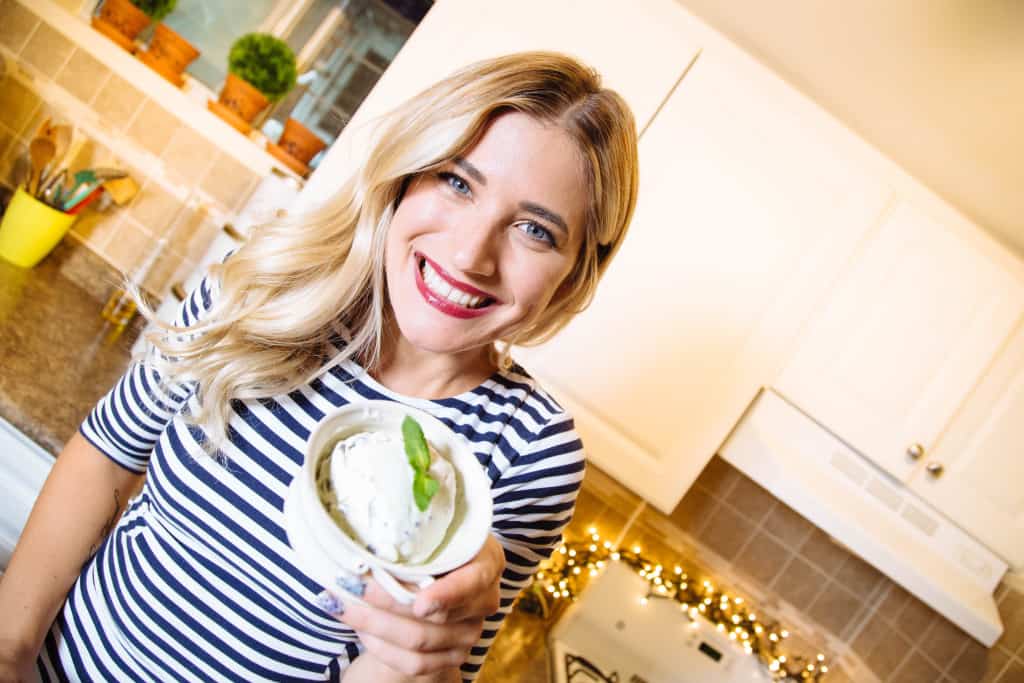 I used to hate mint things. In my opinion, mint was reserved for chewing gum and toothpaste. BUT one day, when I was a young lass, I was at a girlfriend's doing teenage things, and she gave me some mint chip ice cream. I was shocked! There is something so different and beautiful about mint chip ice cream, it is nothing like other mint-chocolate treats I have ever had.
Well, it instantly became my favourite flavour of ice cream, and after I went vegan of course I couldn't find a vegan version that I enjoyed. Nothing was as creamy as the real thing. This meant, as it usually does, that I had to come up with my own version of this minty treat.
So I went to work. I combined all the creamiest vegan ingredients I could think of, and good golly did I come up with the creamiest, mintiest, dairy-free ice cream in all the land! I hope you love it as much as I do!

Vegan Mint Chocolate Chip Ice Cream Recipe
Learn how to make vegan ice cream using cashews and coconut milk! This vegan mint chocolate chip ice cream recipe is super easy to make and tastes JUST like real cream ice cream! It is dairy-free as well as soy-free!!!
Ingredients
2 cups full-fat coconut milk, chilled and divided from water
¾ cup sugar
small pinch of salt
1 cup raw cashews, soaked 4-6 hours and rinsed well
½ cup almond milk
1 tsp vanilla extract
1 ½- 2 tsp mint extract
½ -1 cup mini chocolate chips
5 leaves of fresh mint
3-5 leaves of spinach for green colour (optional)
Instructions
In a high-speed blender combine cashews and almond milk and blend until you reach a thick and creamy consistency.
Add coconut milk and remaining ingredients (except chocolate chips) to the blender (adding half the mint extract) and mix until very smooth and creamy.
Add more mint to taste.
After the ice cream mixture is well combined, add it to your ice cream maker and mix according to instructions.
Halfway through the process, slowly add your chocolate chips.
Once you have creamy frozen ice cream, serve right away, or add it to an airtight container and return to the freezer and allow at least 2 hours for the ice cream to harden completely.
Love ice cream, and want more dairy-free ice cream recipes? Check out these other ice cream recipes below:
Chocolate Chip Cookie Dough Ice Cream
Like videos? Watch me make ice cream below!