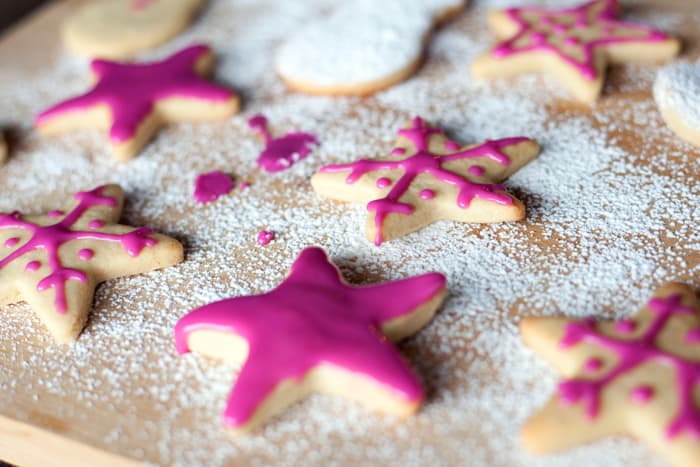 Christmas sugar cookies are a wonderful holiday treat. I love love love this recipe. Christmas is the one time of year I feel like a kid again, cutting out cookies with holiday shapes, decorating the tree, singing and dancing to the holidays classics. It's wonderful isn't it?! I feel like I have been in this kitchen baking for years! Luckily, these easy vegan sugar cookies are fantastic if you have many dozens of cookies to make and decorate. Easy and simple ingredients and straight forward instructions, you could even freeze the dough! I made the icing for these with beets to give it that pretty pink colouring. No fake colouring in my kitchen! What are your favourite Christmas cookies?! Are you doing lots of baking this weekend?

Vegan Sugar Cookies
These vegan christmas cookies are perfect for decorating! These classic sugar cookies are great for cookie-cutting and decorating anytime you feel festive.
Ingredients
Dry
2 cups flour
⅛ tsp salt
½ tsp baking powder
¾ cup sugar
Wet
¼ cup apple sauce
¼ cup vegan butter
½ Tbsp vanilla extract
1 eggs-worth of egg replacer
Top with vegan royal icing
Instructions
Sift all dry ingredients in a bowl.
Mix together all your wet ingredients with a whisk, hand blender or stand mixer until well combined.
Add your dry ingredients to the wet and mix well. You dough should come together nicely and not be too wet. If it is, add a little but more flour. if too dry add apple sauce a tablespoon at a time.
Form a ball, cover and place the dough into the fridge for 1 hour.
After an hour, roll out the dough (I do it between 2 pieces of parchment paper or plastic wrap).
Preheat the oven to 350F.
Cut out cookies with your favourite festive cookies cutters and place on a parchment paper-lined cookie sheet.
Bake cookies for 8-10 minutes.
Remove from cookie sheet right away and place on a cooling rack until cooled.
Vegan Royal Icing
Quick and simple vegan royal icing for your cookies, cupcakes and baking!
Ingredients
1 cup confectioner sugar
1 Tbsp almond milk
1 Tbsp agave, maple syrup or brown rice syrup
¼ tsp almond extract
optional colour: pure beet juice ¼ tsp at a time until desired pink is reached
Instructions
In a large bowl or stand mixer, combine all ingredients except colouring and mix until the icing is thickened and smooth, about 2 minutes.
Add in colouring and mix until well incorporated.