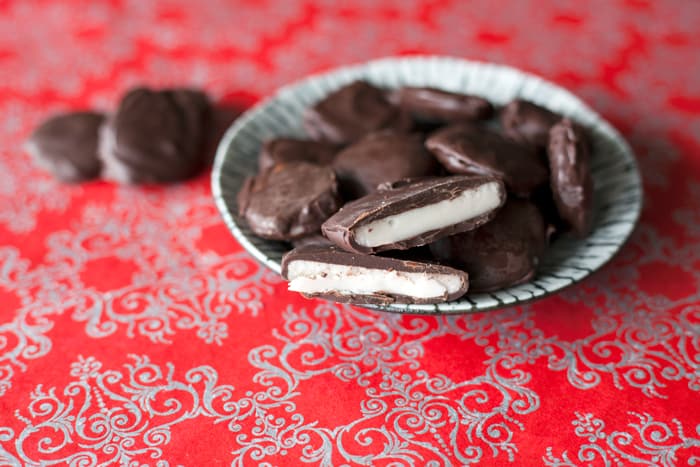 Homemade Peppermint Patties
I will admit, making any homemade candy that requires me to drip or coat the entire thing of candy into chocolate gives me anxiety. I am just terrible at dipping or coating things in chocolate and making them look good.  I always loose the candy into the chocolate, or it melts on my fork while I am taking my OCD sweet time trying to make it work.  But alas, here I am a few days before Christmas, making chocolate dipped candies, cursing the Christmas candy Gods, and drinking all leftover chocolate.
Today I tried my hand a vegan peppermint patties. This recipe require ingredients you probably already have in your pantry or fridge and is pretty darn simple. Unlike the store-bought version you avoid all scary fake processed sugars and corn syrups, and YOU get to choose an ethical chocolate source! It's win-win for all! Let me know what treats you're making for Christmas this year by leaving me a note in the comments below. Happy Holidays!

Homemade Peppermint Patties
Peppermint patties are one of the easiest holiday candies to make. With just a few simple ingredients, you can make smooth, creamy vegan peppermint patties –just like the store-bought variety!
Serves:
12 large 24 small
Instructions
In a large bowl or stand mixer, beat together all ingredients except chocolate, until a sugary dough forms. If it's too sticky slowly add more sugar, until you get desired consistency.
Form the dough into a disk and wrap in plastic wrap.
Refrigerate for 30 mins to 1 hour.
After 1 hour, roll out your dough between 2 pieces of parchment paper or plastic wrap, to a ¼-inch thickness.
Using a small round cookie cutter of your desired size (you could also use a small drinking glass), cut out circles and place on a parchment paper lined-baking sheet.
Gather extra and re-roll and cut until no more dough remains. Repeat until you run out of dough.
Place the baking sheet in the freezer for a minimum of 30 minutes or until the disks are firm (overnight is best).
When ready your disks are hard, melt the chocolate over a double boiler, stirring occasionally, until the chocolate is completely melted and smooth. Remove from the heat.
Dip each mint disk into the chocolate using a fork and allow any excess chocolate to drip off before returning the patty to the parchment-lined baking sheet.
Repeat with all of the disks and allow to set in the freezer for a minimum of 1 hour.
Store in an airtight container. I like to keep mine in the fridge to avoid melting and keep them fresh.
Nutrition Information
Calories:
280
Fat:
9.7
Saturated fat:
6.7
Unsaturated fat:
1.8
Carbohydrates:
52.2
Sugar:
47
Sodium:
20.4
Fiber:
2.1
Protein:
1.4
Cholesterol:
3.6