Peanut Butter Chocolate Pudding- Dorm Friendly Recipe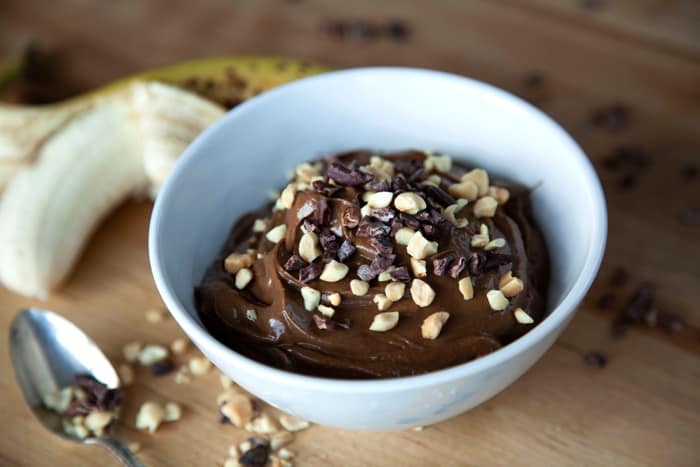 Living in a college dorm does not necessarily mean a constant diet of scary cafeteria food and the end of a decent home-cooked meal. As long as you have a blender, a microwave, a waffle maker and a mug, you can make some meals that even the staunchest foodie would enjoy. I recently took an inventory of my favourite foods, and realized how easy it was to recreate them with minimal equipment.
I am going to start with dessert because it's the most important meal of the day, and it's made with chocolate, an ingredient crucial to post-secondary survival. This peanut butter chocolate pudding is the bomb dot com. I know the ingredient list probably made your face a bit crooked, but trust me when I tell you, you don't taste it, and it is essential to the creaminess of the decadent treat. If you're not into Maple syrup, you can always sub it out for coconut sugar, or agave; but Maple syrup is 100% natural, is loaded with minerals, and I love the flavor it adds to the profile of this pudding.
The only piece of equipment you to whip up this sinful delight is a blender, and it's ready in a matter of minutes– not even those Jell-O pudding packets can say that! I let my dear friend Nikky from Health Nut Nutrition try out this recipe and even she was impressed by the creamy consistency and flavor buy such simple and healthy ingredients. Big win for this gal!
This is a great late-night study snack, as it has just the right enough of caffeine to keep you focused and alert, but not enough to keep you from sleeping when you're ready for bed. Plus, chocolate makes you smarter- right?

Vegan Peanut Butter Chocolate Pudding
Learn how to make an easy, gourmet dessert in your dorm room using only a blender and easy ingredients. This vegan peanut butter chocolate pudding recipe is an indulgent way to get you through your studies.
Ingredients
1 avocado
½ ripe banana
¼ cup peanut butter
¼ cup cacao powder
¼ cup maple syrup
⅛ -1/2 cup coconut milk
cacao nibs for topping – optional
peanut pieces for topping- optional
Instructions
Combine all ingredients except the coconut milk and topping in the jug of your blender or food processor.
Slowly add coconut milk ⅛th of a cup at a time to help with blending and desired constancy.
This is a pudding, so it should have a thickness to it.
…More dorm room recipes coming your way soon!