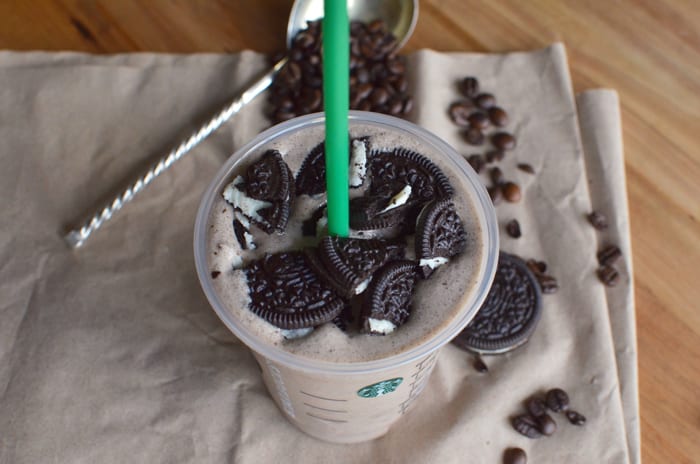 Oreo Frappuccino Starbucks Recipe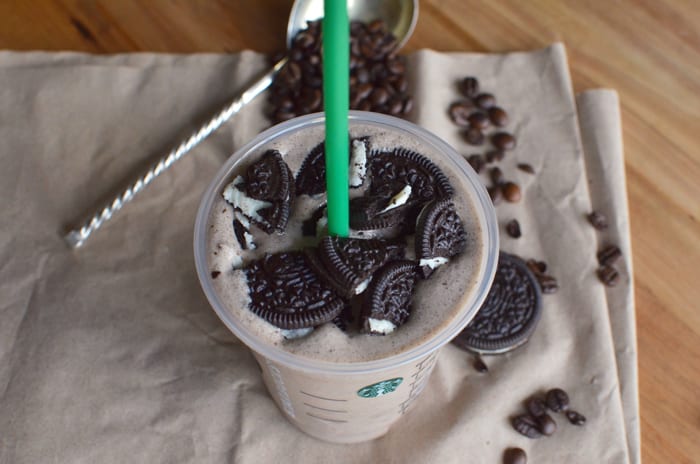 I thought it would be appropriate to share one of my favorite indulgent-decadent-not-for-anyone-on-a-diet vegan treats—the Oreo Frappuccino.
I first saw a girlfriend buy a Starbucks Oreo Frappuccino after a long night of partying. I was never a huge fan of the sugary coffee drinks, and hated the coffee at Starbucks. But this, this I could not, not try. One sip and I was both horrified yet impressed how tasty it was.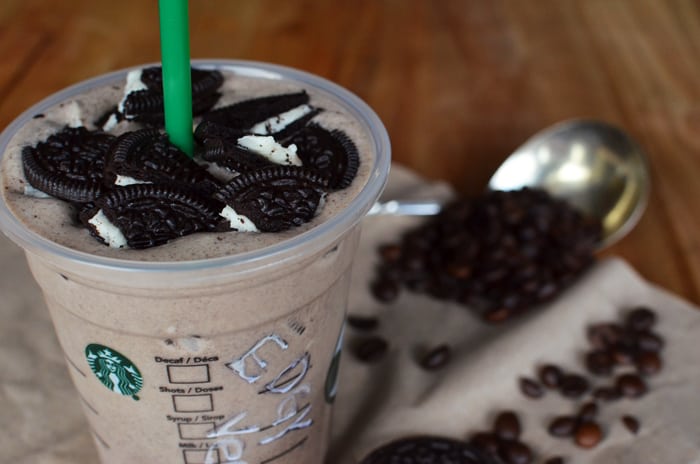 I started to make these on hot summer days instead of milkshakes when I was feeling PMS-y or just really wanted a sugar rush. I feel less guilty about this when I make it at home, because I use real, healthy (aside from cookies LOL) ingredients and coffee that actually tastes good.
I refuse to spend $5+ on fake, chemical-laden ingredients when I can make it myself—join me will you? Let me know what you think! Leave me a comment, I like comments. 🙂

Starbucks Oreo Frappuccino Recipe
The Oreo Frappuccino also known as a Cookies and Cream Frappuccino, is a well loved item on the Starbucks secret Frappuccino menu. Learn how to turn your favourite Starbucks drink vegan by following this delicious dairy-free recipe! It's like a vegan cookies and cream milkshake.
Ingredients
3 Oreos or Oreo-type cookies
1 Tbsp Cacao or cocoa powder
2 Tbsp coconut sugar
1 -1½ cup coconut milk
½ cup ice
1 shot espresso, chilled
½ tsp xanthan gum (optional)
Crushed Oreos for topping
Instructions
Place all of your ingredients(except extra cookies for topping) into a blender and blend until well combined
Add more coconut milk or sugar to taste and more ice if you like your frapp extra thick!