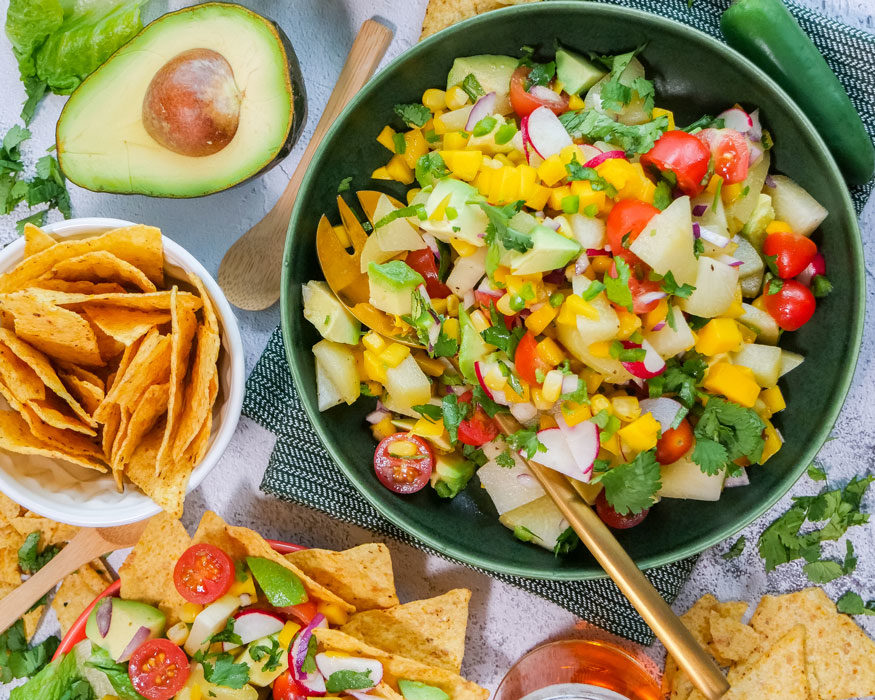 Vegan Ceviche | Chayote Recipe
Vegan ceviche can be made using a secret ingredient: Chayote! Instead of using fish, we're going to mimic the texture with chayotes to make a vegan ceviche. You can also use the same technique to make vegan fish tacos with it!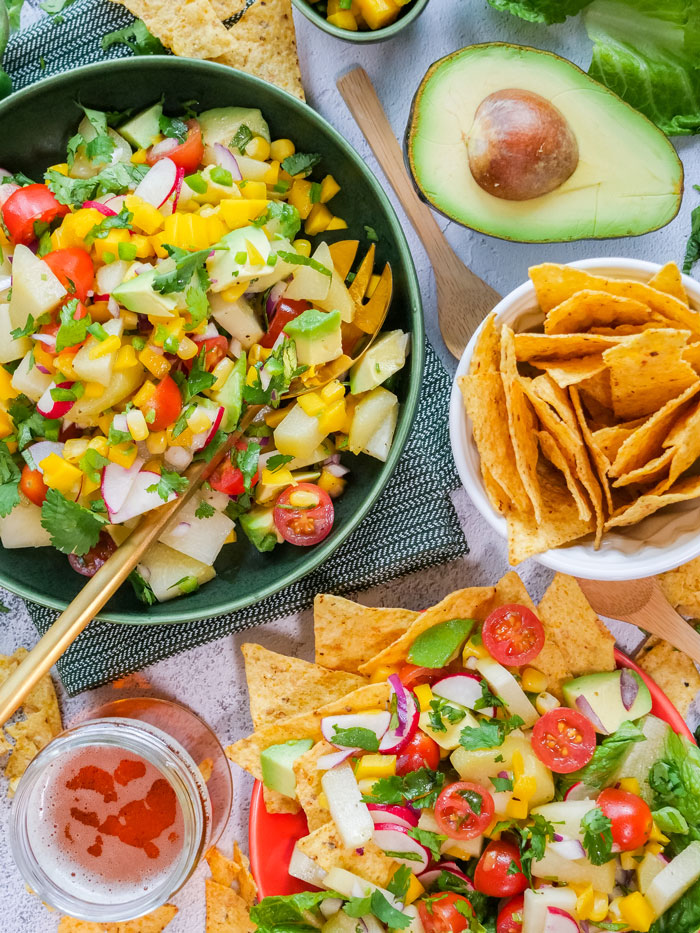 Ceviche Using Chayote
I saw an interview on Medium where they interviewed chef Karla Torres Ortega, about her use of chayote in place of fish. I was super curious about this weird vegetable I had never seen before! Naturally, I needed to give this an Edgy Veg twist.
So, what is chayote? A chayote is from Mexico and looks like if a potato and a cucumber had a baby. The Mexican Chayote is a type of summer squash but with the taste and texture a cucumber and a potato combined, kind of like jicama. It has a light flavour and crunchy texture, making it a very interesting substitute for fish when cooked and marinated properly.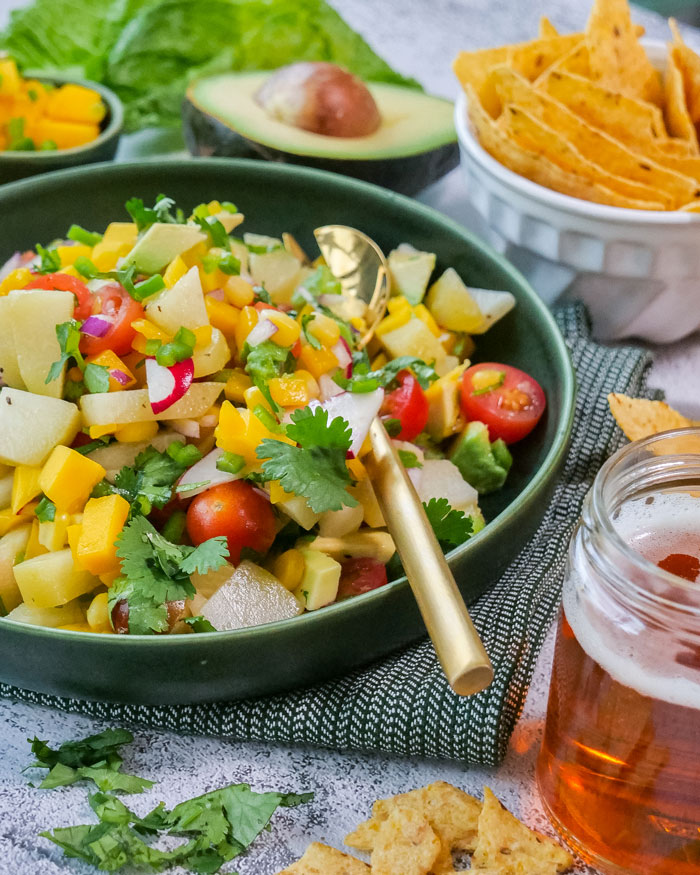 I wanted to test this first with a ceviche recipe, because of the nature of the vegetable. I knew it would fair well with the sweet and tangy flavours the dish is so well known for. Next, I am for sure going to try it as a taco or grilled fish substitute. I shall report back.
Related Recipe: Vegan Esquites – Mexican Street Corn Salad
Vegan Ceviche
DAIRY-FREE | SHELLFISH-FREE | GLUTEN-FREE
Ceviche is made slightly differently around the world, but it apparently originated as a Peruvian dish where they use raw fish and cook it in lime juice. Many cultures and places around the world make ceviche in different ways using different ingredients, so my vegan ceviche will be made as a mix of ingredients from many cultures.
I typically like my vegan ceviche with some mango, avocado, and corn served with tortilla chips. Feel free to dress this up with whatever you'd like in your vegan ceviche.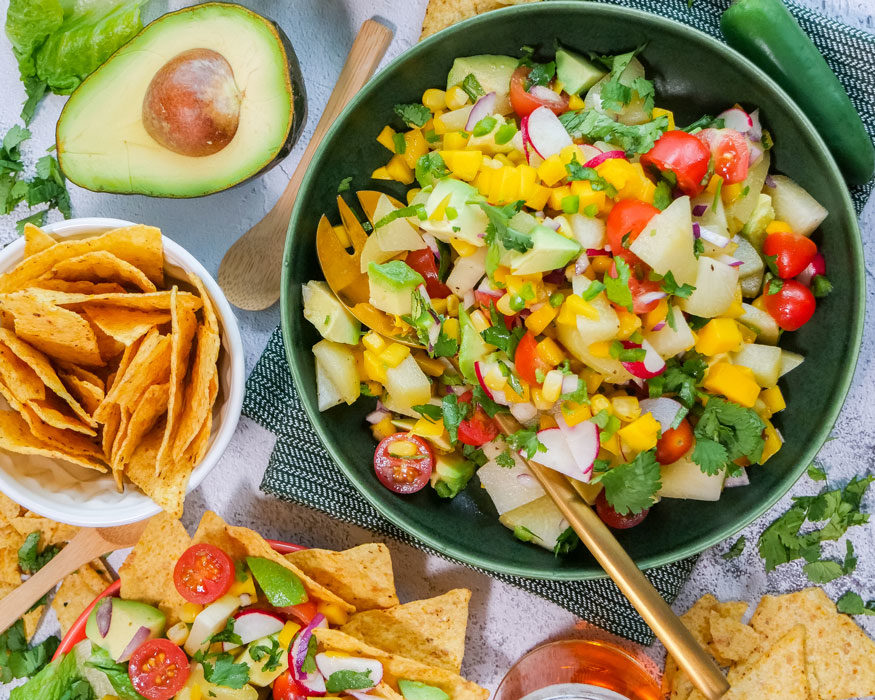 VEGAN CEVICHE INGREDIENTS
This recipe has the following ingredients:
KITCHEN EQUIPMENT I USED:
Pot
Peeler
Cutting Board
Knife
2 Large Bowls
1 Medium Bowl
Slotted Spoon
Related Recipe: Vegan Smoked Salmon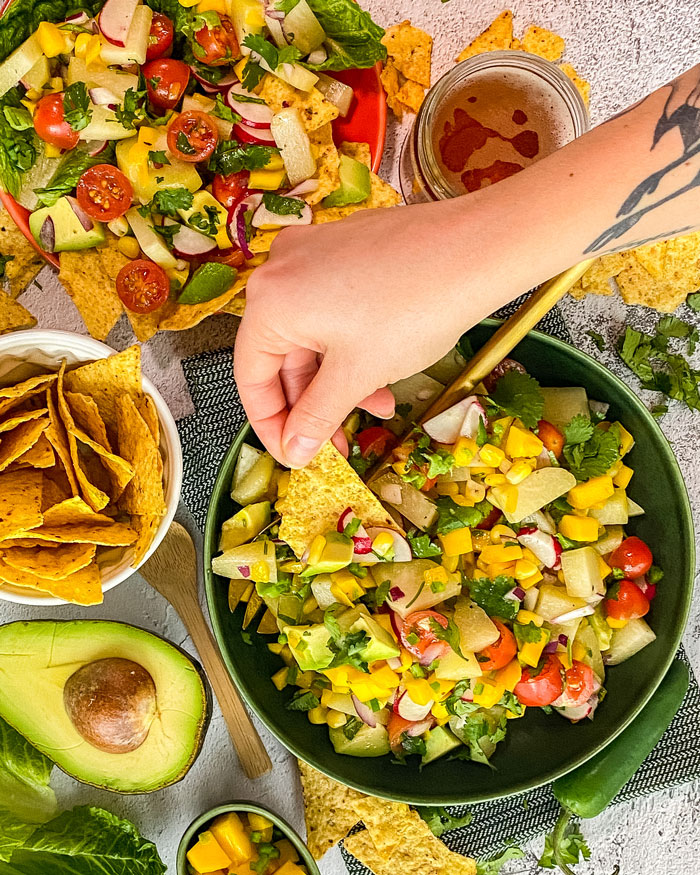 Tips on making Vegan Ceviche:
Make-Ahead: The chayote can be marinated a day in advance. Be sure to drain it at the 4-hour mark so it does not taste just of lime. Then simply cover, and store in the fridge until it's ready to use.
Serving tip: Place the ceviche in a large bowl and place a variety of serving options around it in small bowls. Then allow people to spoon it onto the crisp or serving item of choice. I love variety when I serve this dish, and so will your guests!
Vegan Ceviche Recipe
Chayote Ceviche
Make-ahead note: The chayote can be marinated a day in advance. Be sure to drain it at the 4-hour mark so it does not taste just of lime. Then simply cover, and store in the fridge until it's ready to use.
Instructions
In a medium pot bring water to a boil.
Place chayote into the pot and cook for 15 mins, or until a knife or fork can be inserted easily. They should still be firm enough to hold their shape, not become mushy.
Meanwhile, prepare an ice bath.
In a separate bowl, place onions and cover with water and some lime juice. Cover and refrigerate.
Place chayote into the ice bath, to stop them from cooking further. Drain well.
Once cool enough to handle, peel them and discard seeds and touch areas, then cut them into ½-inch cubes.
In a glass bowl, add lime juice, orange juice, and seaweed and whisk to combine.
Add cubed chayote and gently combine with the marinade. Making sure it is covered completely in lime juice. Cover and chill for at least 30 minutes, I find 2-4 hours is best.
When ready to serve; in a large serving bowl, place drained red onion, tomatoes, radishes, jalapenos, cilantro, mango, and corn.
Reserve some of the lime marinade, and drain the marinated chayote.
Add chayote to the bowl with the fruit and veg, along with 1 tbsp olive oil, gently fold to mix with your hands.
Taste and add more oil, lime juice or salt as necessary.
Garnish with extra cilantro.
Serve immediately with tostadas, tortilla chips or saltine crackers.
Nutrition Information
Serving size:
1
Calories:
184
Fat:
7.5g
Trans fat:
0g
Carbohydrates:
29g
Sugar:
13.4g
Sodium:
26.3mg
Fiber:
6.4g
Protein:
3.1g
Cholesterol:
0mg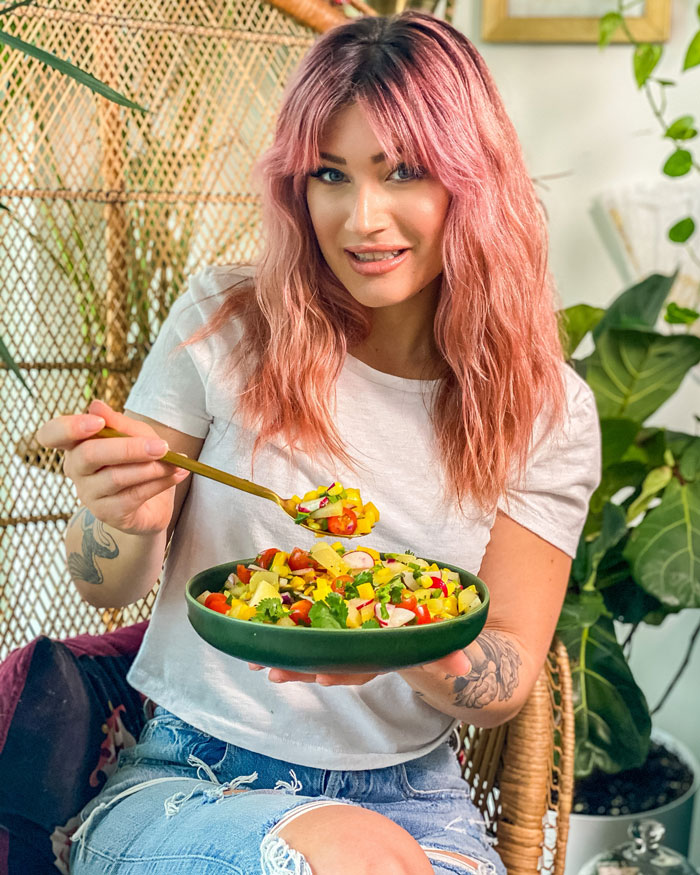 Hey, I'm Candice & welcome to The Edgy Veg!
 I veganize popular food recipes for vegans, plant-based diets, eco-conscious eaters & people who are trying to eat more plants over… y'know animals or by-products of animals. I hope you enjoy this tasty vegan recipe!
LOOKING FOR MORE VEGAN SEAFOOD RECIPES?
If you guys try my Vegan Ceviche recipe, let me know what you think by leaving a
 star rating & comment below. It truly helps me & I really appreciate any support! Feel free to share your food creation on social and tag me @edgyveg on your photo so I don't miss it!
Share My Recipe on Pinterest!