Disclosure: this post is sponsored by Frontera Foods. All text and opinions are 100% my own & I'm very excited that Frontera Foods accepted my idea to work with them. Thank you for supporting the companies that help me make The Edgy Veg possible!
When it comes down to the day in the life as a food blogger, it's really hard to find a balance between eating, exercising, looking after dogs/kids and work. Do you struggle with finding a healthy work/life balance? I know I sure do! Especially when I'm spending a whole day making multiple recipes for The Edgy Veg website and my YouTube Channel!
Take the day when I made 3 Easy Vegan Pasta Recipes (it now has over 500K views)! Not only did I prep, cook and film three pasta dishes, but I also had to make three additional meals for myself that day: Breakfast, Lunch and Dinner (although I did eat the pasta for dinner).
Usually, whatever main recipe I'm making I'll eat it for dinner. Simple! But when I start my morning and have to start prepping food and get cameras set-up, I only have time for a quick breakfast.
And by lunchtime, I'm still using the oven or kitchen to film the final touches and photographing food as much as I can before losing natural daylight, so I only really have time to throw something quick in the microwave since my kitchen appliances are all being used. Sometimes I'll reheat old food for lunch and other days I'll heat up something delicious I bought from the grocery store.
That's why today, I'm going to share 3 easy meal ideas (breakfast, lunch and dinner) if you're pressed for time, on the go, or have a busy day – just like me! After reading, I would love for you to share your favourite quick meals in the comment section below.
QUICK VEGAN BREAKFAST
On a food recipe creation day, I usually wake up at 7am. I first take my dogs for a walk which gives me a little exercise to start my day. Afterwards, I shower and start doing my hair or make-up. At this point, I usually make a super quick smoothie for breakfast.
I love mixing new ingredients and flavours each morning and creating new smoothie ideas. I came up with my "Liquid Sunshine Smoothie" while mixing up 5 of my favourite ingredients: Banana, Orange Juice, Coconut Yoghurt, Spinach/Kale and Vanilla.
It's been a secret smoothie of mine for a while now and I needed to share it with you all because it truly gives me the boost of energy and vitamins needed to kickstart my busy day. It's also super simple to make.

QUICK VEGAN LUNCH
Today I'm filming multiple recipes and so by lunchtime, my kitchen is in full work mode. The oven's being used and I have filming equipment and lights dangling all over the place. Because my filming and photoshoots are based on natural daylight, I really can't sacrifice my time nor kitchen/filming space. So today, I've opted to heat up one of Frontera Food's frozen bowls!
They are super quick to heat up, use high-quality ingredients and more cost-effective than ordering takeaway. Yes, they are frozen meals, but they actually have authentic Mexican flavour and fresh tasting fire-roasted ingredients that deliver a restaurant-quality experience. Which is why I heat one of them up when I don't have time to cook lunch.
Frontera's Veggie Taco Bowl is literally the perfect meal companion for me when I'm filming and working an 8-12 hour day. If you're interested in tasting the bowls, I've found them available at Loblaw's, Sobey's, & Metro. I love it with additional cilantro, avocado and hot sauce!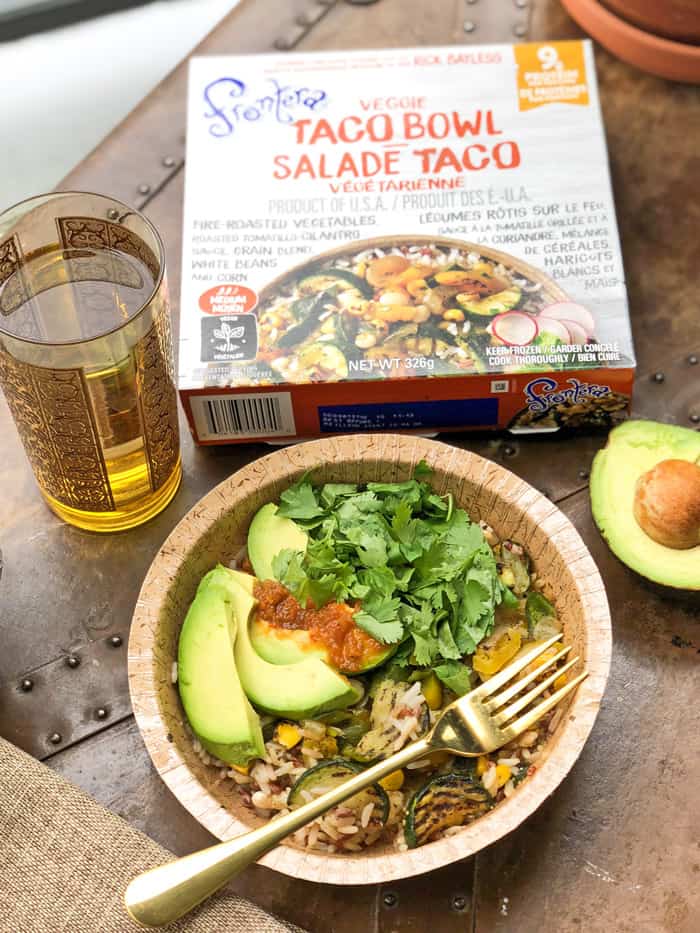 QUICK VEGAN DINNER
Even though I might only be making a food recipe that takes 12 mins to make, the film shots and photography food shots are what take up most of my 8 hour day. It's ridiculous how long filming, photography and editing takes.
This is why at the end of a film day, I need something super simple to eat while I sit at my desk and edit photos and videos. And thankfully today I made 12-mins Orange Sesame Noodles! It's like Asian take out, but healthier and cheaper! The hearty mix of veggies add lots of fibre to my dinner, making me feel fuller longer– which I need to help me combat those late night junk food cravings I so often get. I think you'll love this orange-sesame sauce- It has a wonderful flavour combination of sweet and tangy, with a creamy feel.
At the end of the day, no matter how hard my day is or the stresses I put on the body, I know I can get through the day by fuelling my body the best I can.
So what's your favourite quick meals? Please share in the comment section. Would love to hear yours!