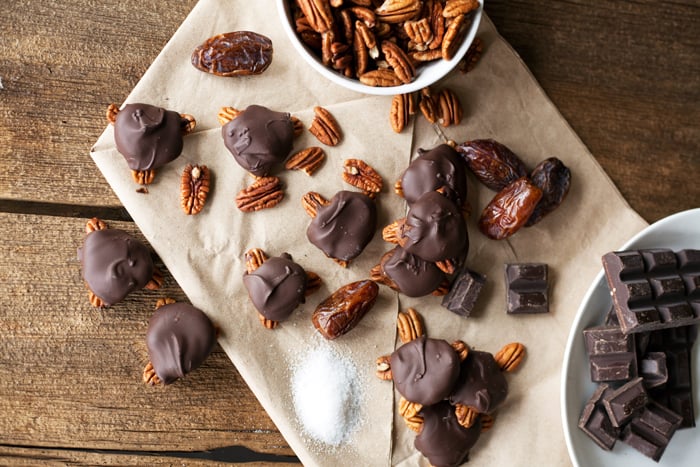 Chocolate Covered Turtles Recipe VEGAN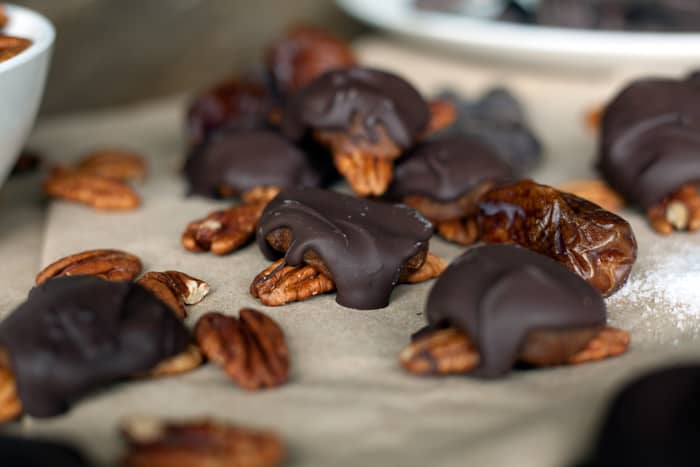 Growing up in a German home meant that the weeks leading up to the holidays were spent baking and making candy. My mom would have my sisters and I in an assembly line, rolling, cookie cutting and decorating for hours, and we loved that! Personally, that type of family kitchen time reminded me of my time living in Germany and baking with my Omi. I always missed her a lot around Christmas, and felt just a little but closer to her when I listened to traditional holiday music and made a cookie that I thought, at the time, looked just like a cookie version of her would.
My mom, being the chocaholic she is, knew there was no way we would be able to handle the task of chocolate making in our kitchen with any bit of grace; so we left it to the pros, by buying an assortment to enjoy instead. Her favorite North American-style Christmas chocolate was Turtles. And together we would eat the whole box. It was a naughty little treat.
These chocolate clusters get their name from their resemblance to actual turtles.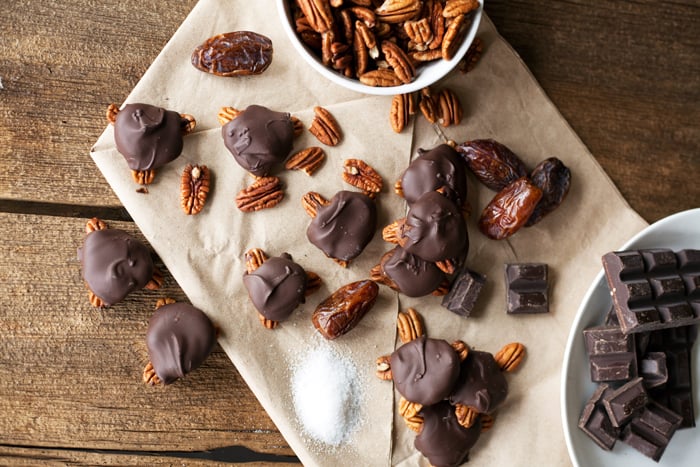 They are a addictive combination of roasted pecans, topped with salted caramel and coasted in a delicious decadent shell of chocolate. The first year I went vegan, it was less mainstream and no one was making delicious vegan treats, which made the holidays incredible difficult for a candy loving chocoholic like myself.
I started to look up recipes online and noticed that many of them simply used those caramel squares you find in your Halloween bag, unwrapped and melted on top of a pile of nuts and finishing it off with a blob of melted chocolate. That's great and all, but those squares of caramel are not vegan, so I went back to the drawing board.
It wasn't until one day I was eating one of my favorite treats, pitted dates, stuffed with almond butter, that I realized the resemblance of sweet dates to caramel. That is how I created this delicious salted date caramel. It tastes just like the real thing but without all the crazy dairy and sugar, and makes the most amazing base for these vegan chocolate covered turtles.
I hope you are and your families love them as much as we do. Leave me a comment below or on my YouTube video, letting me know what vegan Christmas or Holiday recipe you want to see next. Happy Holidays! xo

Chocolate Covered Turtles Recipe
Chocolate turtles like you buy at the store, only made in your kitchen, vegan and SO much tastier! These cute little vegan turtles chocolates are hard to resist. Their an addictive combination of roasted pecans, sticky homemade caramel and creamy chocolate. A great vegan treat for Christmas.
Instructions
Pit dates and add to your food processor.
Pulse your dates until they form a loose and sticky dough. If your dates are a bit dry and not quite combining, drizzle a very small bit of warm water; I do 1 tsp at a time.
Pulse and scrape down the sides as needed. DO not add too much water or else the dough will be too sticky to handle.
Once the dough has turned into a ball, add in salt and mix. Taste the caramel and add more salt if desired until you each your desired flavor.
Line a bowl with plastic wrap and add caramel dough, place in the freezer for 2-3 hours.
Once chilled and hardened, roll caramel dough into 1.5-2 inch balls.
Press in 3 pecans into each ball of caramel, and flatten.
Place the little turtles on a cooling rack or parchment paper-lined baking sheet place into the freezer for 30 minutes, or until hardened.
While you are waiting for the turtles to harden, melt chocolate over a double boiler.
Remove flattened caramels from the freezer.
Use a spoon to carefully cover each caramel with chocolate. Use the back of the spoon to spread the chocolate from the caramel onto the "legs", just a little bit. You want to be able to see the legs from underneath the chocolate.
Carefully place the cooling rack or baking sheet into the freezer, and cool until the chocolate shells are hardened.
Store these in the fridge or freezer until ready to serve.
Enjoy these treats straight from the fridge to avoid melting.