Chocolate Covered Turtles Recipe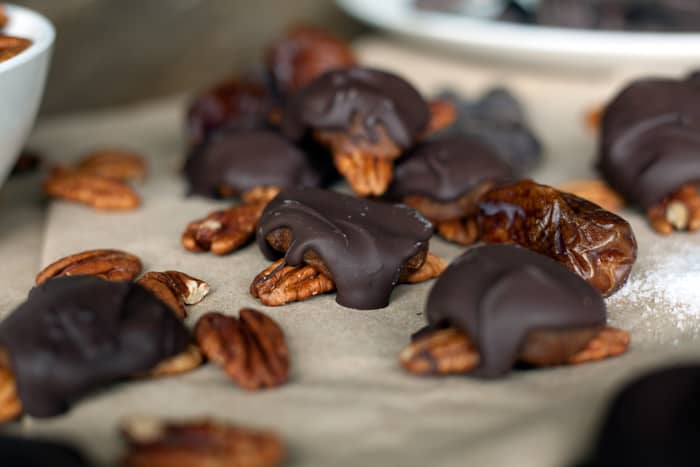 Pit dates and add to your food processor.
Pulse your dates until they form a loose and sticky dough. If your dates are a bit dry and not quite combining, drizzle a very small bit of warm water; I do 1 tsp at a time.
Pulse and scrape down the sides as needed. DO not add too much water or else the dough will be too sticky to handle.
Once the dough has turned into a ball, add in salt and mix. Taste the caramel and add more salt if desired until you each your desired flavor.
Line a bowl with plastic wrap and add caramel dough, place in the freezer for 2-3 hours.
Once chilled and hardened, roll caramel dough into 1.5-2 inch balls.
Press in 3 pecans into each ball of caramel, and flatten.
Place the little turtles on a cooling rack or parchment paper-lined baking sheet place into the freezer for 30 minutes, or until hardened.
While you are waiting for the turtles to harden, melt chocolate over a double boiler.
Remove flattened caramels from the freezer.
Use a spoon to carefully cover each caramel with chocolate. Use the back of the spoon to spread the chocolate from the caramel onto the "legs", just a little bit. You want to be able to see the legs from underneath the chocolate.
Carefully place the cooling rack or baking sheet into the freezer, and cool until the chocolate shells are hardened.
Store these in the fridge or freezer until ready to serve.
Enjoy these treats straight from the fridge to avoid melting.
Recipe by
The Edgy Veg
at https://www.theedgyveg.com/2015/11/30/chocolate-covered-turtles-recipe-vegan/