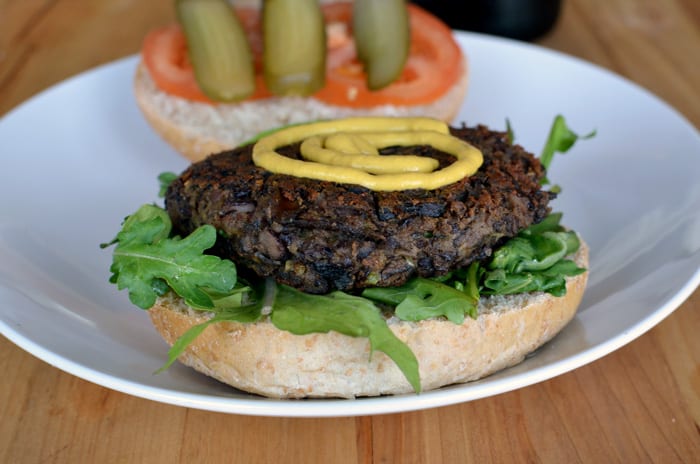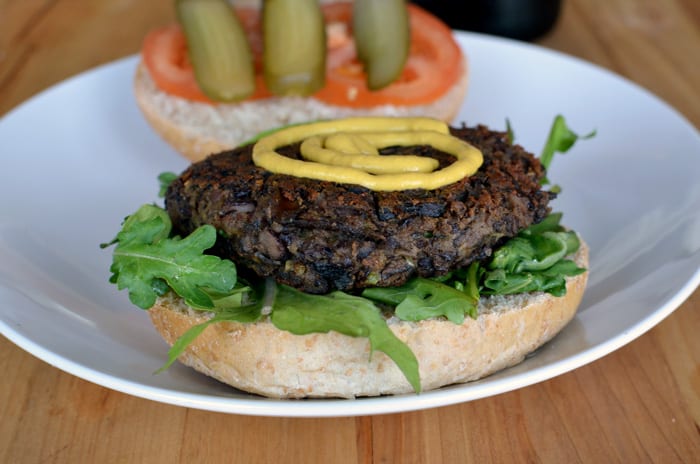 I am sure you have been to a summer BBQ's where someone pulls out a pack of frozen soy burgers for the veggies in the attendance. Those dry, crumbly, frozen pucks, free of flavor and texture have always been on the menu served by non-vegetarians for as long as I can recall. I am by no means saying that I am ungrateful for the food I am provided when I am invited into someone's home; I am merely tossing a theory out there- a large part of the population have no idea that veggie burgers can be delicious, nutritious and satisfying. Stop rolling your eyes at me; I am being totally serious!
These black bean burgers have robust, meaty texture, juicy and spiced flavour, and are packed with nutritious plant-based protein. The recipe takes just a few quick minutes and can be cooked either on the stove in a pan or skillet, or grilled on the BBQ.
Please please please do not over-mushify these bad boys, under fork-mashing and pulsing is much better than over; trust me. You will hit a sweet spot; it took me about 3 tries to nail it. I'm a slow-learner. My second tid-bit of burger-making advice is to cook them on medium heat to ensure they are heated through, but a teensy-bit crunchy on the exterior. I hope you enjoy these bad boys!

Black Bean Burgers
These are awesome black bean burgers. This veggie burger recipes is perfect for any summer BBQ or grill fest and tastes so much better than the pre-packaged stuff. Learn how to make vegetarian hamburgers that taste great and have an awesome meaty texture.
Ingredients
2 cups mushrooms, roasted
2 green onions, minced
2 cloves garlic, minced
½ tsp cumin
1 tsp fresh or dried parsley
1 14oz can of black beans
1 tbsp tahini
⅓ cup nutritional yeast
⅓ cup breadcrumbs or wheat germ
salt to taste
Instructions
In a food processor add the black beans, onions, garlic, the roasted mushrooms, cumin, parsley, tahini and pulse until combined. This is like 3-4 pulses ONLY. Do not over process.
If you do not have a food processor, you can use a large medium bowl and mash ingredients with a fork. Again, don't go crazy.
In a large bowl add the processed ingredients and add the nutritional yeast, bread crumbs or wheat germ and salt to taste.
Mix into the mashed beans, until mixture sticks together but try to not mash much further. Add more crumbs or wheat germ as needed.
Divide mixture into patties.
If grilling, cook for a few minutes on skillet or pan on each side to help prevent these guys from sticking to your BBQ/grill. It is helpful to cook these guys on the grill on top of a piece of foil.
Grill for about 5-8 minutes on each side.
If frying or using a skillet, cook on an oiled pan for about 8 minutes on each side.
If baking, place patties on baking sheet, and bake for about 10 minutes on each side.