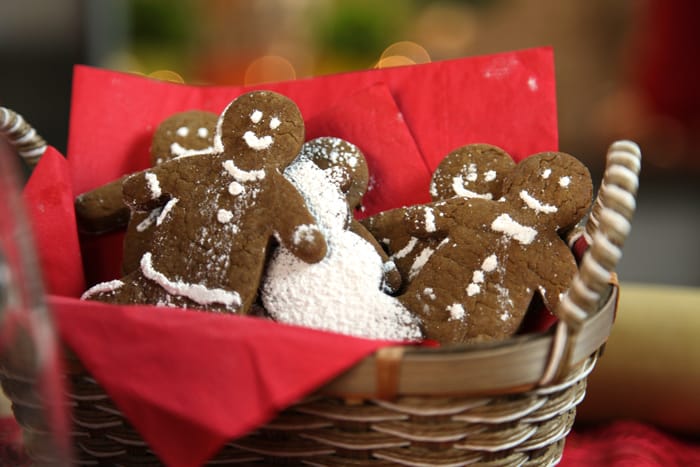 Gingerbread made its first appearance in Europe when 11th-century crusader-adventurers brought spices back from the Middle East.  Naturally only the wealthy had access to this spice, and their cooks were the first to experiment with it.
The first documented incident of figure-shaped gingerbread was in the court of Elizabeth I of England. She had tiny gingerbread figures made in the likeness of her most important guests. Imagine the detail! I don't know if they were decorated to resemble them or if they were simply carved. But either way, I bet they were incredible.
As ginger and other spices became more affordable, gingerbread figures served as an odd-type of story board, telling the news of the day. They resembled new kings, and queens, or religious symbols. Weird right?! The gingerbread was tied with ribbon and was popular at fairs and, when exchanged, became a token of love.  Much like the modern day chocolates we exchange on Valentines Day.
…Okay enough history… let's bake these bad boys!

Vegan Gingerbread Man Recipe
Learn how to make vegan gingerbread men using no dairy, and no eggs. These cute vegan christmas cookies can de decorate with some yummy vegan frosting ora powdered sugar stencil. You little vegan kids will love them!
Instructions
In a medium-size bowl mix together flour, baking soda, baking powder, salt, and spices. Mix together until well combined and no clumps can be seen.
In a larger bowl, beat together butter-substitute, brown sugar, and egg-replacer until well mixed and combined.
Add molasses and vanilla and continue to mix until combined.
Slowly, (1 cup at a time) add your dry ingredients until well combined. You May have to get in there with your hands.
Divide dough into three equal parts and form balls with your hands.
Wrap in plastic wrap and allow to sit at room temperature for a minimum of 2 hours.
hours later...Preheat your oven to 375 degrees and line a large cookie pan with parchment paper (no extra fat, yay!).
Place some flour on your working surface so that it is lightly dusted, and add one of your dough balls. If your dough is sticky (it shouldn't be) dust your rolling pin with extra flour.
Roll our your down until it is ¼ inch thick.
Use cookie cutters to cut out various shapes and sizes.
Bake your cookies for 7 minutes if you like soft cookies and 10 minutes if you prefer harder, crunchier cookies.
Remove cookies from oven and allow to cool.
Once cooled decorate with royal icing, or dust or stencil with powdered sugar.