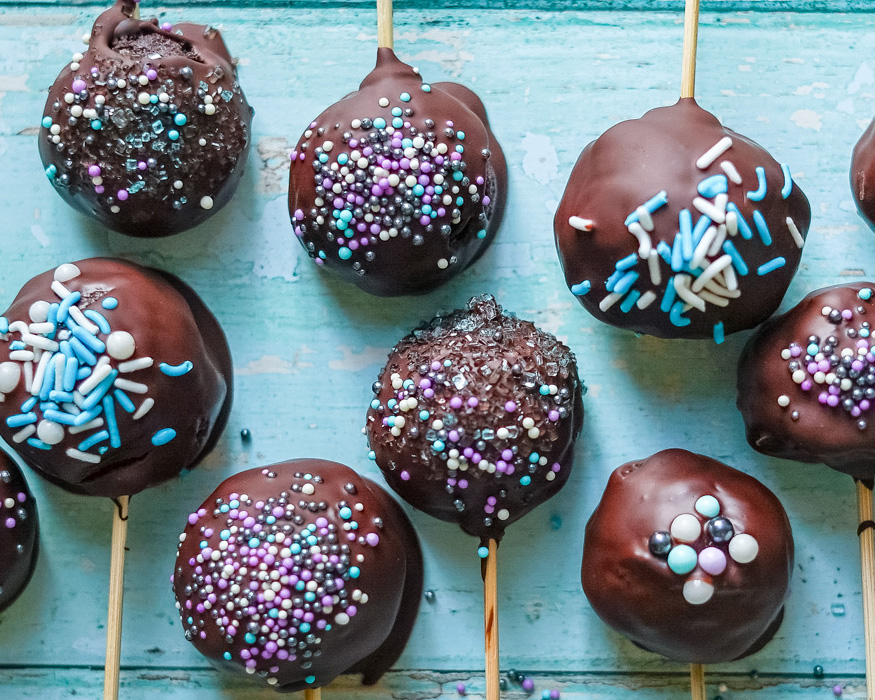 It's true, food is better on a stick, corn dogs, Popsicle, kabobs… and Cake Pops! Cake pops are the stylish way to eat cake as an adult; no fork needed. Thanks to Bakerella, these delicious tiny treats are now part of our mainstream dessert culture.
Whether you decide to make homemade cakes and icing, or you are more of a visit the health food store and mutate the ready-to-eat aisle; you can customize these tiny vegan cakes to whatever holiday, event or occasion you wish.  Depending on the route you decide to take, this process may be time-consuming; so I have created a quick and easy way to wow your loved ones with this how-to-make easy cake pops video.
Perfect for an evening in with the girls, or an afternoon at a baby shower, these customizable cake pops are easy to make, and fun to eat. Just stick them onto a cake pop stand and you're ready to go! Vegan desserts for the win!

Vegan Cake Pop Recipe
Perfect for a evening in with the girls, or a pretty baby shower. These customizable cake pops are easy to make, and fun to eat. Just stick them onto a cake pop stand and you're ready to go! Vegan cake pops for the win!
Ingredients
1 box cake mix (any flavour)
1 can club soda
Vegan butter cream frosting (any flavour)
2 cups chocolate chips
1 tbsp deodorized coconut oil
Instructions
Prep your cake as is directed on the box, but substituting all additions (milk, water, eggs, oil) with club soda.
When your cake is ready, take it out of the oven and crumble it into a bowl.
Stir in your vegan frosting, a little at a time. Once your cake and icing cling together when you roll it in a ball, you're ready to go. Stick this mixture in the fridge for about 15 minutes.
After the dough is a bit stiff, roll out your balls of cake. You want them to be about an inch and a ¼ thick. Roll them out and place them on a parchment paper-lined baking sheet, and refrigerate again.
Melt your chocolate chips in a double boiler. Mix in coconut oil.
Using lollipop sticks or kabob sticks, dip them slightly in the melted chocolate before inserting them halfway into each chilled cake ball.
Dip your cake balls into the melted chocolate and make sure they are coated evenly with sweet vegan goodness. Place them onto a cake pop stand or styrofoam to let them begin to harden.
You can decorate them any way you wish! I like to keep it simple and sprinkle them with Himalayan Rock Salt, dip them in a bath of shredded coconut, or use fun sprinkles.
Notes
Hack it!
Most store-bought icings are accidentally vegan!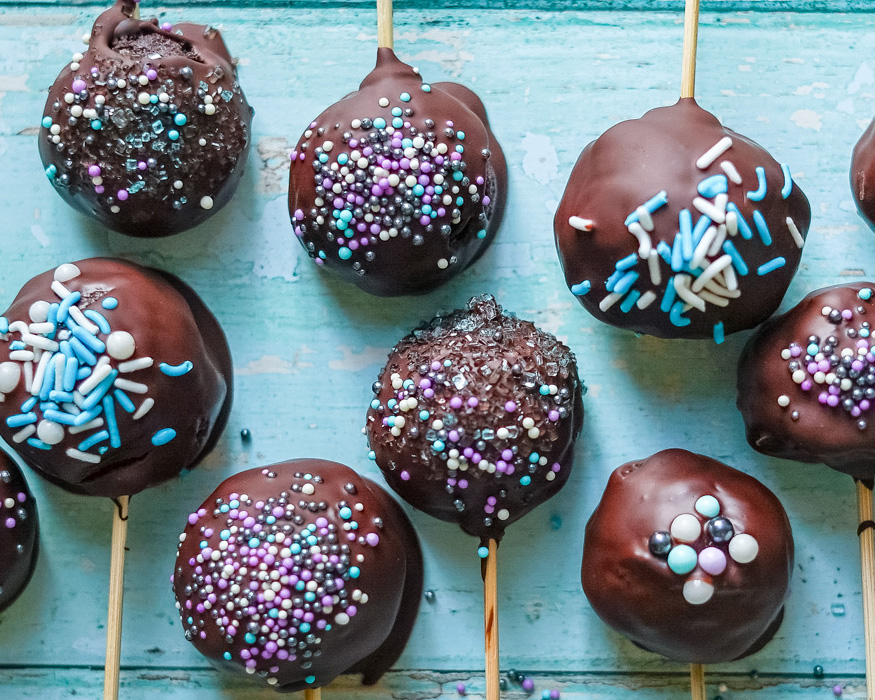 Want to make your own cake pop stand? Check out this simple
DIY tutorial
!