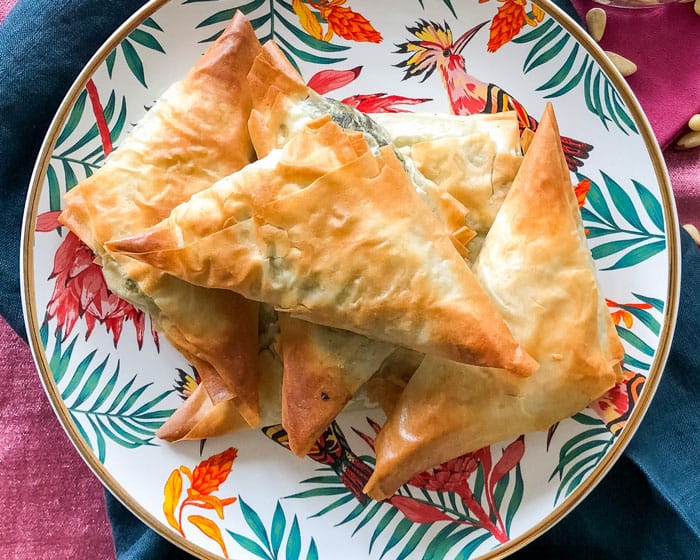 There really aren't too many things better then a pastry. You could really make anything with phyllo; something, sweet something salty, something oozing with the goodness of vegan cheese; you decide!
Today I decided on Spinach; that delicious green leaf that left most of you with a scrunched up look on your face when your parents would just mention it. Never fear! The Greeks have given us yet another gift; this fluffy, cheesy, green deliciousness. This is the simplest recipe, just a few ingredients and your patience are needed.
Vegan Spanakopita
Vegans and vegetarians can enjoy these awesome appetizer triangles. Thank you Mama Voula for this delicious Greek recipe.
Instructions
Squeeze spinach to remove excess water. Place spinach in food processor with remaining ingredients, and process until mixed well & finely chopped.
Preheat oven to 375 degrees F.
Take 2 sheets of phyllo dough, and keep remainder covered with a damp cloth. Working quickly, lay one sheet phyllo on work surface and brush with melted Earth Balance or coconut oil. Top with second sheet.
Cut rectangle into four strips.Place 1 tbsp filling about one inch from the bottom of each strip.Lift bottom right corner of phyllo strip over filling, lining edge of dough with left edge of strip. This gives you a triangle shape. Keep folding triangle folding up and to the right, alternating to the end.
See Diagram below... yes, that is a diagram....
Brush top with melted earth balance and set on a greased baking sheet.
Bake for 10-15 mins or until golden brown.
Go ahead… make fun of my drawing abilities!