A yummy carrot, pumpkin and peanut butter birthday cake recipe for your canine friend! This dog friendly birthday cake is gluten free and vegan; and uses only human-grade ingredients like; oat flour, brown rice flour, apple sauce, peanut butter, carrots and pumpkin.

I am that crazy dog mom. Not everyone's into it, but I treat my two shih-poo rescues, Harley and Winston like my own children, because they are! And just like I would throw my child a party on their first birthday, I threw my dogs one too. If you think celebrating a dog's birthday or dressing up your pup in costumes for Halloween is ridiculous, then we could never be friends.
Last weekend I hosted a combined Happy Birthday Harley & Winston birthday celebration. I invited all my dog-owing friends, and those that don't have a dog, but love them as much as we do. I picked up some simple DIY birthday decorations on Amazon, and picked up some treats for the partying dogs Along with drinks and treats for the humans, I also decided that my dogs NEEDED to have their own birthday cake. You can absolutely find bakeries that make dog-friendly cakes, cupcakes and treats, but it's just as easy and a lot more budget-friendly to bake it at home. Plus, you can monitor what types of ingredients you're using. The best part? The dogs literally don't care how it looks, so you don't need to be some experienced pastry chef to bake and decorate a cake that they will love.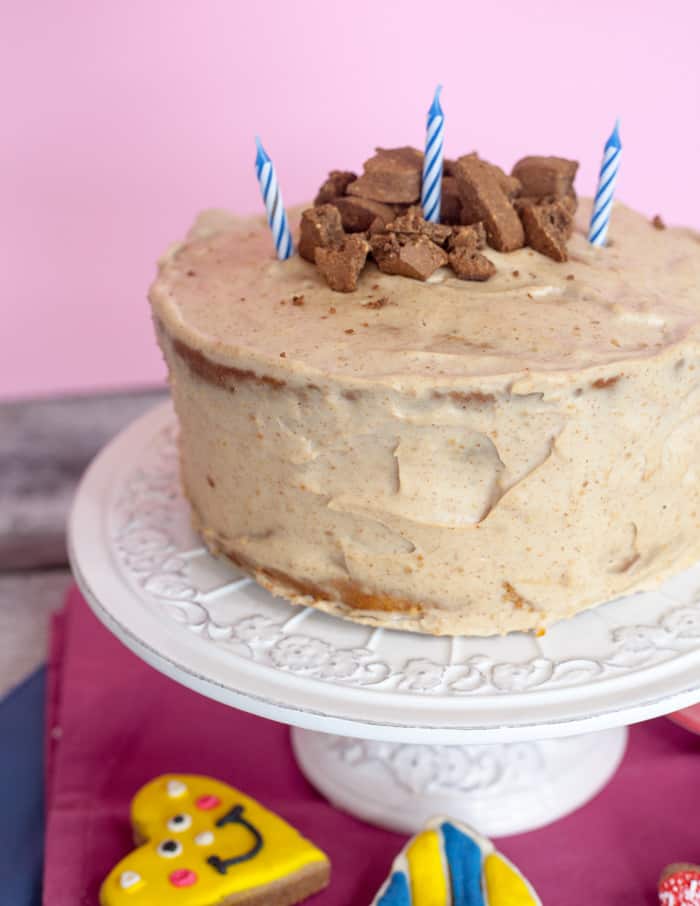 This year I decided to bake my little ones a carrot, pumpkin and peanut butter cake; three flavours they're obsessed with. I used a combination of oat and brown rice flour to make the cake high in protein and easy to digest. The frosting is made with peanut butter and a dairy-free coconut yogurt with some corn starch for thickening. Every dog in attendance went nits for this cake, and collectively they devoured the entre thing. You can serve it plain, as is, or if you're feeling creative decorate it with some of you dogs favourite treats!
Dog Friendly Birthday Cake | Vegan Dog Birthday Cake | Grain free & Vegan Recipe
A yummy carrot, pumpkin and peanut butter birthday cake recipe for your canine friend! This dog birthday cake recipe is gluten free and vegan, and uses only human-grade ingredients like; oat flour, brown rice flour, apple sauce, peanut butter, carrots and pumpkin.
Instructions
Preheat oven to 350F
Grease one 6 inch cake pan with a bit of coconut oil or vegan butter and line with parchment; set aside.
In a large bowl or stand mixer, whisk together oat flour, brown rice flour, baking soda, baking powder and cinnamon; set aside.
In a separate bowl whisk or beat together prepared flax seed, agave or maple syrup, shredded carrot, pumpkin puree, applesauce, peanut butter, and almond milk.
Add dry ingredients to wet and whisk or beat to combine.
Pour cake batter into the prepared cake pan and even out the top.
Cake for 60-80 mins, checking after 60 mins with a toothpick. If the toothpick or tester does not come out clean, then check every 10mins until it comes out mostly clean.
Remove cake pan from the oven and place on a cooling rack. Let it sit in the pan for 15 mins.
Remove spring form or flip the cake onto the cooling rack and allow to cool completely.
Frost cake when completely cooled.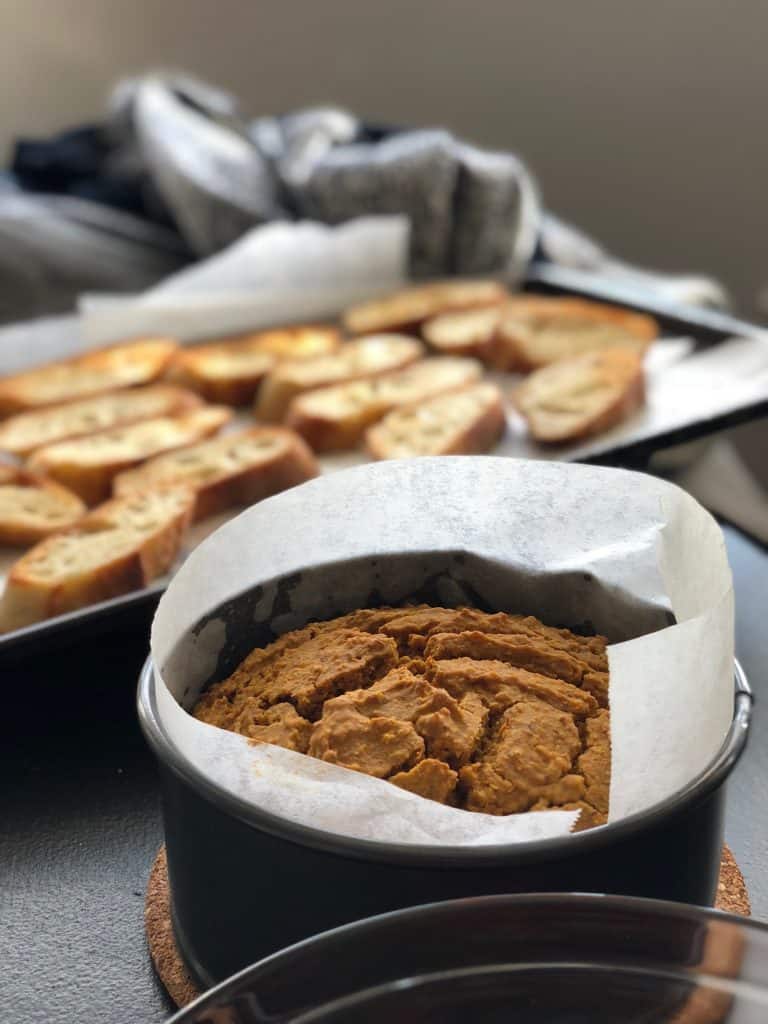 Dog Friendly Birthday Cake Frosting
A delightful vegan frosting for you dog! Use this on a dog-friendly birthday cake or doggie cupcakes, as well as on it's own to encourage picky eaters.
Instructions
In a stand mixer or a medium size bowl with a hand mixer, cream together coconut yogurt, peanut butter and corn starch until smooth.
Ice your pups birthday cake or cupcakes! or serve on it's own as a delightful treat!
In honor of Winston & Harley's first birthday celebration, I thought I would share some fact to get to know them better:
Harley 100% food motivated. This is most likely the case with almost every dog, but she really takes it to the next level. She will steal the handheld apple pie right out of your hand, or will lick the bottom of the bowl you're eating from to feel included in the meal.
Winston is shy, he likes his space, but it's the best cuddler when he decides it's time to be touched. Then, he'll beg you to rub his belly until your hand cramps.
Both Harley and Winston HATE everything about winter. There is nothing in the world they hate more than putting on those silyl rubber boots and their fancy bomber jackets. When dressed, they just sit and stare at mommy and daddy with looks of pure sorrow.
Harley loves to be held like a toddler. She enjoys being cradled, bounced on a hip and even rocked back and forth. Being close to mommy or daddy is her favourite pastime.
Winston loves to steal his sisters toys, and food. He's very sneaky about, so we often don't notice until it's too late. This has forced us to sit and watch them at dinner time.
Harley is blind in her left eye, she gets 3 different type of eye drops twice a day, daily. She hates it, but is very brave and only demands more snuggles after the process is done.
Both Harley and Winston are very smart and love to learn new tricks. They both dance on their hind legs for treats and can sit, shake, paw roll over, and stay.
Winston LOVES to eat strawberries and bananas. Fruit is one if his favourites treats.
Both Harley live on a primarily vegan diet. They love their Evolution Gourmet Fondue cheesy flavoured vegan kibble, but only when soaked in water. They have sensitive teeth and hard kibble hurts them.
Harley has a sweet tooth for chocolate. She once climbed onto the kitchen table and ate an entire bar of dark chocolate and had to be rushed into the doggy emergency room at 1am.