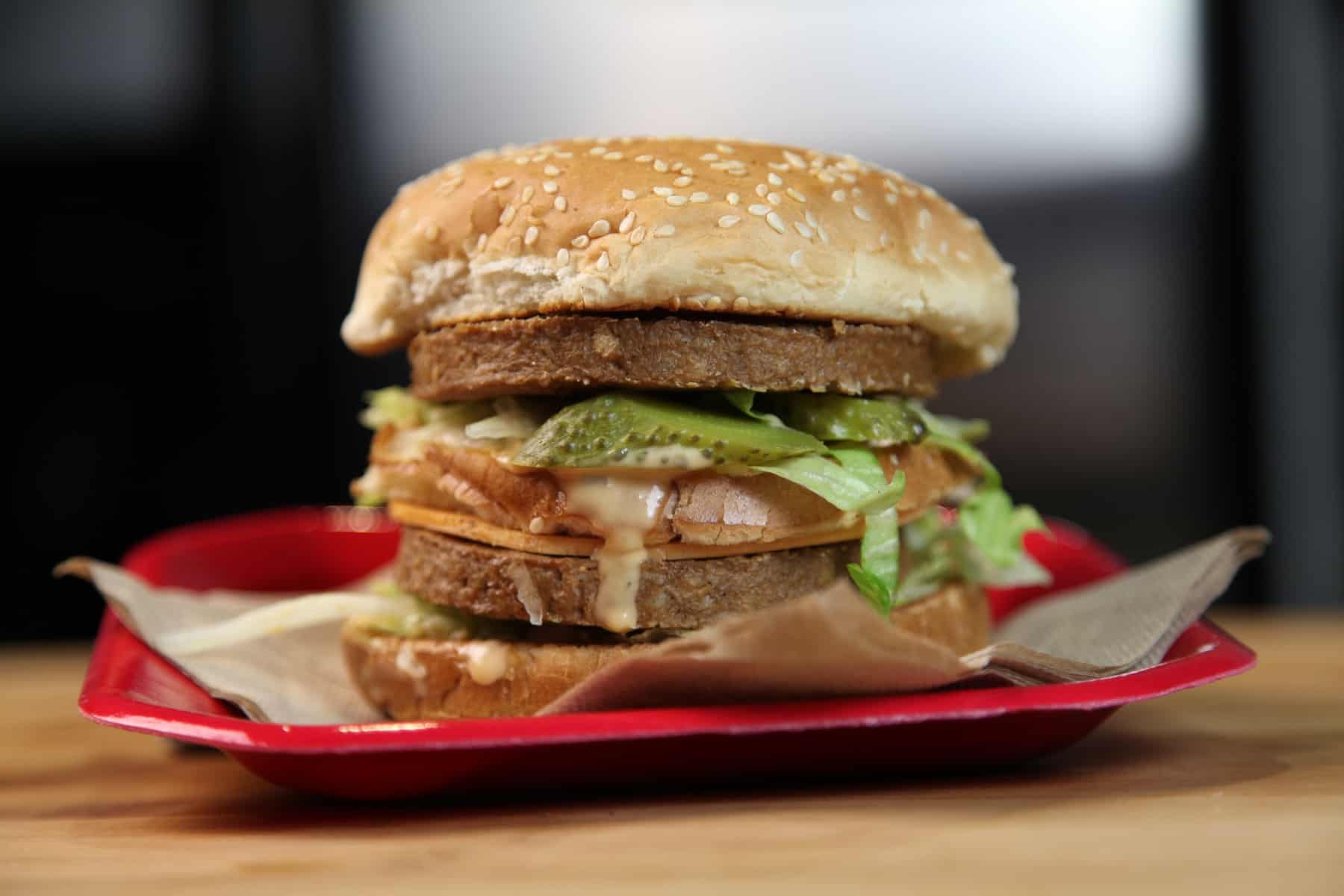 CLICK HERE FOR UPDATED VEGAN BIG MAC RECIPE
What is it about the Big Mac that makes it the holy grail of fast food burgers? As someone who has never really eaten beef, I honestly have no idea. But, I have watched many people over the years go gaga for the thing, so there must be something to it.
After asking a few of my pals (some of which have actually worked at McDonalds) I felt like I was hearing the same types of answers to this question.  Everyone agreed that they loved the Big Mac (although some were ashamed to admit it) but most couldn't tell me why.
It can't be the beef, because the quality is deplorable, the bun is "as light as air", and iceberg lettuce is like eating sweet water… so why do people love Big Macs? All the elements on their own don't stand a chance, but put them together with the signature Big Mac sauce, and voila! A masterpiece.
On this notion, I decided that it would be a simple sandwich to recreate as its vegan counterpart. I have access to the same ingredients, as they are readily available at any grocery store, so why not? Anything you make at home HAS to be better quality than what you get at the Drive-thru right? RIGHT?
I hope you like it!!!!

Vegan Big Mac
The McDonalds Big Mac is a fast food staple. Just because you don't eat meat, doesn't mean that you can't have a delicious flavour-packed veggie burger! Try making your very own homemade vegan Big Mac!
Ingredients
2 sesame seed hamburger buns
2 veggie burgers of your choosing, cooked to perfection as directed
Salt
Big mac sauce (see recipe below)
1 tsp finely diced onion
½ cup chopped lettuce
1 slice of your favourite vegan cheese
3 slices of pickles
Instructions
Make your sauce and cook your vegan patties.
Using the top of your extra bun, cut off the round part, so that you have a nice thin middle bun for your Big Mac.
Place your buns on a hot pan or griddle to toast them, face down.
Cover with a lid to steam them slightly. WATCH that it does not burn.
Build your Big Mac in the following order:
Bottom bun
½ tbsp big mac sauce
½ tsp onion
¼ cup lettuce
Vegan cheese
Veggie burger
Middle bun
½ tbsp big mac sauce
½ tsp onion
¼ cup lettuce
pickles
Veggie burger
Top bun
[youtube=http://youtu.be/Zb3KnB9pY78]
Vegan Big Mac Sauce
Big Mac sauce is a staple fast food item. Learn how to make vegan big mac sauce at home so you can create the ultimate vegan burger loved by many!
Ingredients
½ cup vegan mayo
2 tbsp French dressing (see my homemade recipe)
4 tsp sweet pickle relish
1 tbsp finely minced white onion
1 tsp white vinegar
1 tsp sugar
⅛ tsp Himalayan rock salt
Instructions
Combine all ingredients in a bowl and stir well.
Cover and place in the refrigerator overnight, allowing the flavours to blend together.
Stir every couple hours to help flavours combine.