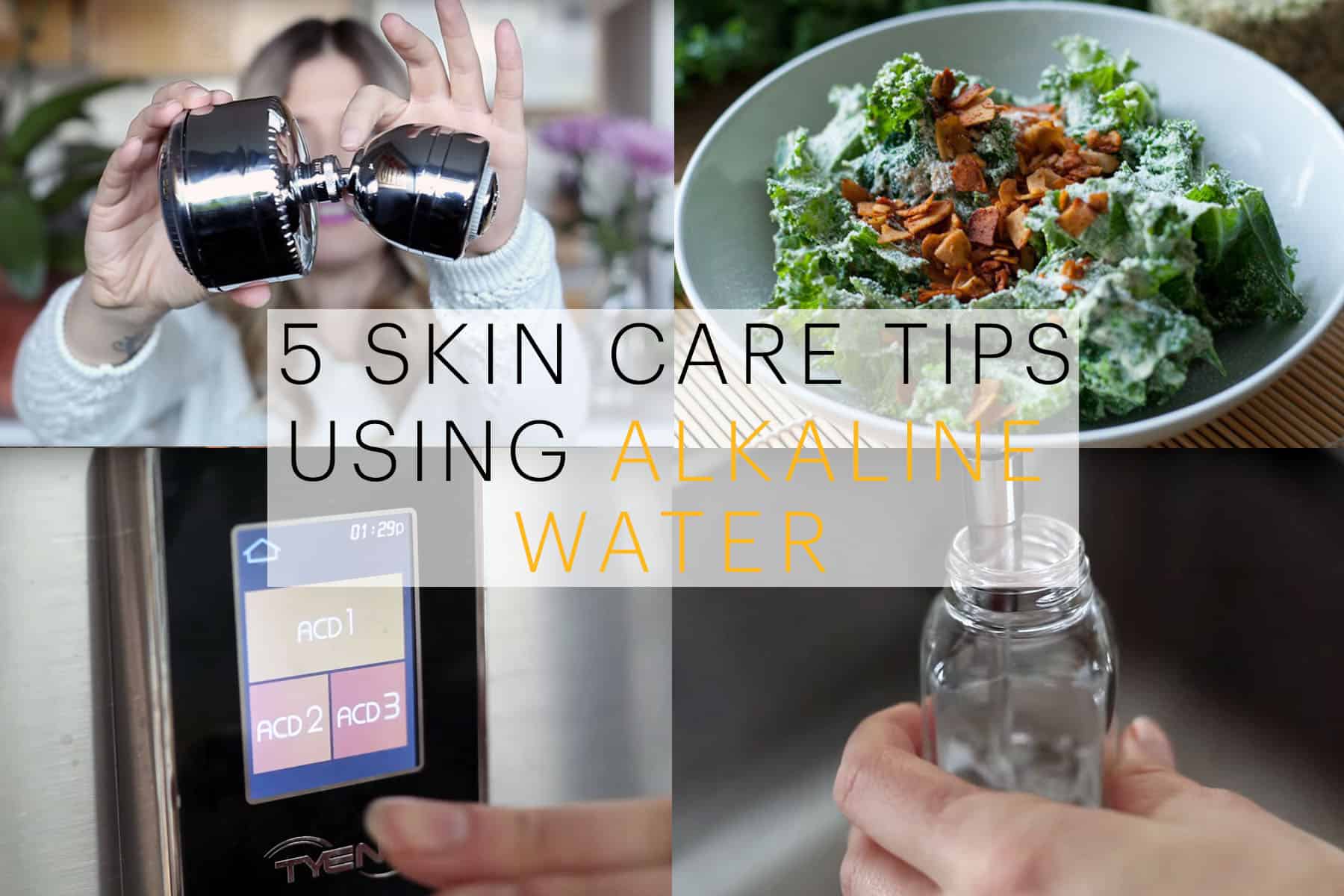 5 Beauty Tips Using Alkaline Water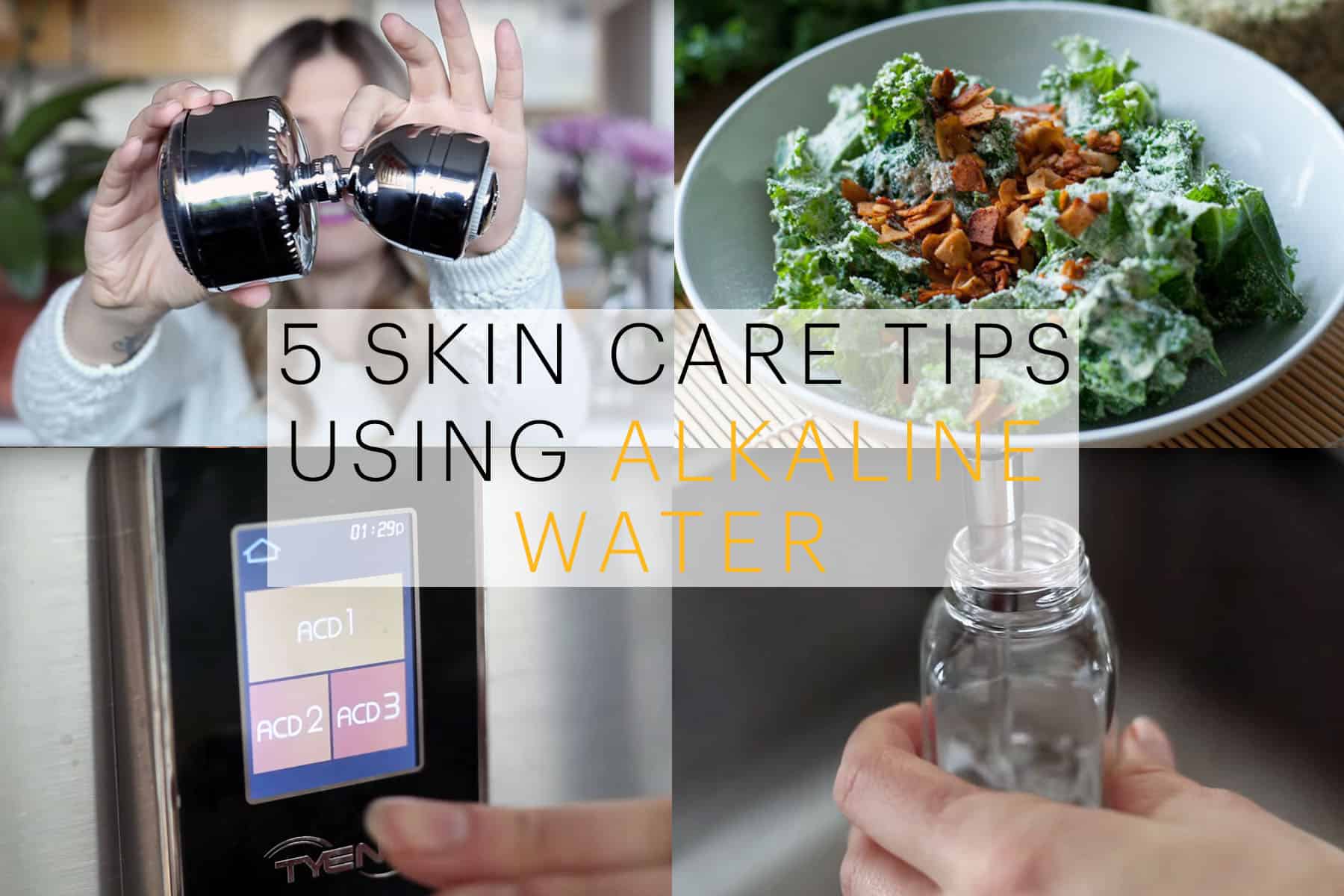 Our skin is our largest organ, and there are simple and effective things that you can do daily that won't be too much fuss, or break the bank. Follow these easy 5 steps daily, and you will have glowing, healthy skin no matter what time of year it is.
Stay hydrated: Drinking water is one of the best things you can do to keep your skin looking young and glowing all year long. Water is a very important part of not only my beauty regime, but also my diet. I drink a minimum of 2 liters of water, averaging at about 3-4 liters daily. I know that sounds like a lot of water, but it 's really simple to keep track of and accomplish. We have a Tyent USA water ionizer in our home for alkaline water. We now drink Tyent's level 9.5 pH alkaline water daily because it provides faster hydration, since it's rich in dissolved hydrogen. Faster hydration means your body will be better hydrated from the inside out. When alkaline water first become a thing, I will be honest– I thought it was a scammy fad. But after drinking alkaline water on a regular basis, I was convinced that it does in fact make a difference. It tastes much better than tap water making it easier for both James and I to consume more water through the day, and I actually feel more hydrated after consuming it.
Get in those antioxidants: Those dark spots and wrinkles that make you groan every time you look in the mirror are actually the result of free radicals. Eating a diet rich in whole foods, focusing on those high in antioxidant like berries, kale and other dark coloured fruits and veg, while also drinking alkaline water will provide your body with antioxidants. When your body is rich in antioxidants, it can fight against those free radicals that cause many of these problems more easily.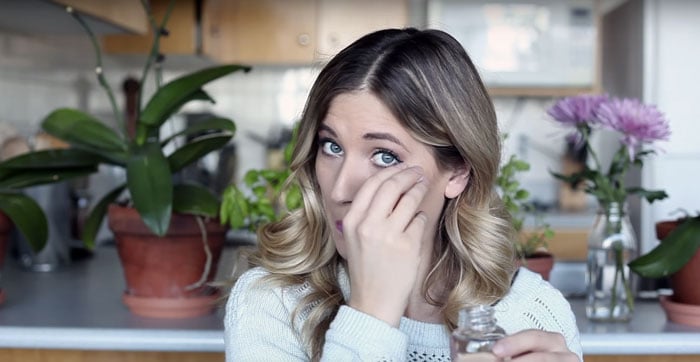 Tone your skin: Your skin's pH is naturally around a 5. So, while consuming alkaline water is great for the INSIDE your body, you want to tone your skin with something more acidic to bring it back to that natural pH. I use my Tyent water ionizer to create ACIDIC WATER– this helps keep my skin pH balanced and removes any residue left behind that my soap may have not removed. You can also tone your skin with diluted apple cider vinegar to help kill those germs and bring your skin back to balance—your skin will be a tad stinky afterwards though…
Eat Clean: Eating a whole food diet is the best ting you can do for your skin. Brightly coloured organic fruits and veg along with good fats are the best medicine you can buy for tired, lifeless skin. That being said, organic produce is expensive and is often coated with wax, sprays and pesticides—something that is terrible harmful not only for your skin, but your entire body! One thing that surprised me completely when I started using my water ionizer is when I learned that I could wash my veggies with acidic water to remove these harmful chemicals! I used to go through one 2L jug of vinegar a week cleaning my produce, but now I use the Tyent Turbo water setting to clean my produce of herbicides and pesticides. I use Tyent's special Alkaline Turbo button to soak, and then a quick rinse with the Acidic Turbo button. This helps limit my daily intake of the harmful contaminants that can wreak havoc on a great complexion. Plus I save money on buying vinegar, and reduce the waste involved with buying plastic jugs!
Shower with the shower filter: Many people over look this easy but important life change. Did you know that tap water often contains as much, if not more, chlorine than is recommended for use in swimming pools. And this chlorine enters the body through dermal absorption and inhalation while showering more than through drinking tap water!!! Isn't that insane! I was so consumed with using only natural skincare products and eating clean that I didn't even realize I was harming my body with more toxins by showering! James and I installed a special water filter to help remove chlorine, sediment, heavy metals, and more from our showering water. Your skin is your largest organ after all, and it absorbs everything, the good and the bad.
If you want to learn more about the Tyent USA water ionizer I use in my home, visit their website at www.tyentusa.com or call their water ionizer experts for more information at 855-893-6887. They even offer a 75-Day trial, so if you're not happy with the product you can send it back!
Tyent USA is offering a special promo for readers of The Edgy Veg: If you Mention "Edgy Veg" when you place your order, you will receive a special gift with purchase!!! As always I only talk about the products I really love, so I know you will be very happy with your water ionizer, it has honestly changed the way I use water!
This post is sponsored by Tyent USA. As always, I only work with brands/companies I am truly passionate about and would never tell you to buy a product I myself am not using in my home. Sponsored posts help pay for the production of high quality The Edgy Veg videos, as well as help keep the blog up and running. Thank you for your continued support! -xo Candice