Thanksgiving Leftover "Sandwich"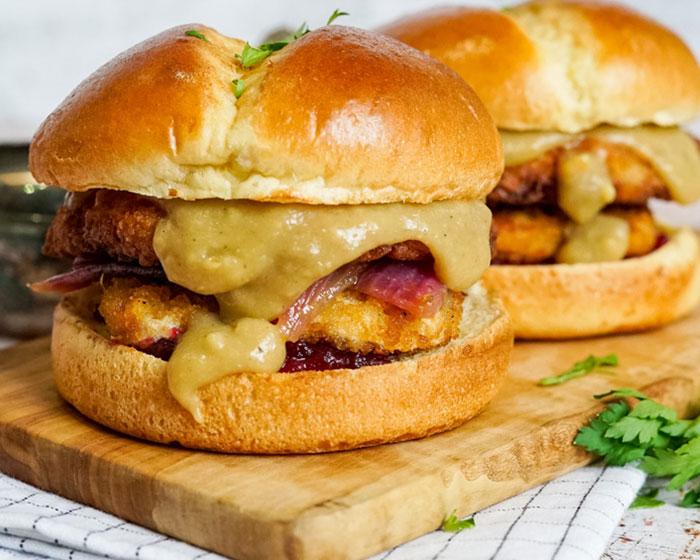 You can use leftover mashed potatoes on your burger, or fry them into a hashbrown layer or round croquettes and I'll tell you how to make them. If you just want to make a simple thanksgiving leftover sandwich in 1 mins, just heat and combine all your leftovers into a sandwich.
To make the hashbrown / croquette, add mashed potatoes to a large bowl. Then add flour, baking powder, garlic powder, and salt, and mix together until well combined. You can start with ½ cup flour and see if you need more flour based on how big your mashed potato portion is.
Prep a lipped baking sheet with a wire cooling rack and place it next to your stove. If you do not own a wire cooling rack (you should get one lol) for excess oil/moisture to drip then you can use a plate & paper towel, but it won't result as crispy so definitely recommend wire cooling rack.
Heat about 1 cup of oil (about ¼ depth) in a pan over medium-high heat. Test the oil by adding a bit of the potato mixture-- it should sizzle right away.
Using a ¼ cup measuring cup or an ice cream scoop, flatten and form the dough into discs with your fingers.
Cook them in the oil until nicely browned and crispy, about 3-4 mins, flip and cook for another 3-4 mins, or until the second side is also nicely browned and crispy. Allow excess oil to drip off into the pan, and place cooked hasbrowns/croquettes onto a wire cooling rack, and repeat with the remaining potato mixture.
Preheat pan/grill/BBQ to medium-high to heat up your leftover thanksgiving protein.
Brush with oil and place the protein onto your grill or pan and cook until heated about 2 mins per side.
Toast your sandwich slices or buns
Spread some cranberry sauce on the bottom of each bun, and place the grilled protein.
On top of that, stack your mashed potato patty, and drizzle with gravy. Add the top bun and serve leftover sides or repurposed leftover sides like my cranberry-glazed veggie skewers.
Recipe by
The Edgy Veg
at https://www.theedgyveg.com/2020/11/26/thanksgiving-leftover-sandwich/