Easy Vegan Roast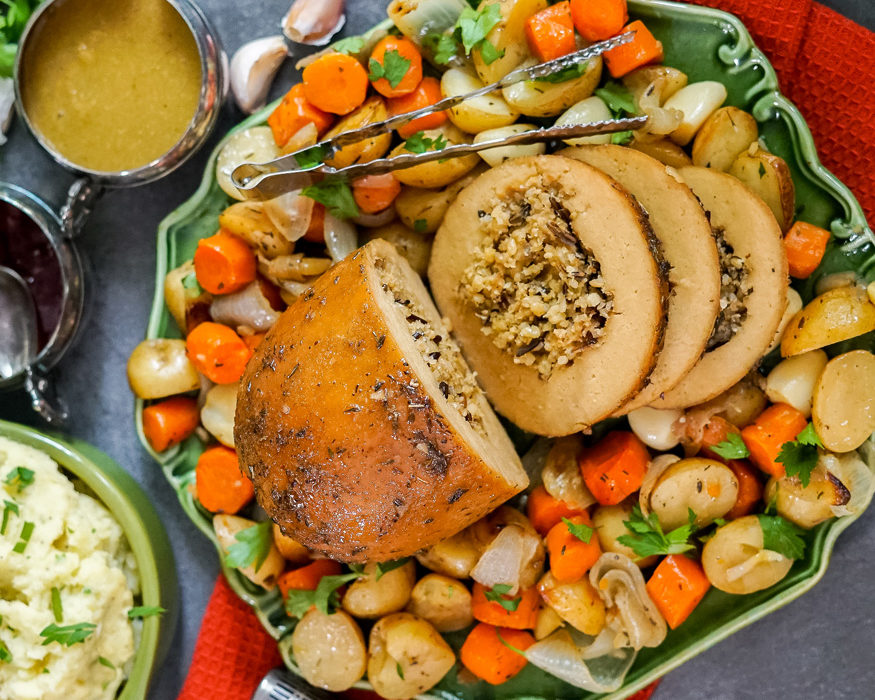 1 vegan roast like Tofurky, thawed in the fridge for 24 hours
Preheat oven to 350 degrees F.
Remove the plastic and clips from a tofurky roast or your vegan roast of choice.
For this, a roast pan is best, but any dish with a lid or even foil will work.
Prepare your veggies and basting liquid. Add chopped veggies into roast pan with about 3 tbsp-1/4 cups of the baste on top.
Place the Tofurky or vegan roast of choice onto a large piece of parchment paper & place it in the center of pan or on top of the veggies. Ppour over about ½ of the remaining basting liquid, leaving the other ½ to use later after 1 hour of cooking.
Cover and bake for roughly 1 hour - 1 hour 15 mins, basting every 30 mins. Check the roast at 1 hour to see if it's cooked to perfection as all ovens are different. If not, leave in oven longer, checking periodcally. It took my oven 1 hr and 15 mins.
Once roasted, take out of oven and carefully remove the parchment. Next, pour the reserved basting liquid onto the roast and the veggies and cook uncovered for another 10 mins.
Meanwhile, prepare your vegan gravy (you can use my easy recipe). If you bought the pack that includes the gravy you can use that or use my easy gravy recipe.
Remove the roast from the oven, scoop up the liquid at the bottom, and pour it over the roast and veggies.
Let it rest for a couple of minutes, and then slice with a serrated knife.
Serve with veggies and of course, delicious vegan gravy.
If you have leftovers, turn it into my leftover thanksgiving sandwich idea!
If you're low on time and/or ingredients, just baste with ½ cup your favourite vegetable broth, ¼ cup oil of choice, and 2 tbsp soy sauce.
If you want to upgrade the gravy that came with the Tofurky, simply add 2 tbsp of nutritional yeast, and season to taste.
Serving size:
1 serving
Calories:
476
Fat:
20g
Carbohydrates:
45g
Protein:
22.8g