Portobello Mushroom Tacos (Vegan & Vegetarian friendly)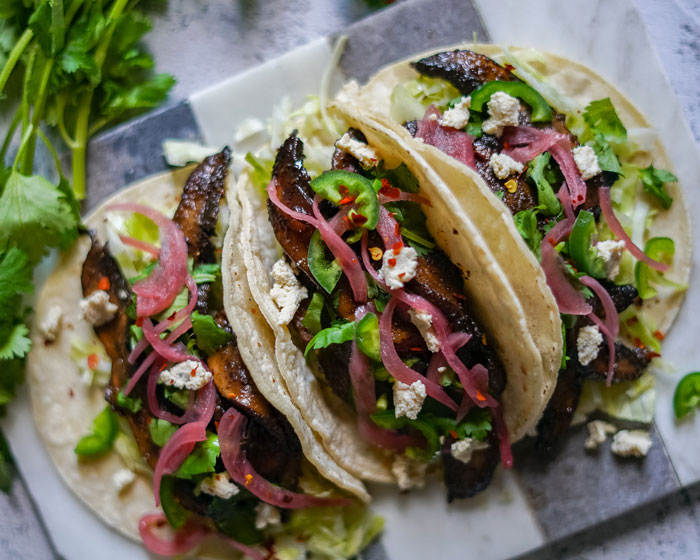 In a medium-sized bowl, whisk together; 2 tbsp olive oil, soy sauce, balsamic vinegar, chilli powder, garlic powder, and black pepper. Add the mushroom slices and toss to coat.
Heat a pan over medium-high heat, and in batches, sauté the mushrooms for 3-5 mins on each side, or until liquid is released and they brown.
Once each batch of mushrooms is cooked, add them back to the pan, remove from heat, and mix in the cilantro.
Meanwhile, massage shredded cabbage with 1 tbsp olive oil, and 1 -2 tbsp lime juice.
Assemble tacos with cabbage on the bottom, mushrooms, cilantro, pickled red onion, jalapeños and vegan cheese.
Serving size:
1 taco
Calories:
194
Fat:
9.4g
Carbohydrates:
20.8g
Sugar:
2.3g
Sodium:
446mg
Fiber:
2.1g
Protein:
4.5g
Recipe by
The Edgy Veg
at https://www.theedgyveg.com/2020/09/22/portobello-mushroom-tacos/