Vegan Hungarian Mushroom Soup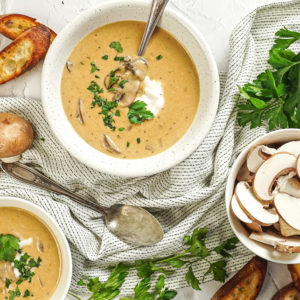 In a large pot, melt vegan butter over medium heat. Add chopped onions, garlic, mushrooms, and a pinch of salt, and cook for 15 minutes, or until onions are soft and translucent, and mushrooms have released their liquid.
Stir flour into the mushrooms and cook, stirring often, for 2 mins.
Add thyme and paprika, and stir in broth, and soy sauce. Stir to remove any clumps, then bring the mixture to a boil, and immediately reduce heat to medium and simmer until the soup begins to thicken about 10 mins. Add soy milk and simmer for about 10 mins.
Reduce heat to low and transfer ¼ of the soup mixture to a blender, along with cashews and lemon juice. Blend until smooth.
Add blended soup back to the pot and stir to combine.
Garnish soup with chopped parsley, and serve on its own or with toast.
Serving size:
1 serving
Calories:
259
Fat:
16.7g
Carbohydrates:
15g
Sugar:
6g
Fiber:
4.5g
Protein:
9.25g
Recipe by
The Edgy Veg
at https://www.theedgyveg.com/2021/10/20/vegan-hungarian-mushroom-soup/