Vegan Toaster Strudels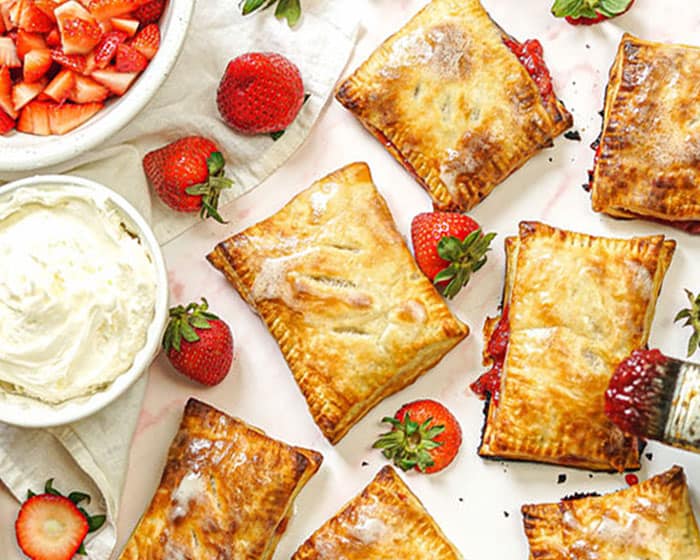 Serves:
Approx 12 pastries
Preheat oven to 400F.
In a small saucepan, heat diced strawberries, strawberry jam, and lemon over medium-high, stirring constantly, until just before a boil. Remove from heat.
In a small bowl or cup whisk together soy milk and maple syrup. Set aside.
Lightly flour a work surface and roll out the puff pastry into a square about ⅛" thick. Using a knife, cut out 3-inch x 4.5-inch rectangles.
Place ½ of the rectangles onto the prepared cookie sheet and brush the edges with soy milk mixture.
Spoon roughly 2 tbsp of the diced strawberries into the center of the rectangles.
Place a second rectangle on top of each and use a fork to crimp the edges.
Brush each pop tart with a bit of soy milk mixture and cut a small vent slit.
Bake for 15 minutes, or until golden brown.
Drizzle with cream cheese frosting and enjoy.
Serving size:
1
Calories:
120
Fat:
7.9g
Carbohydrates:
10.5g
Sugar:
1.5g
Fiber:
0.6g
Protein:
1.6g