Vegan Cornbread Chili Pie Recipe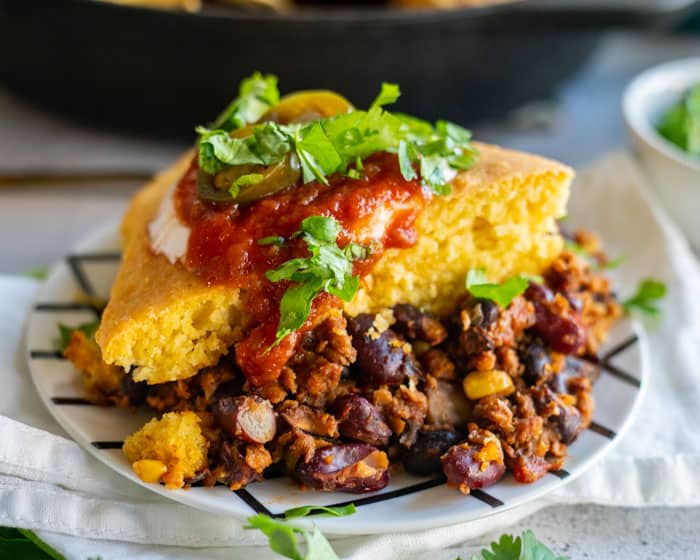 Preheat oven to 400°F.
Over medium heat, heat 2 tbsp olive oil in a 12-inch cast iron skillet.
Add add onions,mushrooms, and garlic and cook, stirring, until onions are translucent, and mushrooms are browned slightly, 5-7 mins.
Add Meatless Farm Co. Mince and seasoning mix, and cook, breaking up the mince with your spoon.
Stir in tomatoes, tomato paste, kidney and black beans, 1 cup water, and corn, cook, stirring until heated through.Taste and season with salt and pepper to taste.
Remove from heat and set aside.
Meanwhile, in a large bowl, whisk together cornmeal, AP flour, baking powder, cayenne or chili powder, and ¼ tsp salt.
In another bowl, whisk together aquafaba, soy milk, melted vegan margarine.
Add wet ingredients to the bowl with the dry corn mixture, and stir to combine.Set aside.
Level out the chili mixture in the cast-iron skillet to ensure it has a flat and uniform top. Then, pour the corn-batter mixture over-top the leveled chili mixture. Ensure to cover the entire surface. You could not be able to see any of the chili mixture, it should resemble a shepherds pie.
Transfer the skillet pie to your preheated oven and bake for 25-35 minutes, until golden brown and a toothpick inserted into topping comes out clean. Let stand 10 minutes before serving.
Serves with optional toppings.
Calories:
656
Fat:
22g
Trans fat:
0mg
Carbohydrates:
62.5g
Sugar:
8.75g
Fiber:
20g
Protein:
34.5g
Cholesterol:
0mg
Recipe by
The Edgy Veg
at https://www.theedgyveg.com/2020/01/30/vegan-cornbread-chili-pie-recipe/