White and Dark Chocolate Popcorn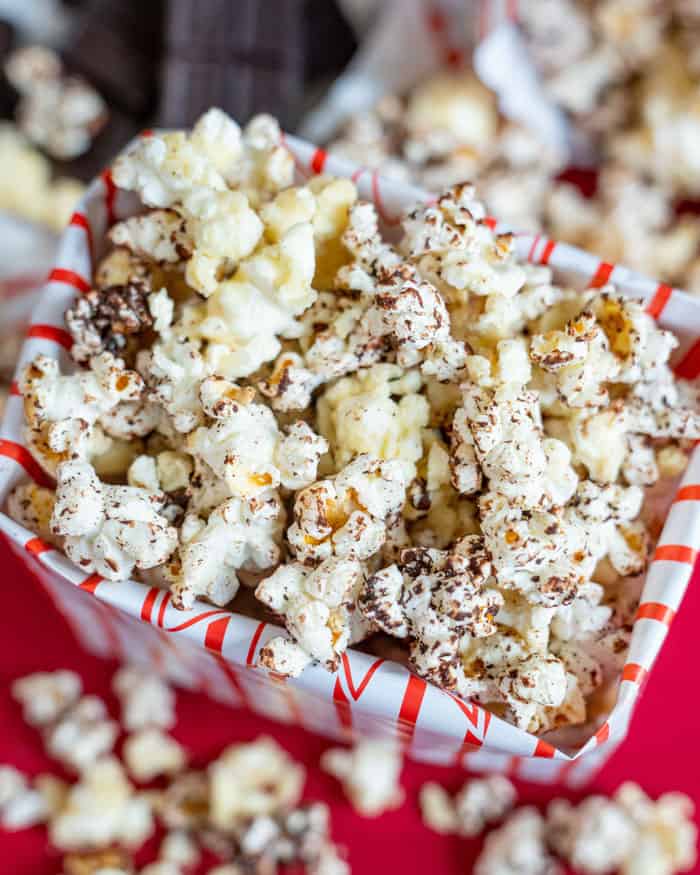 Leave in blender and ensure that it is still HOT and liquid. You can go in and buzz it every once in a while to ensure it does not harden.
Prepare a parchment paper-lined baking sheet and set aside.
In a stockpot melt coconut oil over high heat.
Add popcorn kernels immediately and shake to coat completely. Allow to rest for about 15 seconds and then shake pot constantly to avoid burning.
When you hear the first kernel pop, place the lid on the pot immediately. Be sure to leave space for steam to escape and shake pot constantly to prevent burning.
When the popping begins to slow, remove from heat, and let sit until the popping has stopped, about 2 mins.
Once popped, divide the popcorn in half and place one half into a large bowl. Set aside.
Immediately, grate the dark chocolate over the popcorn in the pot, using a microplane grater, while it is still warm, and mix well to melt the chocolate. Salt to taste. This will highlight the flavour of the chocolate.
Set aside.
While white chocolate is still a liquid, pour it over the second half of the popcorn and toss to coat.
Using a spatula, spread the coated popcorn evenly onto the parchment-lined baking sheet, making sure to scrape down the sides of the bowl and get all that delicious chocolate.
Transfer to the fridge and allow to harden, minimum 30 mins and up to 2 hours.
Once the white chocolate is good and hard, break it up into smaller pieces, using your hands.
Toss both white and dark chocolate popcorns together in a large bowl.
Serve.
Store in an airtight container.
Recipe by
The Edgy Veg
at https://www.theedgyveg.com/2019/08/20/vegan-chocolate-covered-popcorn-dark-chocolate-white-chocolate-popcorn/