The Ultimate Vegan Garbage Plate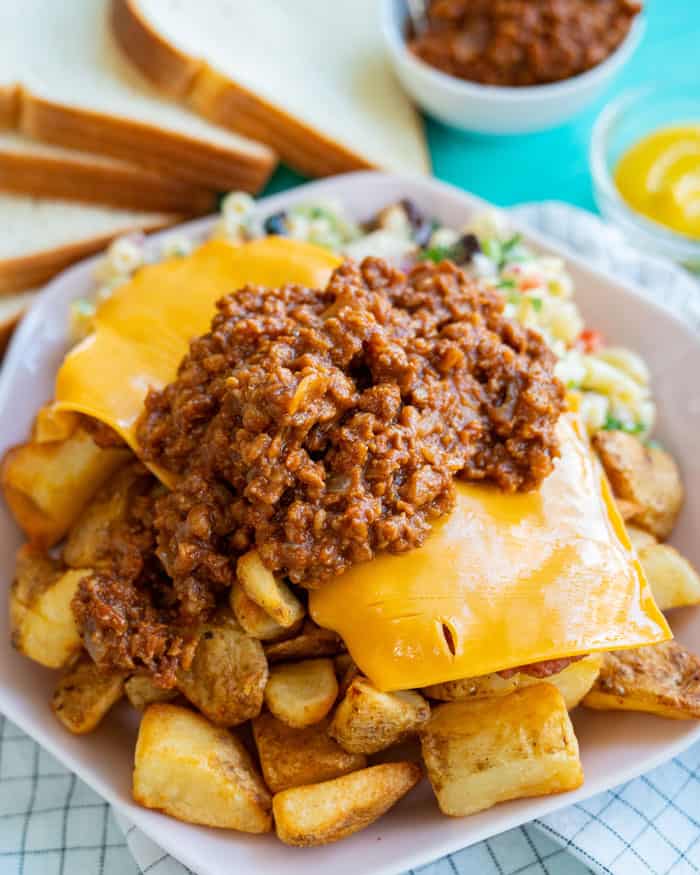 Heat the olive oil in a large saucepan over medium high heat.
Add onions and garlic and cook for 3-5 minutes, until fragrant and translucent.
Add veggie ground, and cook, stirring constantly until heated through.
Add broth, tomatoes, chili powder, paprika, salt, and cayenne. Bring to a boil.
Reduce heat and let simmer, cook 30 mins-1 hour, until liquid is slightly reduced and the mixture is very thick, stirring occasionally.
Set aside.
Layout the home fries and macaroni salad on either half of the plate, covering the surface of the plate.
Place the burger patties side by side on top of the base.
Top with a generous pour-over of the 'meat' sauce.
Sprinkle diced white onions, and drizzle mustard and ketchup in opposite directions over the entire plate.
Add white bread to the side of the plate, to soak up any excess liquid as you eat.
Recipe by
The Edgy Veg
at https://www.theedgyveg.com/2019/08/15/ultimate-vegan-garbage-plate-rochester-recipe/