Homemade Bounty Bar Recipe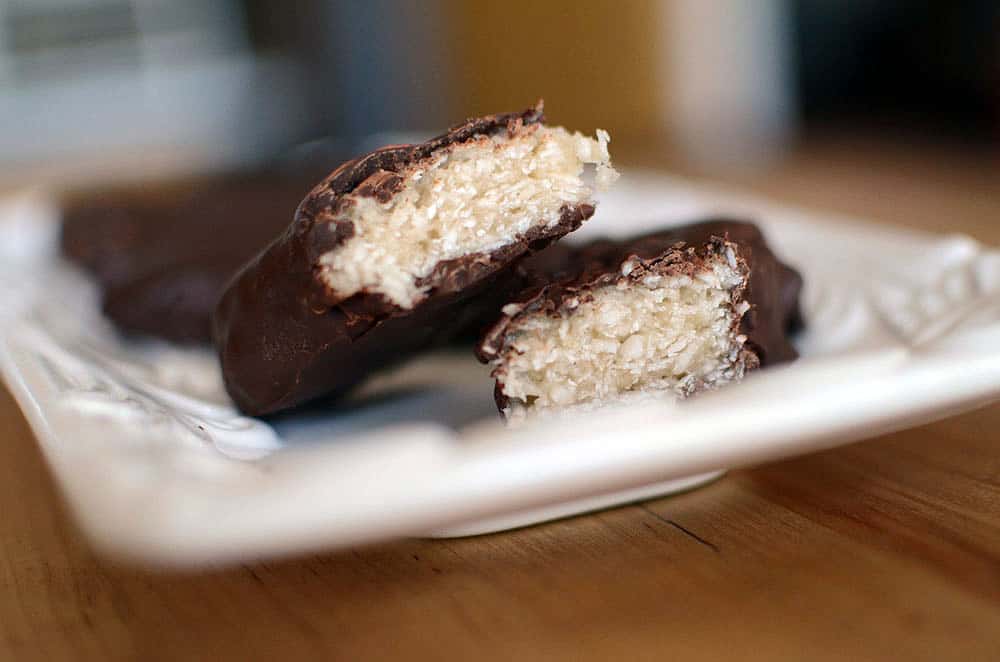 3 cups unsweetened organic coconut, finely shredded
⅔ cup condensed coconut milk
½ cup maple syrup
1 teaspoon vanilla extract
pinch of salt
2 cups semi-sweet or bittersweet vegan chocolate chips
In a bowl mix together condensed coconut milk, maple syrup, salt and vanilla extract, whisk to combine. Set aside.
Place coconut in a large bowl and pour the coconut milk mixture over and fold to combine, using your hands if necessary. Taste for sweetness and adjust if necessary.
Take a large piece of plastic wrap and lay flat.
Spread out the coconut mixture on the plastic.
Press the coconut mixture firmly into place and pull the plastic wrap up around it to create an edge.
Press the coconut mixture firmly to ensure it is compact.
Place your square coconut block in the freezer to firm. This should take at least 30 minutes.
In a double boiler melt chocolate until soft and mix with a fork.
Place a large piece of parchment paper onto a work surface. I like to use a cutting board or a cooling rack that fits into my freezer.
Remove the coconut square from the freezer
Unwrap it from the plastic wrap and cut into bars of equal size.
Place each coconut bar into the melted chocolate and turn over to coat, one by one.
Remove the coated coconut and allow excess chocolate to drip into the bowl
Place coconut bar onto the parchment paper.
Repeat with remaining bars, until all coconut bars are covered in chocolate.
Place the chocolate bars into the freezer, and allow to harden. This should take 30-50 mins.
Once the chocolate has hardened, store in an airtight container.
Recipe by
The Edgy Veg
at https://www.theedgyveg.com/2015/03/16/homemade-bounty-bar-recipe/