Vegetarian Ramen Recipe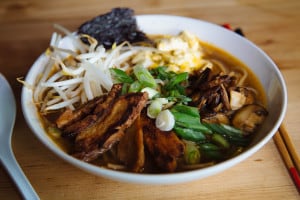 1 tbsp sesame oil
1 large yellow onion, diced large
3 cloves garlic, smashed
1 tbsp sesame seeds
1 tsp chili bean paste
3 tbsp tamari
½ cup mushrooms
2 vegan beef boullion cubes
2 tbsp vegan Worcester sauce
2 large carrots, cut into 1 inch chunks
1 inch piece of ginger, sliced
½ tsp white pepper
12 cups cold water
1 tbsp agave or coconut sugar
2 sheets kombu, cut into 3 inch strips
2 tablespoons mirin (optional)
3 tablespoons mellow white miso
Salt as needed
Lime wedges
Scallions, chopped
Mushrooms
Seaweed
Bamboo shoot/sprouts
Vegan egg
Fried beef-style seitan
Vegan ramen noodles
Preheat a large pot over medium-high heat.
Sauté the onion and garlic in oil with a pinch of salt for about 5 minutes.
Add the carrots, mushrooms, ginger, sesame seeds and water. Cover and bring to a boil.
Once boiling, turn down the heat and add white pepper, chili paste, boullion, sweetener, tamari and vegan Worchester and leave the lid slightly ajar.
Simmer and reduce by about ⅓rd.
After about 30 minutes, add the kombu, and let it simmer for another 30 minutes.
Remove the kombu, after 30 minutes, or when the broth has reduced to 8 cups.
Add mirin, miso, and salt, stir.
In the sink, place a another large pot, topped with a fine mesh strainer.
Pour in the vegetables and broth and let strain for about 20 minutes, or until all the liquid has dripped from the veggies.
Give the veggies a good squish with a wooden spoon, and set them aside.
Taste for salt.
Cook noodles and serve with heated broth.
Add toppings and serve.