Vegan McDonalds Series: McChicken Sandwich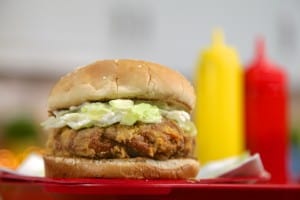 In a mixing bowl, mix together wheat gluten, nutritional yeast, onion powder, salt and poultry seasoning.
In a larger bowl, combine broth and tahini and whisk until smooth.
Mix the dry ingredients with the wet and stir until well combined.
Knead the dough until it is elastic but not dry. Sprinkle some additional gluten flour if you find you have made your dough too sticky.
Divide the dough into small little burgers. Keep in mind they will grow to about twice their size, so make then smaller then you would normally.Place in casserole dish, covering them with vegetable broth.
Cook burgers in broth and onions for 1 hour at 350 degrees, flipping at 45 minutes.
Place egg replacer in a small, shallow bowl.
Combine the flour, tempura salt, pepper, onion powder and garlic powder in a large zip lock bag.
Coat each "filet" with the flour mixture by shaking in the zip lock bag.
Remove and dredge each filet in the egg mixture, coating well. Then return each filet to the flour/seasoning mixture. Shake to coat. Put filets in the freezer for half an hour. Cover and refrigerate remaining "egg" mixture.
After freezing, repeat the "coating" process.
Deep fry in a large pot of oil at 375° for 10-12 minutes or until light brown and crispy.
Stir together well, refrigerate for at least 1 hour.
As the chicken is frying, toast the buns on one side only.
On the crown side of the bun, apply 1 tablespoon of McChicken sauce mixture, followed by ¼ cup chopped iceberg lettuce. Then top with the cooked patty, and the heel of the bun.
Recipe by
The Edgy Veg
at https://www.theedgyveg.com/2014/03/17/vegan-mcdonalds-series-mcchicken-sandwich/