Vegan Caramel Sauce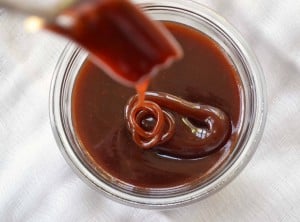 2 cups organic unrefined white sugar or cane sugar
½ cup water
¼ cup maple syrup
½ cup coconut milk, full fat
2 Tbsp Earth Balance
pinch of salt
In a small saucepan over medium-high heat, bring the sugar, maple syrup and water to a boil, stirring well to dissolve the sugar. Turn down the heat to low and cook until the syrup water is a deep amber colour. This should take about 10-15 minutes, stirring occasionally.
Remove the pan from heat. Now, very carefully stir in the coconut milk, Earth Balance and salt, this will begin to bubble, you want this. Stir until well combined.
Let cool slightly before using.