Quick Vegan Frittata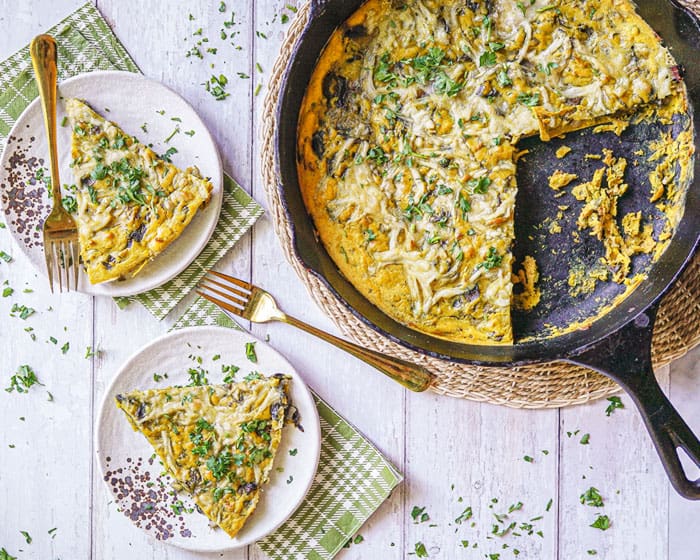 Preheat oven to 375F.
In a large 12 inch skillet or oven-safe pan, heat the 2 tbsp olive oil over medium-high heat.
Add garlic and shallots, and cook for 3 minutes or until translucent. Add mushrooms and cook until browned, about 10 minutes. Transfer the mushrooms to a plate and set them aside.
To a high-speed blender, add mung beans, nutritional yeast, turmeric, garlic powder, onion powder, black salt soy milk, olive oil, and corn starch, and blend until smooth and pourable. Taste and adjust the flavour to your taste.
Stir in thyme, and ¾ cup vegan cheese.
Heat the same skillet over medium heat and brush the bottom and sides with 1 tbsp olive oil or cooking spray.
Add the mung bean mixture and stir in mushrooms and green onions, top with remaining vegan cheese.
Bake in the preheated oven for 12-15 mins, or until slightly browned, and set.
To serve, slice, and serve on its own, or with tomato soup, crusty bread, or a side salad.
Serving size:
1 slice
Calories:
154
Fat:
10g
Carbohydrates:
7.7g
Sugar:
1.5g
Fiber:
3.8g
Protein:
4.7g