Vegan Carbonara (17 mins + Easy)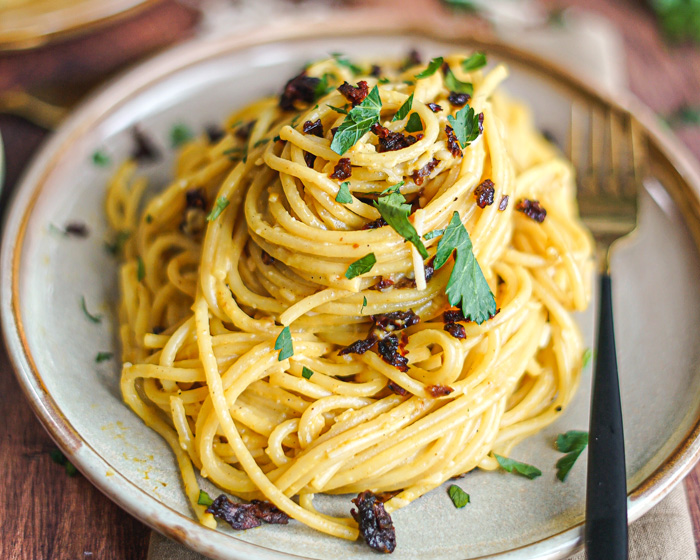 In a small bowl, whisk together; soy sauce, liquid smoke, paprika, and garlic powder. Add sun-dried tomatoes, and coat them completely. Set aside.
Bring a pot of salted (1/2 tsp -1 tsp) water, to a boil. Cook your pasta until al dente, around 7-9 mins). Reserve 1 cup of cooking liquid.
Meanwhile, into a high-speed blender, add silken tofu, nutritional yeast, corn starch, miso, brine, black salt, and turmeric. Blend on high until combined. Set aside.
Meanwhile, heat up 2 tsp olive oil in a small pan over medium-high heat. Fry up the marinated sun-dried tomatoes until crispy.
Add ¼ cup reserved pasta liquid to the blender and blend until creamy. Slowly drizzle in 2 tbsp of olive oil while blending at a medium-low.
When the pasta is ready, transfer to a large stir-fry pan over medium-high heat. Pour a third of the mixture from the blender, toss to coat, add more or less depending on how saucy you want your pasta. Add reserved pasta water ¼ cup at a time. Cook, stirring constantly until your sauce becomes silky and creamy.
Season to taste with additional black salt, pepper. And top with sun-dried tomato bacon.
Serving size:
1 serving
Calories:
283
Fat:
11g
Carbohydrates:
30g
Sugar:
3.7g
Fiber:
3.2g
Protein:
14g
Recipe by
The Edgy Veg
at https://www.theedgyveg.com/2021/03/29/vegan-carbonara-recipe/